 Sweden opened Rio 2016 with a 1-0 win over South Africa as the women's football tournament got underway inside the Olympic Stadium on Wednesday evening.
Defender Nilla Fischer scored the game's only goal as the Swedes dominated against a resilient South African side. It was a rather dull affair, but it was a solid start for Pia Sundhage's team as the manager begins her search for a third Olympic crown - after reigning victorious with USA in 2008 and 2012.
A scrappy game
In many senses the opening game of the Rio Olympics was an extremely scrappy and tight one. Sweden struggled to break down the South Africans and there weren't many clear cut chances as the African side sat back and looked to hit the Swedes on the counter.
The game's only goal summed it up. South African keeper Roxanne Barker spilled the ball from a corner, and then Caroline Seger was able to lift the ball back into the danger area. The ball bounced around and may have crossed the line amongst a goal-mouth scramble, but Fischer made sure by finding the net.
It was a goal that warranted what was in truth a poor game, but Sweden were the victors and earned a crucial three points in a group that also has hosts Brazil in it.
Swedes dominate
As anticipated, Sweden dominated the game, and it was exactly what you would have expected from a game where their opponents sat 46 places below them. The Swedes had the majority of the ball but among their domination, struggled to create clear cut chances.
Sofia Jakobsson had the game's best chance after just five minutes, as her shot cannoned off the crossbar after Lotta Schelin had been denied brilliantly by Noko Matlou at the back for South Africa. That was about as good as it got though over the 90 minutes with Sweden restricted massively in terms of creativeness.
For large parts of the game Schelin was kept quiet, and she only really got one sight of goal which was deflected wide in the first half after good work from the impressive Jakobsson.
Fridolina Rolfo put in a good performance cutting inside from the right hand side, especially in the second half, but all her shots on goal came from range in a game where Sweden didn't ever get up to full speed.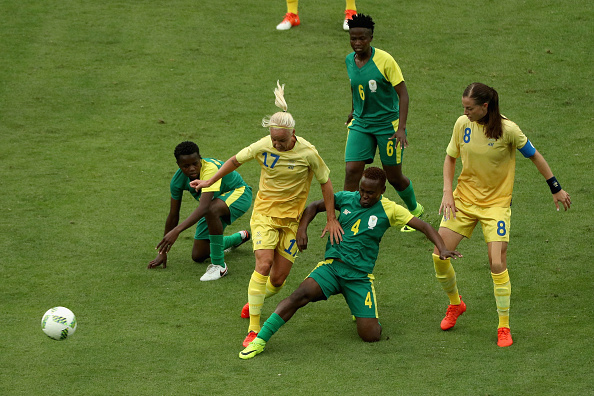 Resilient South Africa
The South Africans have been improving step by step since their Olympic debut back in London in 2012, and it was testimony to their organisation and resilience that Sweden only came away with a 1-0 win.
At the back they looked very solid, and they never really looked like conceding until the error from Barker late on in the game. They were brilliantly set-up at the back, with Matlou impressing heavily at centre-half for Banyana Banyana.
For the games entirety they were able to restrict Sweden to pot shots from outside the box, with the Swedish forward line struggling hugely to create chances. Manchester City's play-maker Kosovare Asllani was almost non-existent as she was marked out the game and wasn't able to find space between the lines.
South Africa meanwhile looked encouraging on the counter-attack even if they didn't force Hedvig Lindahl into making any saves. They had pace in abundance and on some occasions it did cause Sweden trouble, especially when Jermaine Seoposenwe got running.
She was caught offside a couple of times but was very dangerous in behind, and is something that can give manager Vera Pauw something to be encouraged about going into their remaining games in Brazil.
Next up for Sweden is a match against the hosts Brazil on Sunday, whilst South Africa face China on Saturday.