Ever since ariving on Teesside in 2013, Aitor Karanka has been keen to mould Middlesbrough into a side which play the '4-2-3-1' formation, with a number 10 linking midfield to the lone striker.
Players to occupy this role include Jacob Butterfield, Lee Tomlin, Jelle Vossen and Stewart Downing.
While this system had its critics for being too negative, it did win Boro promotion to the Premier League in May 2016.
Karanka's continued trust in his formation
Having guided the Teesside outfit to England's top tier, Boro boss Karanka saw no reason to change his way of thinking.
He brought in players who would suit this formation such as Gaston Ramirez on a permanent basis and Alvaro Negredo on a year-long loan from Valencia.
The Spaniard also showed willing to add to his attacking options in the '3' of the 4-2-3-1, brining in Viktor Fischer from Ajax and Adama Traore from Aston Villa on deadline day.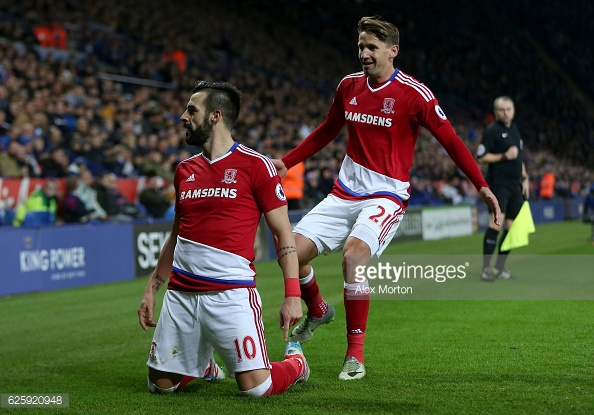 Aitor Karanka set out his Middlesbrough side for their first Premier League game since 2009 in a very similar fashion to the team he trusted to get Boro promoted in May.
Four new faces started against Stoke City, but those who came in were like-for-like changes to those left out.
A run of three unbeaten at the beginning of the season made good viewing for fans of Boro, but a poor streak afterwards which didn't see a win for six weeks provoked Aitor Karanka into a change.
Change of heart at the Gunners.
Aitor Karanka changed his tactics when Boro travelled to the Emirates and this saw the North East club come away with a well-earned draw.
With Clayton, Forshaw and de Roon in midfield, Middlesbrough were able to stop players like Sanchez and Ozil from dictating play.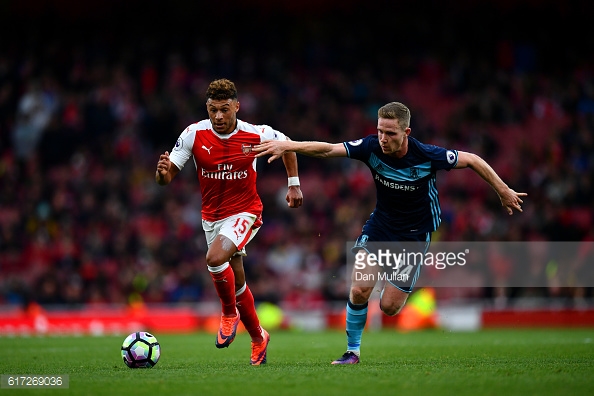 A similar result came at the Ethiad, where a late de Roon header earned Boro another unlikely point, when they were again playing three in the centre.
When Forshaw, de Roon and Clayton have played as a trio, Middlesbrough have conceded just three goals in six games.
Does this system work all of the time?
No. While this system has only seen one defeat, its flaws have been highlighted. Especially on Monday night.
For all the great work that Forshaw and de Roon do in the midfield, their talents to not lie in attacking the goal.
During the Hull City game, it felt like if Traore or Ramirez were running at the box the something more would have come of the attack, and Middlesbrough may have won by a greater margin.
If Traore or Downing had been employed in this match after Ramirez headed Boro infront then the scoreline could have looked much different.
Also against Chelsea, after Boro went behind they struggled to create much going forward. Negredo's flick and volley the closest Karanka's team came to levelling the score.
Although Negredo's brace against Leicester showed that goals can be scored in the 4-3-3, the formation suits counter-attacking more than breaking down a side. The system, therefore, suits playing a Leicester more than a Hull.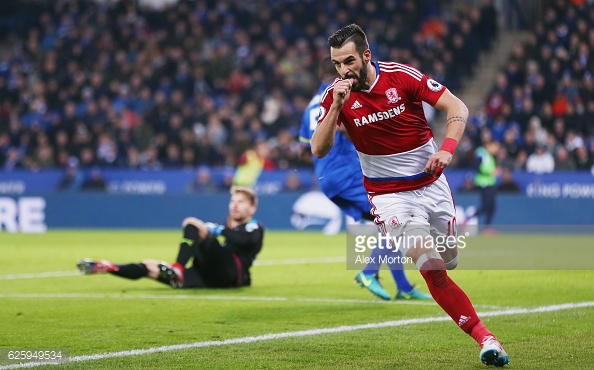 Which formation should be used when?
Home games give a real opportunity for Middlesbrough to earn points, and they have only gained all three points on two occasions at the Riverside this season.
Playing teams such as Bournemouth and Hull City, who are rivals in the bottom half, should see Boro wanting to attack, score goals and win matches.
Whereas, trips to Manchester United and visits from Liverpool, which are coming up for Middlesbrough are occasions that warrant a more cautious approach and could see counter attacking football used to good effect.
Since the start of last season, Boro have not played such expansive football as they did in the 2014/15 season, and while it is acknowledged that results matter more now in the Premier League, a more bold formation at home may benefit the team more so than a cautious one.