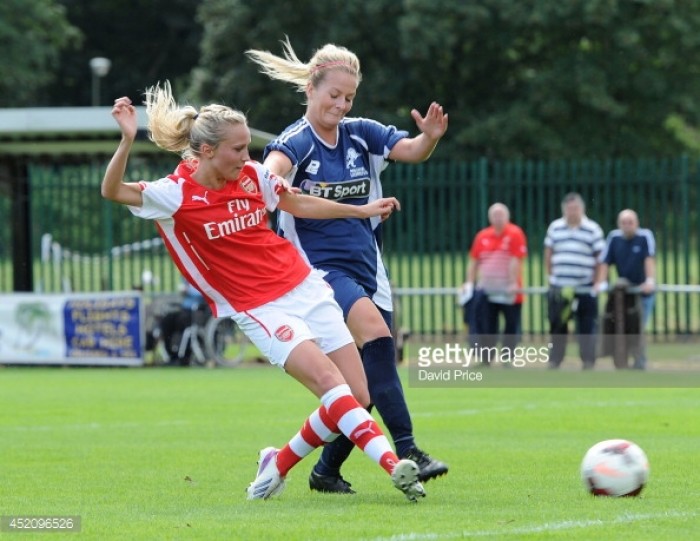 Frauen-Bundesliga side 1. FFC Frankfurt has announced the signing of 23-year old English midfielder Lily Agg from WSL 1 club Bristol City, signing a two-year contract.
Talking to Frankfurt's club website, she stated, "I am very proud to be able to play in a club with such a successful tradition in women's football."
She praised the welcome the club has given her and talked about her ambition in testing herself in what she called "one of the strongest women's football leagues worldwide".
Frankfurt's manager Matt Ross praised Agg, calling her selfless. When talking about her skills and ability, he said, "it is not surprising that they could have a career with the Arsenal Ladies".
Previous Clubs
Agg made three appearances in the 2017 FA WSL 1 Spring Series, scoring one goal at her time at Bristol City. That goal came in a 1-1 draw against Liverpool as the Vixens finished seventh. She had joined City from Brighton & Hove Albion in January 2017, soon after securing her teaching degree.
Her other previous clubs are Cardiff Met, Millwall Lionesses, and Arsenal Ladies F.C.
World University Games
Agg had originally been selected in the 20-player British Universities & College Sport (BUCS) Football Squad that is travelling to Tapei for the World University Games - which takes place between the 19th and 30th August. However, she will no longer take place in the tournament and will join up with Frankfurt and her new team-mates to begin preseason preparations.
Frankfurt
Frankfurt finished fifth in the 2016-17 Frauen-Bundesliga and will be hoping to be able to at least qualify for Europe once again. They have won the UEFA Women's Champions League four times, most recently in the 2014-15 season where they defeated Bristol City in the Quarter-Finals, but they have been absent from the competition over the past two editions. Only Lyon have won the tournament four times.
They have also won the Frauen-Bundesliga seven times, and the DFB-Pokal nine times - more than any other club.
Note: This article has been edited. It originally stated that she would be travelling to the World University Games.