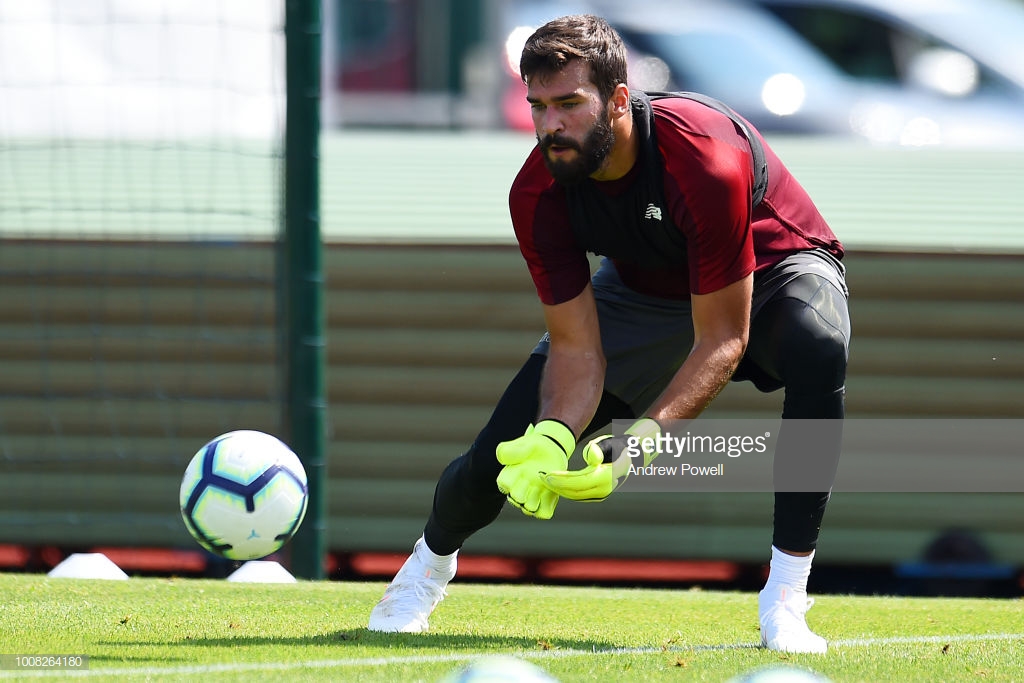 Liverpool's latest signing Alisson Becker has just completed his first session as a Red and the worlds most expensive goalkeeper already insists his latest club feels like home.
France training camp firmly underway
The Brazilian international has returned to domestic football after representing Brazil at the World Cup helping Seleção reach the quarter-finals of the competition, where they were beaten 2-1 by Belgium.
Liverpool paid a world-record-fee to bring the 6ft 4 goalkeeper to Anfield after capturing the 25-year-old from Roma for a fee of £66.8 million.
Since his record-breaking move, Alisson has been unable to represent his new club but has since joined up with the Reds to begin a five-day training plan in France.
"It has been a great day which I had been looking forward to," Alisson told Liverpool's official website.
"I've had a good few resting days with my family but we all couldn't wait to get the new season underway soon.
"It's only my first day and I feel at home already!
"I've met some of my teammates and had my first-morning session but the day isn't over yet as we'll carry on training this afternoon."
Alisson's Brazilian compatriot Roberto Firmino has also returned to club action as the pair looks to feature in the Reds two remaining pre-season matches against Napoli on Saturday and Torino on August 7.
Ready to make an impact
Liverpool will get their 2018/19 campaign underway against Manuel Pellegrini's West Ham on August 12 where the Reds will hope to cement their credentials as genuine title challengers to defending champions Manchester City.
However, despite featuring late on for his new club, Alisson is confident he can still make an impact in Liverpool's two remaining fixtures and insists he is capable of quickly adapting to the Reds style of play.
"Although these two weeks don't seem like a long time, it's enough for us to be ready for our first game against West Ham," he added.
"We'll play two friendlies before this game and I'm sure the hard work the squad have put in so far is going to help me become a member of the squad as quickly as possible so that I am 100 per cent ready for our first game to kick off the Premier League in a good way.
"This initial training session has been useful for me to see what our playing style should be in the Premier League.
"It's also showed me that the team are very well adapted to it and everyone seems to be physically fit, not to say technically – they're all great players after all.
"I'm very happy to have them alongside me and to be a part of this project that Liverpool have and the great work they have been doing over recent years.
"I hope I can help and bring something extra to the team."
His time on international duty see's him familiar with both Firmino and fellow new-signing Fabhino and his time with Roma also saw him form a close bond with Mohamed Salah.
This should help the Reds new no. 1 goalkeeper settle in smoothly although the former Roma man insists he is determined to make the same effort with each individual at the club to help raise morale for the new season.
"It's important I get to know them as quickly as possible," Alisson continued.
"The relationship we develop off the pitch is very helpful for us to gel as a team. I know Fabinho and Bobby and I'm sure they're going to help me.
"I've also already worked with 'Mo Mo' [Salah], the three of them will be very important for me to settle into the squad.
"My first impression tells me it won't be difficult for me here – it's a great squad formed by great players and brilliant professionals.
"I'm sure it's going to be a great season for us all."