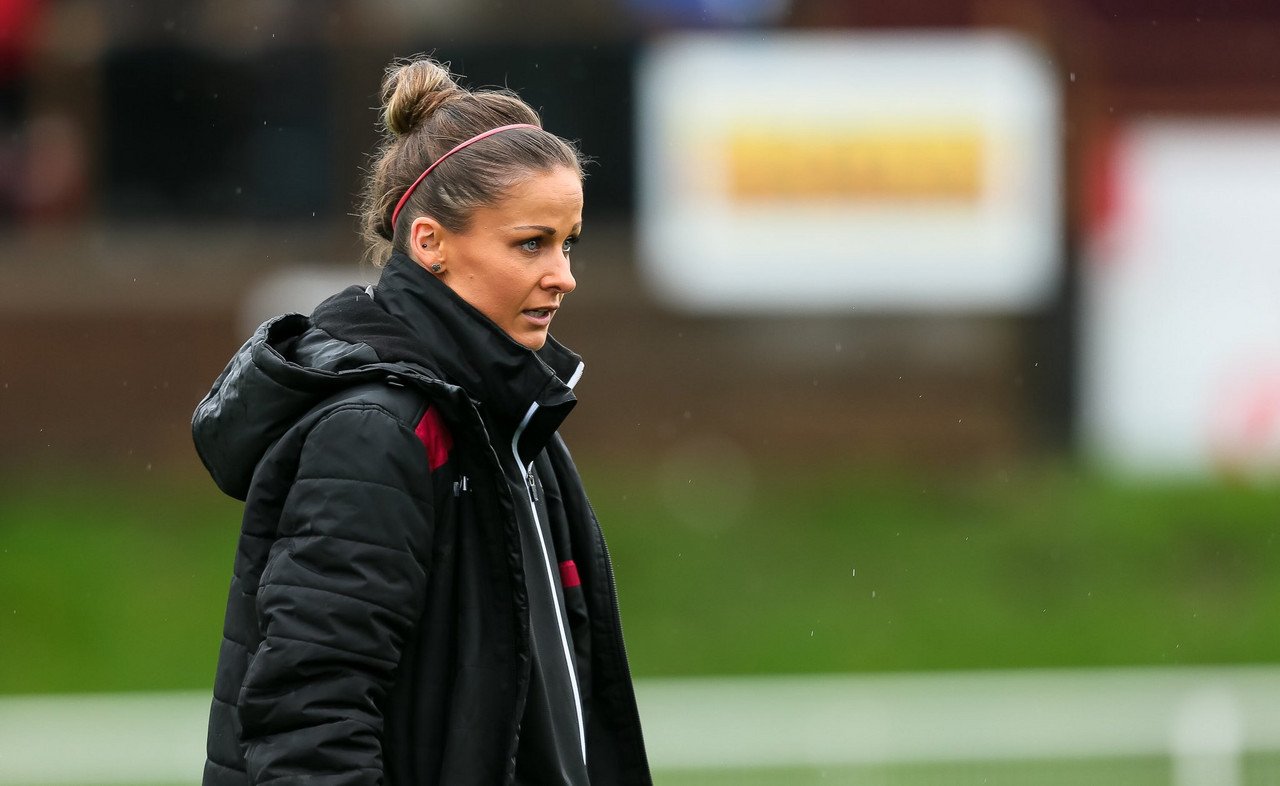 The former Liverpool and Aston Villa defender has chosen women's National League North side Stoke City as her first coaching role, since her retirement from her playing career in May 2018. Molly Hudson spoke to Jones about her new challenge.
Going out strong
Having played all over England as well as enjoying a spell in the Finnish Naisten Liiga with Åland United, Jones recently made the hard decision to hang up her boots.
"It was a massive decision and really a life changing one. I was making the decision about one of the most important things in my life and something that has been my identity in some ways. I just knew that I wanted to finish on a high and when I was performing well rather than stopping because I had to due to an injury or just not being able to perform at my best anymore."
She continued, "I had an amazing career playing for some incredible clubs and I managed to achieve everything that I could have ever hoped and dreamed of. I appreciate every opportunity that I was given in football and know how lucky I have been. I just knew that it was time to take on another role within the game and to be young enough to do other things in life. I have been accepted to do the London Marathon in April and so I have a new challenge that I am focusing on." 
With plenty of experience to call upon from her playing days, Jones has been a keen student, learning form her former coaches and is looking to parry all her knowledge into her new role. 
"I have played under some incredible coaches and managers and from them I feel like I have learnt so much about the game and about how to coach, improve and develop players on the pitch as well as helping to develop them as people. I have always paid attention to how managers have made teams successful, the finer details that changed a team and how they have been able to inspire players to be the best that they can be."
Ever the hard-worker off the pitch, a strong work ethic is a must for Jones' new charges and something the young coach is keen to prioritise.
"I have played in this country and abroad and so the experience that I have gained will hopefully be things that I can pass on to Stoke City to help them. I am and have always been a big advocate for attitude, application and professionalism and so that is definitely something that I hope to help install into the players. The hard work, the effort and always having the willingness to learn has always been priority for me and that definitely helped me to get to where I have in the game." 
Aiming high
With Stoke currently fourth in the Northern Premier Division, the club aren't in any mood to rest on their laurels, pushing for promotion with a view to becoming part of the Women's Super League sooner rather than later. The winning mentality something that drew Jones to the role.
"Stoke City is a fantastic club and certainly a club with ambition. The players and the staff really want the club to progress, not just in this league but in higher leagues. The structure is very strong with some very exciting plans to enable the club to move forwards. The players are also absolutely fantastic. Making the transition into coaching from playing was always going to be strange at first but the girls have been extremely supportive. The talent and ability that the club has within the teams is superb and the players are a dream to coach. They have a great mix of experience and youth which is fantastic and means that the next generation of Stoke City Ladies are already a part of the system."
As for Jones short and long term plans?
"Short term, of course the goal is the win every single game and to perform well in every game. That should always be the short term goal but in addition we want to help to develop individuals to be the best that they can be which will then improve the team as a whole. Long term, we want to be pushing for the title and in the future to be a part of the Championship and even the WSL. We have very high targets and we all truly believe that they can be achieved."
With four losses from the first 12 matches of the season under their belts, things haven't all been smooth sailing for the Potters. Having kept a watchful eye over the team, Jones can see the pieces falling into place, the team galvanising.
"I have been to a lot of games this season and I would summarise the season so far as being a little turbulent in the middle part. Credit to the players and staff, they have really turned that corner and are showing consistency now. Players are feeling more comfortable in roles and the team are more fluid in their play. I think that the win at Sunderland was a huge statement and the girls seem to have kicked on since then which is really great to see." 
As someone who spent a large part of her career with Aston Villa, Jones knows all too well how difficult at times to gain promotion in women's football particularly with the FA's new guidelines. Performances on the pitch not always equating to promotion, and for Jones it's paramount to have the right structures in place before they can really push.
"As we've seen in recent years, teams have won the league and still have not been awarded a place in the Championship. Behind the scenes and the structure need to be so strong to show that the club can commit to and adhere to the standards and requirements. I think the key is to not rush that process and to make sure that everything is perfectly set up and in place before applying because if we were accepted into the league, we would want to be successful."