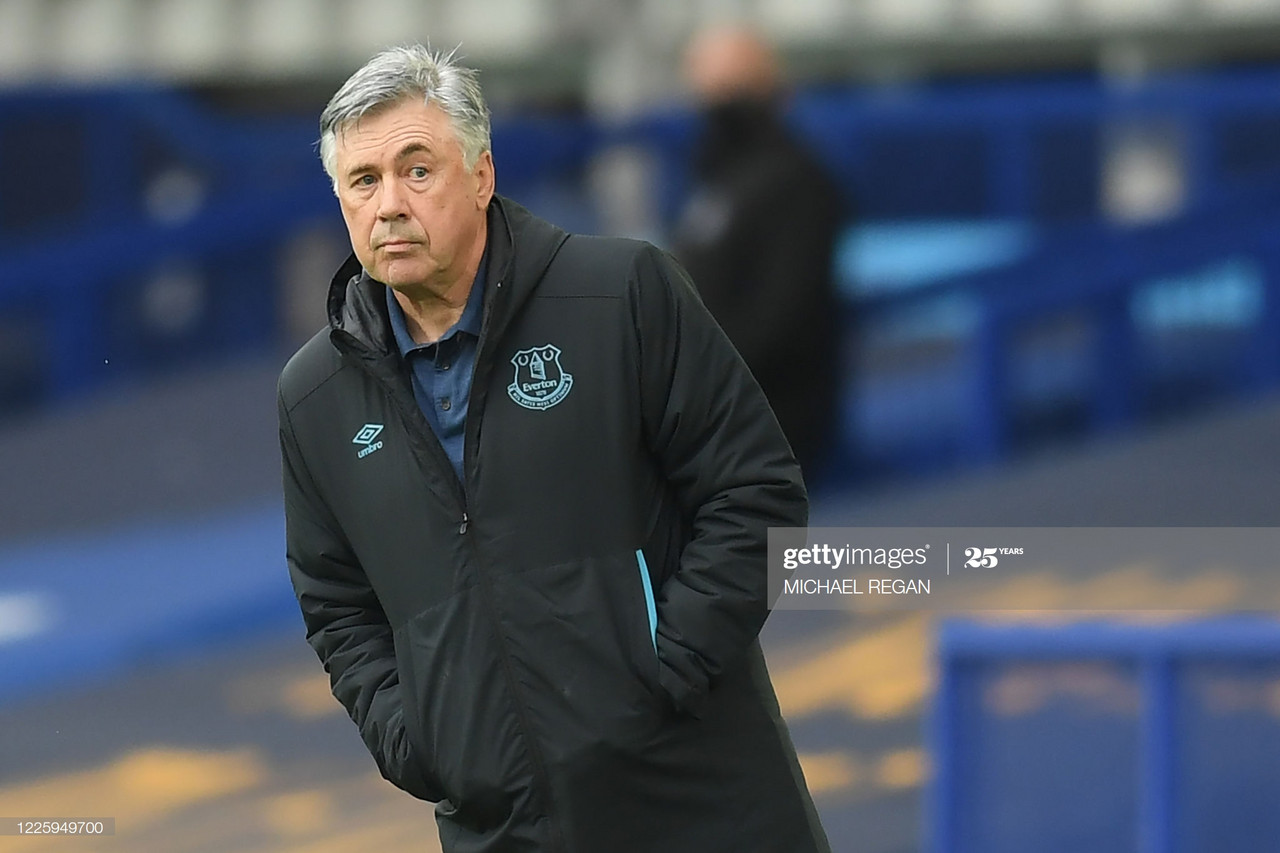 Everton manager Carlo Ancelotti has set a goal target for star man Richarlison as he looks to get Everton's front line into goal scoring form.
Speaking in his pre-match press conference for the Toffees game against Wolverhampton Wanderers on Sunday, Ancelotti said: "I think he's a player you cannot put a target on. He's a fantastic player, of course, 20 goals is the minimum but I expect more from him.
"He's still young but he has a lot of quality, a lot of character. As I said yesterday he's really cool in front of goal and I think every one of us is happy to have this kind of striker.
"I think he's going to improve and he is improving because he's still young. With experience and more knowledge, he can improve his qualities.
"He's complete because he's comfortable in the box, he's comfortable outside the box, he's comfortable in the counter-attack. He can play on the right, on the left, in front - he's a really, really good player for us."
The Brazilian currently has 14 goals this season including a fantastic finish in Everton's draw against Southampton last time out as he latched onto Lucas Digne's superb cross-field ball and chipped the ball over Fraser Forster.
Guidance for Dominic Calvert-Lewin
The manager also offered some guidance to another Everton striker who has found himself out of form.
Dominic Calvert-Lewin has failed to score a single goal since the restart of the Premier League and the manager said he just needs to remain calm and the goals will come saying: "I think the first thing that he has to fix is don't think to score goals, this can be an obsession.
"He has to be quiet, calm and the goals will come."
Everton boss has confidence in midfield
Ancelotti also spoke his midfield, a position that has been a topic of debate in the last few weeks as the Italian continues to look for his best midfielder pairing (or trio), amid concerns from fans that the players he has at his disposal are not of a high enough quality.
However, the manager does not share these same concerns saying he believes the players he has are capable of playing better football saying: "I think that the midfield is an important part of the squad.
"Of course we've tried to play sometimes with three midfielders, with two midfielders sometimes we've had more difficulties there because we've had one of our important players out with a long term injury and he must find his best condition.
"I am quite satisfied I think on the technical aspect with the quality that we have. I'm sure we can play better and we have to work on this.
"We play with [Gylfi] Sigurdsson, Bernard, Andre Gomes...we can play better football in my opinion."