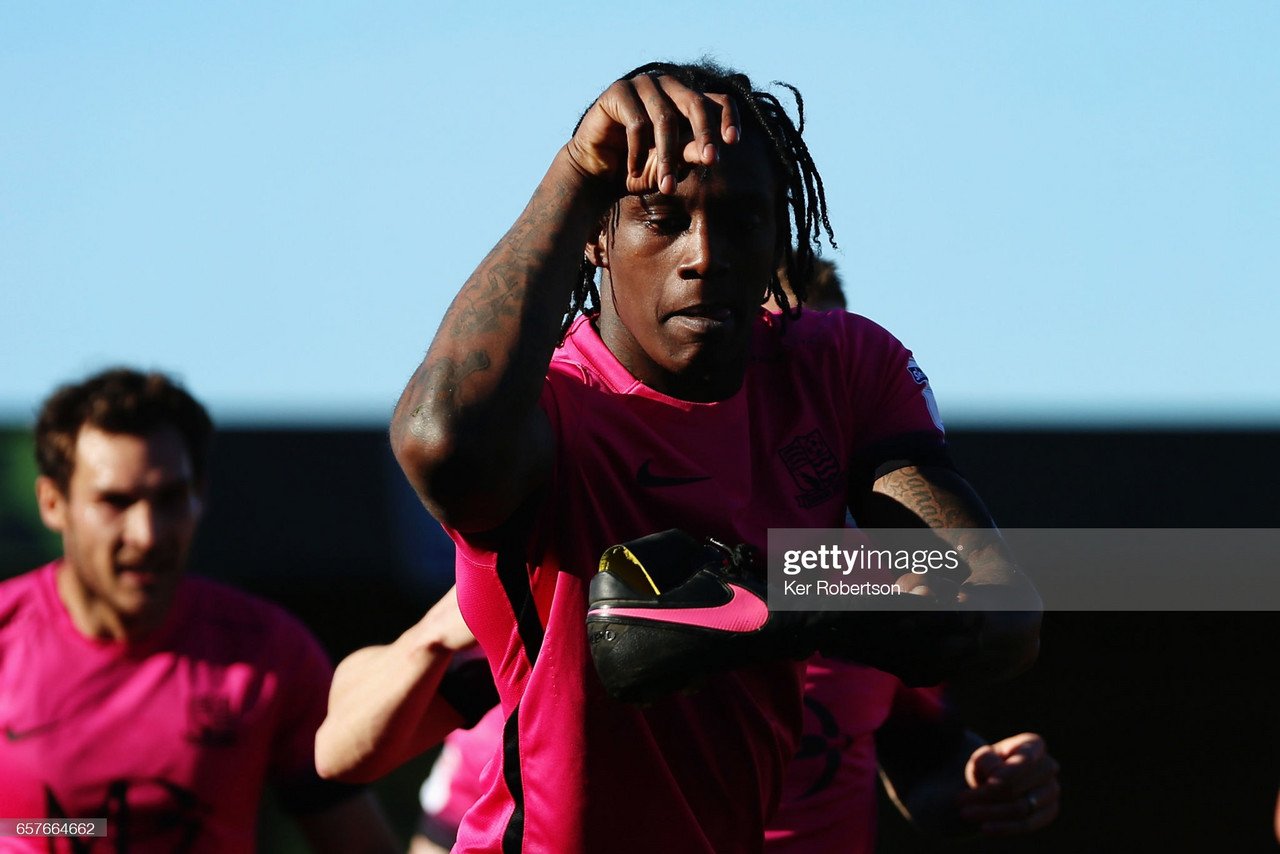 Since Southend United's initial breakup with bad boy Nile Ranger, neither parties have moved on to bigger and better things. The Shrimpers are struggling in the League Two relegation zone whilst Ranger still hasn't played for an EFL club since his departure from Roots Hall in 2018. Both individual scenarios seem a world away from the League One love story both shared four years ago.
Such dark times since the split have meant that it has been hard for one to get over the other. Sure, they've seen people in between with Tom Hopper and Stephen Humphreys filling the void momentarily for Southend; however, both of these flings seemed to end as soon as they started. Ranger has only played at Spalding United briefly since, hardly the partner that'll make your ex regret letting you go.
Due to such a bleak and unromantic few years since, it seems the two could soon be rekindling their relationship with the Essex Echo reporting that Ranger is back training with the club.
At first glance, fans may be ecstatic, after all, the two seemed like the perfect pair in the 16/17 season. However, love is often blind and forgetting with the now 29-year-old having multiple issues from his time at Southend. Poor time-management, a lazy attitude and, of course, 10 weeks in prison for fraud aren't exactly the signs of an enthralling signing.
So, would the return of Southend's beloved number 50 be the right move? There are a few ways you could view it.
The positives
There is no denying Rangers undeniable qualities on the pitch. The striker was regionally renowned for his powerful prowess in the box scoring eight goals in his first season at Roots Hall. An adequate return which helped the Blues to finish just one position away from the play-offs.
One of his most infamous goals came away at AFC Wimbledon where Ranger picked up the ball in the corner of the pitch before driving at the heart of the Dons defence, beating at least three defenders to then slot the ball into the bottom corner. Such a brilliant goal combined with a cheeky 'Salt Bae' celebration summarised Ranger's peak at Southend: exquisite, powerful and unapologetically confident.
Although goals like this were crucial, they were not the sole reason why he was adored.
As soon as Ranger arrived at Southend, the fans fell in love. The Blues faithful reacted as if they had seen their secondary school sweetheart walk onto the pitch, goggling in awe at every dribble and shot he would attempt. Perhaps it was his brilliant combination of silky footwork and brutish strength that transfixed Roots Hall into this blind idolisation.
Although on his day, he was a joy to watch, it was Ranger's outstanding personality that captured the hearts of the fans. This rebellious Rockstar figure who used to be one of the Premier Leagues up and coming talents was now outwardly exclaiming his love for little old Southend United, and supporters adored him for it. Such love could be easily rekindled amidst a return to south Essex.
In terms of the team now, Mark Molesley is desperate for a clinical striker. Simeon Akinola has been a good player since his arrival in the summer, but a lack of support in the final third has meant that he is yet to find consistency in front of goal. If peak Ranger were to be added to the current squad, he would add support for Southend's number nine as well as contributing with goals of his own, exactly what the Blues would need. If Ranger were guaranteed to play at his prime, there would be no reason (on the pitch) for Molesley not to sign him.
The negatives
The thought of Ranger in his prime is a beautiful fantasy for most Blues fans, but that also may be the harsh reality of the situation, it is just a fantasy.
Since his departure from Roots Hall in 2018, Ranger has not played for an EFL club, in fact, he has not played consistent football anywhere since. Match fitness would be a huge issue if the 29-year-old were to resign.
This detrimental factor did not stop Ron Martin and co from signing veteran Greg Halford in December who had previously not played for two years, but the versatile 36-year-old is known for his professionalism, something that Ranger famously lacks.
Forgetting the blistering obvious fact that he served ten weeks in prison, Ranger struggled immensely with timekeeping and disciplinary issues during his last spell at Roots Hall. The overriding reason the club ended up dismissing him was due to being consistently late for training, something that new manager Molesley will not tolerate.
One of Molesley's biggest achievements whilst managing the Blues is the newfound positive energy he has bought to the club. Despite relegation staring Southend dead in the face, the vast majority of fans are against the sacking of the ex-Weymouth manager. This is because of the values he has installed at the club: togetherness, professionalism and always giving your maximum effort, qualities that Ranger has, historically, gone against.
Anything that may put Molesley's positive ethics at risk should be avoided and unfortunately for Ranger, he has done nothing to prove that he will not put these values at risk.
Whether Southend end up employing Ranger is yet to be seen, he is still currently training with the first team (forgetting a recent foot injury), so it is up to him now to impress the gazing eyes of the coaches.
This conundrum is an all or nothing situation for Southend. Ranger could be a signing that is a deciding factor as to if the Blues remain as an EFL club next season, or, he could be the imploding ticking time bomb that ensures their relegation.
What decision the club will make is up in the air. Only time will tell.