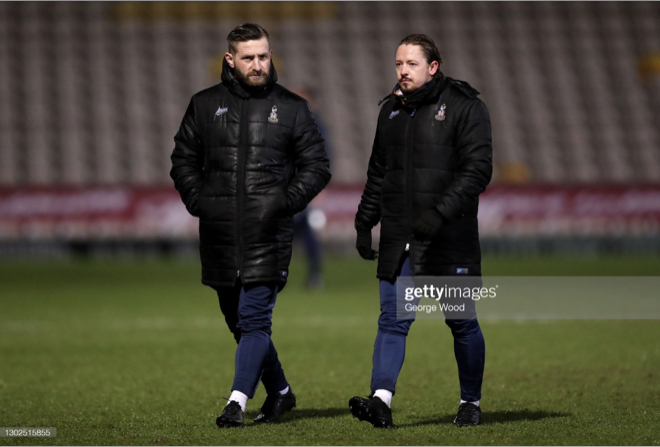 Bradford City have officially appointed former interim bosses Mark Trueman and Conor Sellars as the new joint managers of the club.
The duo, who had been in charge of the Under-18's team prior to their step up, took the helm of the Bantams first team from club legend Stuart McCall, who was sacked following an abysmal league run of six consecutive defeats.
Following their first defeat, away at Exeter City, it was crucial to see if Trueman and Sellars had the mentality to bounce back- and bounce back they did as Bradford masterclassed a fantastic victory over promotion chasers Morecambe who had been on an eight game unbeaten run themselves.
A season-changing transfer window
Trueman and Sellars quickly won over the fans, going unbeaten in their first eight games and being backed in the January transfer window by the club's new CEO Ryan Sparks, bringing in the likes of Danny Rowe and Charles Vernam in what some City fans described as the best transfer window in the club's history.
Along with Rowe and Vernam, Trueman and Sellars brought in seven other new faces to Valley Parade, bolstering their options and strengthening squad depth. However, the pair quickly gained plaudits in their ruthless attitude towards the deadwood in the squad, mutually terminating the contracts of Kurtis Guthrie, Dylan Mottley-Henry, Tyler French, Austin Samuels, Ben Richards-Everton and Jackson Longridge.
With their past experience of managing youth teams, fans can expect an implementation of youth that has already been seen in the likes of Reece Staunton, Finn Cousin-Dawson and Kian Scales' breakthrough into the first team.
Whilst Staunton is yet to play under Trueman and Sellars due to his injury, Cousin-Dawson is one man who had a positive stint in the right-back spot, filling in nicely for the injured Bryce Hossanah and only recently dropping back out of the starting eleven.
Their appointment also means good news for other younger players within the squad, such as Jorge Sikora and Connor Shanks, but it's also an extra incentive for these younger players to now push on in their development, because they know the new management team will take a punt on them.
An era in the club's history that has been enticing and a joy to study, fans have expressed their delight at the decision to turn Trueman and Sellars stay on an interim basis, with Bradford City being a very exciting place to be right now.