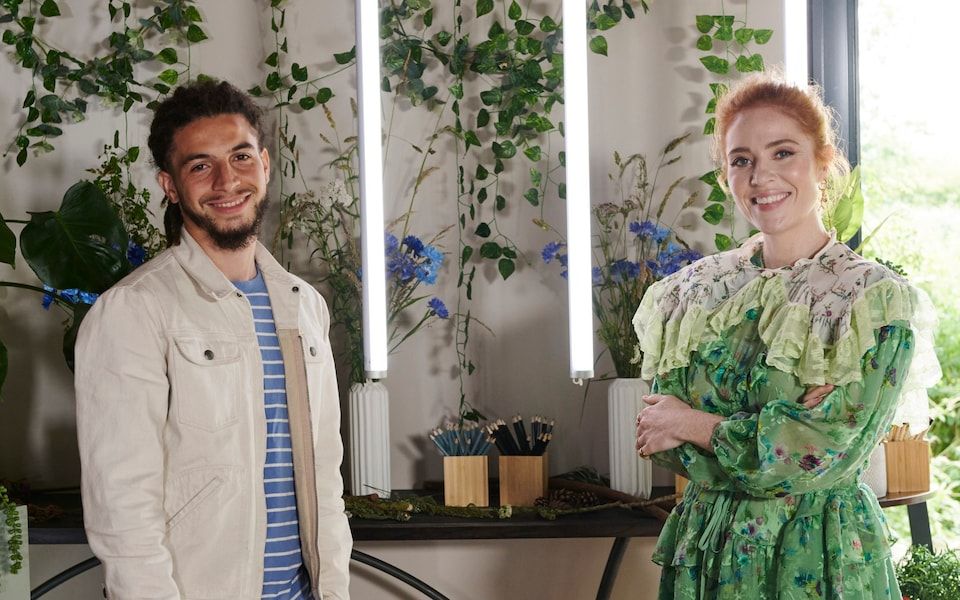 Meet the latest 'Your Garden Made Perfect' signing, Tayshan Hayden-Smith.
Having grown up in West London, the 25-year-old recalls playing football throughout his teenage years at the infamous Westway pitch – familiar with many footballing talents across the capital.
Currently plying his trade at a semi-professional level with Westfield FC, the former Brentford, Crystal Palace, and Newcastle United academy talent appears in the second series of 'Your Garden Made Perfect'.
Hayden-Smith made sure to make it known the last chapter of his footballing career is yet to be written, leaving the door open to a late fairy-tale professional career, like that of Jamie Vardy.
"Well, first things first, I wouldn't say the dream is completely over, I would say there's always a door slightly open."
"However, I will say that I'm at peace with how my career has gone in terms of football, I still play semi-professional football, which is a respectable level."
"In terms of my mindset, bro, I would turn up to parties in a football shirt, I would have a football glued to my feet every second of every day, you wouldn't be able to take a ball away from me."
"The second school finished, I'd be down the Westway kicking ball with anyone and everyone and that's actually how I got to know everyone in the community, just through football."
Despite having the ambition to become a full-time professional, events occurred that shaped Hayden-Smith into the world of gardening and horticulture.
"Well, my roots into gardening aren't very conventional, I wouldn't say that they're the normal route to gardening, I kind of stumbled, into the industry of horticulture."
"I always say that I was influenced by my mum, while I was growing up, she was very holistic."
"Unfortunately, my mum was quite ill from a very young age, the way that she brought us up was always reverting back to nature and embracing our natural surroundings, the environment around you."
In 2017, the lives of 72 members of the community were lost following the devastating fire in Grenfell Tower.
The impact this tragedy had on the people in the local area and beyond remains difficult to depict in words, however, it was in supporting members of his community that Hayden-Smith really became involved in gardening.
Nicknamed 'The Guerrilla Gardener', he adopted a far more unorthodox route, opting for gardening projects to provide comfort toward the community at such a difficult period.
"It is a lot to deal with, experiencing the fire, but also the aftermath, and then having to try to fight for justice as well, it's a nonstop battle."
"People were just trying to find ways of expressing themselves, releasing their thoughts and feelings, so people took to the streets and did art as a creative way of expressing themselves."
"It's mad because if you look back in history, whenever there are adverse moments, there's always some sort of creativity that comes from it, there's always creativity at birth from those hardships."
"I'd say that my journey into gardening is one of resilience and adverse times that kind of sparked something."
"It was Grenfell, losing my mum, some trials and tribulations in my life, which always took me back to the gardens."
"That was the universe telling me that this is something that you're passionate about, this is something that not only heals you but will heal people out of you as well."
"So, I think for me, realisation kicked in when I did the Guerrilla Gardens in the community, and it wasn't really anything that I really thought too much about."
Since then, he's launched the non-profit Grow2Know, which aims to use horticulture to empower young people from all walks of life, regardless of their age, culture, race, or socio-economic status.
Through using cutting-edge technology, the purpose of 'Your Garden Made Perfect' is for designers to reveal different ways the paradise ordinary gardens can become.
He joins an esteemed cast hosted by Angela Scanlon, as the low-cost build expert for the BBC Two series, aiming to help people make the most out of little space and smaller budgets.
"There is a lack of green spaces in inner cities, especially in London, and for me, it was important to bring that back into the community, but also create assets where people can start to unify, to gather to share stories of cultural and historical importance because we're losing those spots."
"We have real heart and soul in the community, especially in Notting Hill where I'm from, so that then became a passion of mine, it became a bit of a mission to just reclaim spaces in the community."
"It's all good and well, doing really expensive projects, showcasing them, but that's not as relatable, digestible, and accessible to the majority of people that I know, who don't have the space or finances."
Educating the next generation
In relation to what he hopes to achieve from appearing on the show, Hayden-Smith speaks about upskilling the younger generation and educating them about the benefits of gardening.
Typically, in the working-class areas of London, where many children grow up in council estates, there isn't much greenery or focus on gardening skills, it is often seen as a luxury or something those with large houses and money do.
Hayden-Smith hopes to use his reach on the series to bring a different dynamic and attempt to alter this narrative, by showing people how accessible it can really be.
"I think that there is a lot to be said about the curriculum in order to inspire and influence young people into a more holistic lifestyle or a more nature-inspired lifestyle."
"Some people are in survival mode, they're not really thinking about gardens and nature, they're thinking about how to put food on the table for their kids, where the next meal is coming from."
"If you're in that mindset, how are you going to create time and space for gardening, which is perceived by a lot of people as a bit of a hobby? I'm trying to flip that and say, actually, it's part of the solutions to a lot of these problems."
"You know, to tackle food poverty, we can grow foods, on balconies, on windowsills, on roofs, in turn, that helps the environment, pollution, the way that we live, I think all of these things connect to the way that we have a relationship with nature."
In recent weeks, unfortunately, we have seen football – due to the actions of footballers in particular – in the headlines for negative reasons.
This has led many to voice the idea that we shouldn't idolise footballers and this habit is in fact creating a toxic element to the demise of society.
While this may hold true to some extent, the actions of Hayden-Smith prove that there are players out there who are driven to create a positive impact, using their platforms to educate and inspire.
"Every garden that I like to design and influence, I think about the wide range of impacts, whether that be the environment, how the people live, and the sustainability."
"Food is a big part of that, if we can grow fresh food sustainably and organically, all of a sudden, we're taking the power out of the hands of the corporate massive giants that are making a killing off of most people."
"So actually, if you're able to grow food on a vertical wall, which like in Newcastle, there's a way that I've done that, which I'm proud of, then you're on your way to solving huge problems."
While it is still early on in the journey for Tayshan Hayden-Smith, it is inspiring to see how far he has come so far.
He will without a doubt become one of the leaders in this up-and-coming generation, perhaps as the face of a very underrepresented community in the world of horticulture.
We look forward to seeing what's in store for such a determined and talented young man
Your Garden Made Perfect airs on February 4th at 8pm on BBC Two and iPlayer