Everton sealed a spot in the FA Cup semi-final for the first time since 2012 as a Romelu Lukaku double defeated Chelsea at Goodison Park on Saturday.
Lukaku did the damage against his former club, breaking the deadlock with a stunning individual strike before putting the tie beyond the visitors with a second in a frantic final 13 minutes, which also saw Diego Costa and Gareth Barry sent off.
Lukaku returns to haunt Chelsea
When Chelsea decided to sell Lukaku to Everton in 2014 for £28million, many questioned their reasoning, not that Everton supporters cared. The Belgian came back to haunt his former club and it was his brilliance that dealt the fatal, and arguably most painful, blow to their season with the two match-winning goals.
Lukaku came into this tie having scored 59 goals for Everton but not one of those was against his former club. However, with a moment that showcased his ability and world-class forward play he changed all that and picked the perfect occasion.
His first goal was reminiscent of Ricky Villa's famous goal for Tottenham Hotspur in the 1981 FA Cup final. The 22-year-old possessed too much power and skill for four Chelsea defenders, showing sheer strength and brilliant balance, before great composure to slide a finish under Thibaut Courtois.
The striker was not finished and 286 seconds later he put another dagger through Chelsea hearts, rifling through the legs of Courtois to send Goodison Park into jubilation and just one step away from a first cup final since 2009.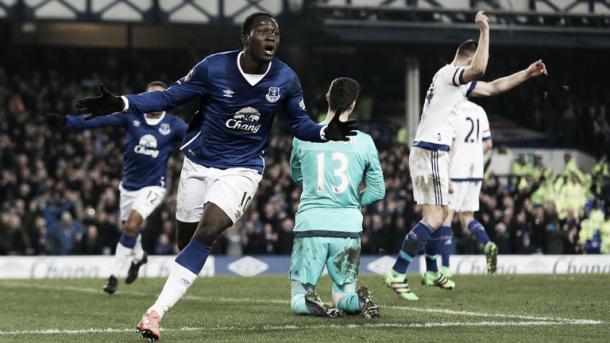 Goodison Park back to its best
Everton's last two home games have ended in defeat; a 1-0 defeat to West Bromwich Albion highlighted season trends for the Toffees, while a disappointing end to an all too familiar story against West Ham United last weekend added the importance on Saturday's match.
The atmosphere at Goodison Park last weekend was one of despair and resentment, but Saturday proved to be totally different. The mood of impatience and tension was replaced by the sounds of triumph, fight and harmony that reverberated around Goodison at the final-whistle along with a feeling of unity and togetherness as the Toffees' march to Wembley continued.
Supporters stayed behind afterwards to soak up the jubilant atmosphere, sing loud into the night and revel in that feeling of your team booking a place at the national stadium. Even Gareth Barry's dismissal, after the midfielder received a second yellow card, could not stop the elation sweeping around Goodison Park.
While Everton's new majority shareholder, Farhad Moshiri, confirmed the issue of Everton's proposed new stadium is high on the agenda, he sampled Goodison Park at its finest.
So far, so good for new shareholder
Farhad Moshiri, attended his first game at Goodison Park after the Premier League approved his 49.9% share purchase last week, and he was on hand to oversee his new side seal their place in a lucrative semi-final at Wembley.
Moshiri has said that he has been taught what it means to be a supporter of the club, but now, after experiencing a special night at Goodison, he will now know the feeling of jubilation and elation that has been missing on Merseyside for the majority of this season. Everton supporters will be hoping that the new era at the club sees many more moments like Saturday.
The Toffees' hopes of growing as a club will boil down to their ability to fight on the pitch as well as off it, but Moshiri will have no doubt enjoyed the Toffees' ability to go head-to-head with the champions in a feisty, ill-tempered encounter.
In a message in the match programme, Moshiri confirmed that Martinez will have the funds to buy new players in the summer but also to keep the best the club already have and surely the Toffees will be doing everything in their power to keep Lukaku at the club beyond the summer.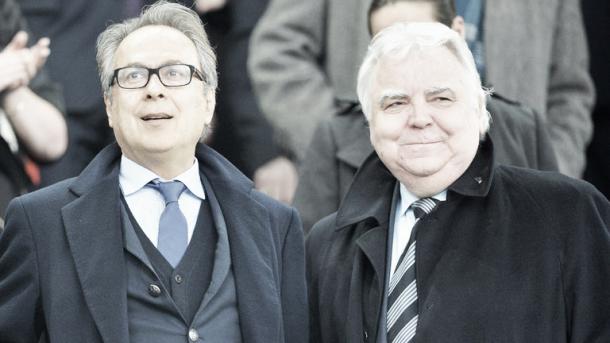 Everton's season is still very much alive
Everton's season was on the line going into this game and defeat to Chelsea and their hopes of qualifying for the Europa League would have been effectively over given how far off the pace the Toffees are in the league. However, a place in a Wembley semi-final and a potential cup final means that Everton's season is still very much alive.
Fourteen other clubs have won major trophies since Everton last lifted silverware in 1995 and 20 years without a trophy does not conform to a club that remains one of the most successful clubs in the country. Martinez's squad is one of the best squads Everton have assembled since the glory days of the 1980s and there is a general consensus that the Toffees should be doing better than they currently are.
A first trophy in 21 years will certainly give the club a huge lift, especially after witnessing another frustrating season at Goodison Park, and Martinez will now be hoping that his side can replicate their cup form in the league as they look to end the season strongly.
Martinez answering critics in cup
Martinez, like his team's season, lives to fight another day. It was Roberto Martinez's FA Cup triumph with Wigan Athletic in 2013 that persuaded chairman Bill Kenwright that Martinez was the man to replace David Moyes. Nearly three years later and many Everton supporters are still not convinced, but the FA Cup could well prove to be a saving grace for Martinez.
Even the Spaniard's most fervent critics have to acknowledge that Martinez got it right on Saturday. The Everton boss' open and expansive brand of football has been criticised, but the Toffees had a greater emphasis on being robust and competitive and their high-energy pressing game proved extremely effective as the home crowd bought into the player's determination and effort.
One area that most supporters know that Martinez must improve is substititions and the Catalan got his substitutions spot on against Chelsea. With the deadlock remaining he was just about to introduce Gerard Deulofeu to the proceedings, but after Lukaku's opening goal, the winger sat back down and on came defender John Stones to shore things up. Then Muhamed Besic followed to similar effect. It was enough to see down the clock, and book a date at Wembley.