Following their first win of the season over Everton last weekend, VAVEL spoke to Watford manager Katie Rowson about her thoughts on the match and how she's finding her first season in charge of the Golden Girls.
A welcome win after a welcome break
After such an open second-half with both sides leaving every last ounce of blood, sweat and tears on the pitch, Rowson was elated and exhausted in equal measures.
"It's certainly not a shock, it's a relief and it's emotional, I'm exhausted, I need to sit down, my voice is going but it's brilliant."
"No one has waved a magic wand over us today, this is because of a lot of hard work over the break. We've done an awful lot of reflection after the first part of the season, the work the girls have put in over the last three weeks has been huge and absolutely worth it and it's been hard, ridiculously hard, but this is what we've been working for.
"Now we have a benchmark, it terms of a level of performance that's what I want to see week in a week out. That's the minimum and now we've got to kick on from here."
When Watford played the London Bees at Vicarage Road they struggled to get going in the game and when the goals started flying past Sophie Cheadle, the Golden Girls looked utterly lost. Less than a week later they lost their fifth consecutive league game of the year and Rowson was more than happy for the break.
"In the first half of the season, what really hurt us was the London Bees result [at Vicarage Road] and then the away loss to Oxford right afterwards.
"Up until that point we might not have been getting the results we wanted but we had been playing as well as we could – given the brand new squad and the lack of a pre-season, we had been giving it our best but we let ourselves down with those last two games.
"Which is why the mid-season break was such a welcome break. It meant that we could step back and reflect on what had happened and go about improving after the restart which meant an awful lot of hard work.

"But I have to commend everyone, from the players to the backroom staff, all the medical team, it's been from every single person involved with this club and you can see today, that it's been worth it."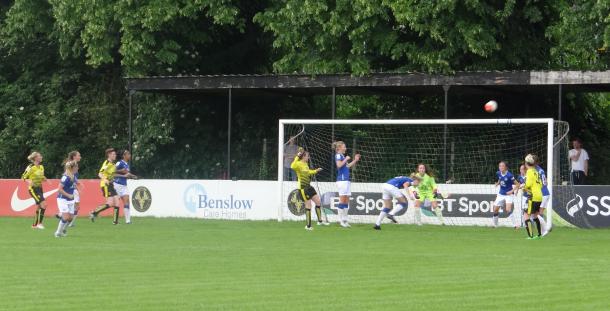 Ninety minutes
Rowson is one of the handful on mangers who only started working with the her club at the start of this year, she explained why her initial plans for this season were so vague.
"At the start we said the minimum was to 'have to have a better season than last season', that was all. I was new into the team and I had to see what we had so I couldn't be more specific but we had to improve upon what was managed last year, that was the very least.
"Since I've come in, from day one we've been working towards a ninety-minute performance, and today is the first day we've achieved that – yes there were still mistakes, both team and individual, as well as tiredness.
"A lot of things that went wrong today but that was the first real ninety-minute performance we've put in. It's brilliant that we've achieved that but on top of that it was our first win and on top of that it's come against Everton, who are a fantastic team."
With deadline day looming on the horizon, the fans may hope to see one or two new faces at Berkhamsted in the coming matches.
"We're in talks with a few but we'll just have to see how it goes, with transfers you just never know until they've signed on the dotted line."