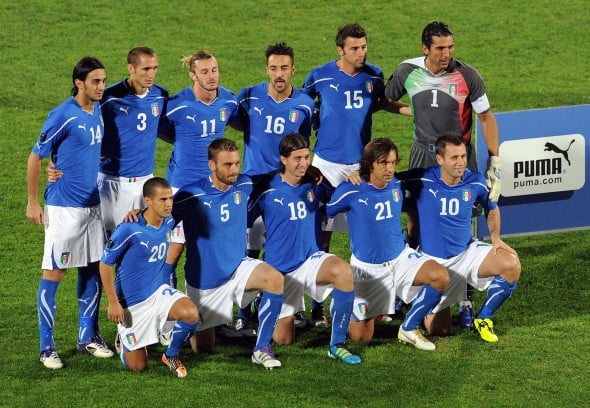 Cesare Prandelli has opted for a blend of youth and experience. A very impressive 27 out of the 32 players named in the squad play in Italy but, interestingly, only 4 have garnered 50 caps or more: the Scudetto-winning Juventus trio of Gianluigi Buffon, Giorgio Chiellini and Andrea Pirlo, and Roma stalwart Daniele de Rossi. It is no coincidence that these 4 players are widely considered to be the most influential in the squad and will no doubt make up the spine of what is a potentially world-class team.
One of the many hindrances to Italy's progress, or lack thereof, at the World Cup in South Africa two years ago was the injury to goalkeeper Buffon. He is by far their most experienced player – with 113 caps to his name – and instills a confidence in his defencewhich was sorely missed by both Juventus and the national side during his various spells out through injury over the last few years. Possibly the biggest positive for Italy's European Championship hopes is that Buffon has had an injury costless, and extremely successful, 2011/12 season with Juventus prior to the tournament.
This success at club level surely cannot be ignored by the national team coach. Buffon's defensive teammates at Juventus – Chiellini, Leonardo Bonucci and a newly rejuvenated Andrea Barzagli – have made themselves the statistically best defence across Europe's top leagues this season, conceding only 20 goals from 38 games in the league. It is, however, almost inevitable that at least one of these three will miss out on a starting berth. Prandelli's preference to play with a back four – as opposed to Juventus coach Antonio Conte's recent switch to a back three – would suggest the coach will probably stick with Zenit St. Petersburg's Domenico Criscito at left-back, meaning Barzagli is more likely to miss out. Prandelli has further options to choose from for back up in defence, Palermo left-back Federico Balzeratti for instance, along with Torino's Angelo Ogbonna, Internazionale's Andrea Ranocchia, Salvatore Bocchetti of Rubin Kazan and Davide Astori of Cagliari respectively.
Likewise, there is strong competition for the right-back berth, this time between two of Italy's more attacking full-backs: AC Milan's Ignazio Abate and Napoli's Christian Maggio. Prandelli's preferences of late suggest he will opt for Maggio, who has played there regularly since Gianluca Zambrotta's retirement from international football in 2010. Abate has adapted well since converting from a right winger to full-back and, while he is now 25 and cannot be considered a youngster anymore, his experiences in the Champions League with Milan in the previous three seasons will only serve him well in the coming years, even if it does not gain him a starting berth in the upcoming tournament.
In midfield Prandelli has again decided to mix new arrivals with ageing experience. Including the reborn Andrea Pirlo – another coming into the championships off the back of a wonderful season with Juventus, in which he was the most consistent passer in Serie A – and the dogged Daniele de Rossi, the Italian midfield can be a match for any in the world, in theory at least. Claudio Marchisio – yet another Juventus player named in the squad – has added goals to his game this year, scoring 9 goals in the league to finish as Juventus' second top goalscorer. This, along with his ability to play an intricate passing game, fits well with Pirlo at club level and could well allow the Azzurri to dominate games in a similar way in which Juventus do if Prandelli chooses to start both.
They have real competition in the squad in the shape of AC Milan-bound Riccardo Montolivo and the consistent Antonio Nocerino, a surprise success at Milan this season in the absence of Gennaro Gattuso. There is also more experience in the shape of Paris Saint-Germain midfielder Thiago Motta, the naturalisedItalian has now played 7 times for the Azzurri and brings with him an understanding of playing in big games with the considerable number of times he competed in European football for both Internazionale and Barcelona. Another naturalised Italian, Atalanta's uncapped winger Ezequiel Schelotto, brings height and pace to the wide positions if he makes the squad, while Pescara's highly rated midfielder Marco Verratti is widely tipped to be the long term replacement for Andrea Pirlo in both the Juventus team and the national team. While still only 19, uncapped and playing in Serie B, he has already played over 60 games in first team football and has shown more than a few glimpses of what he may be capable of during this season. Whether he is ready to be taken to a major international tournament is a decision many fans will await with interest. The other midfielders named in the squad are Atalanta's Luca Cigarini, Bologna's Alessandro Diamanti and Juventus' useful squad player Emanuele Giaccherini. All of whom are uncapped, with the exception of Diamanti, who has turned out once previously for the Azzurri, playing only one half of a game against Romania back in 2010.
Six forwards have been chosen for the provisional squad; again some are relatively experienced while others are uncapped. The indefatigable Antonio di Natale has been making headlines for his generosityoff the field – with regards to his and Udinese's pledge to aid the sister of Piermario Morosini since his premature death in a Serie B match – as well as on it this season, he scored 23 goals in 36 games. This will be his last international tournament and it remains to be seen whether or not he will even continue playing domestically afterwards.
The inclusion of AC Milan's Antonio Cassano has capped a remarkable recovery for the striker, who suffered cerebral damage in November of 2011 and underwent heart surgery later that month. He returned to the Milan side less than a month ago, scoring in his first game back against Genoa. Whether Prandelli feels he is able to reach a level of match fitness to be included remains to be seen, but the temperamental forward is an influential player when given the chance. Sebastian Giovinco of Parma is one of the on-form forwards of the six selected. He has contributed 15 goals and 11 assists in a season in which Parma finished eighth in Serie A, a goal tally bettered by only di Natale in this squad.
The remaining three slots in the provisional team all went to 21 year-old forwards. Two are less likely to be known to the majority outside of Italian football fans, one is most definitely known to most. Mario Balotelli is a player just as likely to lose you a game as to win it. He has demonstrated his best and most frustrating attributes at Manchester City this season, finishing with 13 goals in 23 games in the league, but picking up 6 yellow cards and 2 reds in that time. It is at times hard to remember that he is still only 21 and it is only through experience that he will learn to focus more, Prandelli therefore has a hard decision on whether to include him or not.
Born only nine days apart, Fabio Borini of Roma and Mattia Destro of Siena have been given the chance to impress Prandelli enough to make the final 23. While neither had amazing seasons in Serie A they both undoubtedly have talent. Borini struck 9 times in 24 outings while Destro hit 12 in 30. Even taking into account the relatively poor seasons for both clubs, the feeling is that these two may not be ready for a major tournament yet, unlike Balotelli they have not played at the top level in European football.
The spine of a very good, potentially world-class, Italian national team is there once more. The base of a solid team is consistency and familiarity, something that is present in this squad through the Juventus players who remained unbeaten throughout the entire league season. The experience and bellicosity of de Rossi in particular is something which will only strengthen the team whichever tactics Prandelli sets out with. Even without a top striker in Giuseppe Rossi, who will miss out through injury, Italy have the quality to mount a challenge for the trophy. Manage to navigate the very tough group of Spain, Ireland and Croatia, and Italy have a fantastic chance of reclaiming a place at the top of international football and put to rest the failure of South Africa.
Full Italian Provisional Squad for EURO 2012 Selection:
Goalkeepers: Gianluigi Buffon (Juventus), Salvatore Sirigu (Paris Saint Germain), Morgan De Sanctis (Napoli), Emiliano Viviano (Palermo)

Defenders: Cristian Maggio (Napoli), Domenico Criscito (Zenit St Petersburg), Ignazio Abate (AC Milan), Federico Balzaretti (Palermo), Davide Astori (Cagliari), Salvatore Bocchetti (Rubin Kazan), Leonardo Bonucci (Juventus), Andrea Barzagli (Juventus), Giorgio Chiellini (Juventus), Andrea Ranocchia (Inter Milan), Angelo Ogbonna (Torino)

Midfielders: Andrea Pirlo (Juventus), Claudio Marchisio (Juventus), Emanuele Giaccherini (Juventus), Daniele De Rossi (Roma), Thiago Motta (Paris Saint Germain), Antonio Nocerino (AC Milan), Riccardo Montolivo (Fiorentina), Ezequiel Schelotto (Atalanta) Luca Cigarini (Atalanta), Alessandro Diamanti (Bologna), Marco Verratti (Pescara)

Forwards: Antonio Cassano (AC Milan), Mario Balotelli (Manchester City), Sebastian Giovinco (Parma), Antonio di Natale (Udinese), Mattia Destro (Siena), Fabio Borini (Roma)