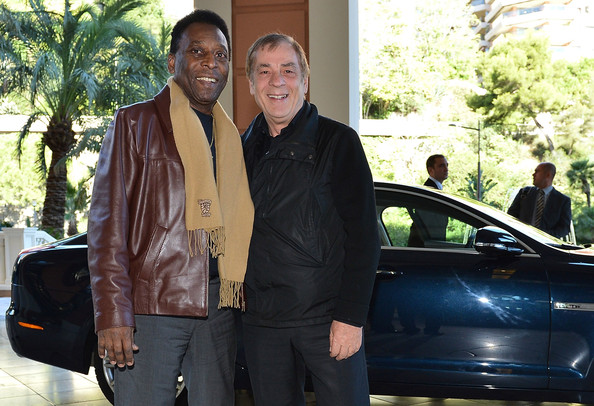 Edson Arantes do Nascimento, known to the world as Pelé, will receive the Golden Foot Award in Monte Carlo as the greatest football player to have ever played the game.
The Golden Foot Award, voted by media partners and the public, is given to legendary players who have contributed the most to the game. The ceremony is held every year in Monte Carlo under the auspices of HSH Prince Albert II. This year, the awards ceremony will be held at the beautiful Sporting Monte Carlo "Salle de Etoile" on October 17, 2012 at 8pm (Reserve your table) with members of the Royal family and notable celebrities in attendance. Pelé will receive the award as well as place his immortal footprints in the Champions Promenade in Monaco, alongside other football greats such as Ronaldo, Platini, Zidane, George Best, Diego Maradona, Romario, Luis Figo, Del Piero and many more.
As a football player, Pelé reached heights that no other player has matched to this day. He started his professional career at the age of 16 for Santos Futebol Clube, a club he stayed with for nearly two decades. In 1958, Pelé won his first World Cup for Brazil at age 17 – the youngest winner ever. He went on to win another two World Cups in 1962 and 1970, making him the only person in the world with three Jules Rimet trophies to his name. Not only is Pelé the all-time leading scorer of Santos FC and the Brazil National Team, but he is also the all-time leading scorer in the history of the sport (1283 goals in 1366 matches).
In 1974, Pelé came out of semi-retirement to sign with the New York Cosmos for the 1975-1977 seasons and led his team to the 1977 NASL championship. After his final career match on October 1, 1977 in front of more than 75,000 fans, Pelé shouted, "Love! Love! Love!" and urged his audience to pay attention to the youth of the world. Pelé will never forget where he came from and has a never-ending desire to give back.
Named "Football Player of the Century" by FIFA, Pelé's importance and fame transcends his sport, his name is synonymous with excellence and he is recognized by billions of fans all over the world. Today, Pelé maintains his commitment to the sport and to society by fulfilling various roles as spokesperson, ambassador and philanthropist and through the popularity of football being the world's game, he hopes to unite everyone in his quest for a better world and leave a lasting legacy for generations to come.