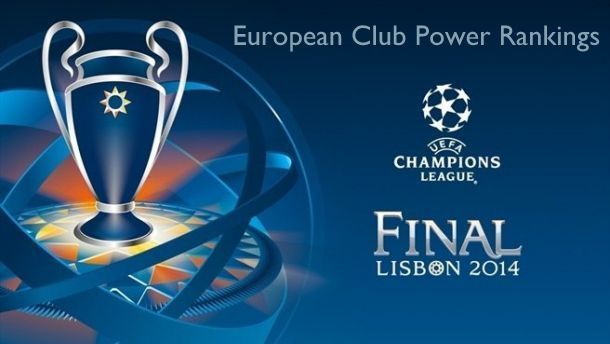 As the UEFA Champions League resumes tomorrow, let's take a look at how Europe's elite currently stack up. As always, you can find the previous edition of the rankings here.
The upcoming matches see some of Europe's top powers facing off, most notably Manchester City - Barcelona and Arsenal - Bayern Munich. Lower ranked sides will have their opportunity to shake things up over the next two weeks, but here's how they stand at the moment:
1. Bayern Munich (up 1)
Bayern might not ever lose again in the Bundesliga. We'll see how they stack up against one of the Premier League's elite in Arsenal.
2. Barcelona (up 1)
When both Lionel Messi and Neymar are scoring goals like they did on Saturday, Barça are irresistible. They appear favorites over a slightly diminished Manchester City side, who may be boosted by the return of Fernandinho but are still without star striker Sergio Agüero.
3. Real Madrid (up 1)
Even Cristiano Ronaldo seems replaceable in this Madrid team orchestrated by Luka Modrić - at least against La Liga sides. Los Blancos will happily welcome him back when they visit Schalke in just over a week. They'll still be without the Ballon d'Or winner at home to Elche this Saturday, but the Bernabéu faithful shouldn't be too worried with Jesé filling in.
4. Atlético Madrid (down 3)
A wounded Atleti failed to even threaten Real Madrid in the Copa, but they've still matched Madrid and Barça step for step in La Liga. Los Colchoneros hope to bounce back in a more prestigious cup competition with a trip to Milan.
5. Manchester City (unchanged)
The tie with Barcelona is surely the most daunting challenge of the four competitions in which City are still alive. City should fancy their chances against Barcelona, but one way or another, a giant will fall.
6. Chelsea (up 5)
José Mourinho has already won the battle in the English press with his trademark antics. Will it convert into silverware this season?
7. Arsenal (up 1)
Arsenal are looking very likely to bring home at least one trophy this season, potentially ending Arsène Wenger's 10 year drought. A showdown with Bayern Munich will be their toughest test yet.
8. Paris Saint-Germain (down 2)
PSG are still in control in Ligue 1, and should be slight favorites in their matchup with Bayer Leverkusen.
9. Borussia Dortmund (up 1)
Dortmund entered the winter break on a sour note, but they are unbeaten since returning to action in late January, winning four and drawing one. A trip to Russia is never easy, but they'll face a Zenit side that hasn't played a match in two months.
10. Juventus (up 2)
It still seems disappointing that a club with this much quality is already eliminated from the Champions League. Juve's only loss in Serie A came all the way back in October.
11. Liverpool (up 8)
Just over two thirds of the way through the Premier League season, Liverpool are only four points off the lead. With the competition at the top, they are as likely win the title as end up without European football for another season. If Luis Suárez can power them to a top 4 finish, he may stay a Red long term.
12. Schalke (up 5)
Schalke earned three vital points in their win over Bayer Leverkusen, which could prove crucial in their quest to qualify for next year's Champions League. Teams 2 through 7 in the Bundesliga are separated by just 10 points.
13. Bayer Leverkusen (down 3)
Leverkusen allowed Dortmund to gain ground in the race for second place with their slip up at home to Schalke. They can get some confidence back tomorrow when they host PSG.
14. Olympiakos (up 4)
Can Olympiakos continue their ascendency to true European contenders by taking down a struggling Manchester United? Their staggering 20 point lead over the rest of the Greek Super League makes even the Bundesliga look competitive.
15. Galatasaray (unchanged)
Old friends Didier Drogba and Wesley Sneijder will attempt to deny José Mourinho passage to the Champions League quarterfinals for the first time since his first season with Inter in 2008-2009.
16. Roma (down 2)
Roma are looking sure to qualify for next season's Champions League, and are still close enough to Juventus to keep things interesting in Serie A.
17. Napoli (down 1)
The Partenopei may have have fallen a bit behind Roma in league play, but they were able to defeat the Giallorossi to reach the Coppa Italia final.
18. Zenit St Petersburg (down 5)
Zenit have been on winter break since December, so they'll have to shake off the rust when Dortmund visit St Petersburg next week.
19. Monaco (previously unranked)
Monaco are on pace to prove that 150 million euros is all it takes to bring a club from Ligue 2 to the Champions League in a single season.
20. Athletic Bilbao (previously unranked)
There's an interesting battle for fourth place developing in Spain between Athletic Club, Villarreal, and Real Sociedad. Despite the loss to Espanyol yesterday, their first in league play at the new San Mamés, Los Leones maintain the advantage.
The rest: Tottenham, Manchester United, Borussia Mönchengladbach, Wolfsburg, Milan, Fiorentina, Inter, Villarreal, Real Sociedad, Benfica, Porto, Ajax, FC Basel, Shakhtar Donetsk, Fenerbahçe