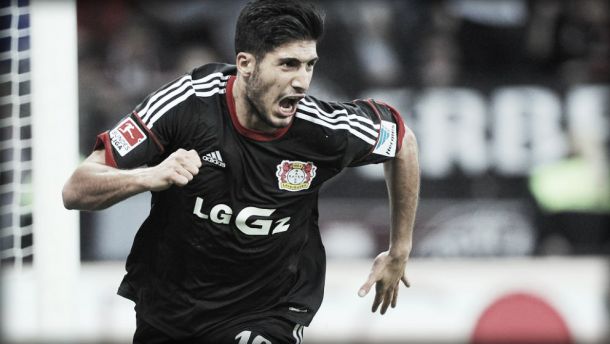 Liverpool, according to many sources in the UK today, have activated the £9.75 million release clause of Leverkusen's Emre Can, with the German U21 international verbally agreeing to join the Merseysiders. If he signs the paperwork, Can will become the club's second signing of the summer after Southampton's Rickie Lambert. Bundesliga champions Bayern Munich have a buy-back option, yet it appears that Can, of Turkish ancestry, is on his way to join Brendan Rodgers' side. Can is one of the brightest youngsters in the Bundesliga, but what can he offer for Liverpool should he join?
One thing is for certain is his versatility. His best position is his role as a box-to-box midfielder, with his high pressure game and composure on the ball seeing him being dubbed the new Bastian Schweinsteiger. Can's main threats come from his marauding runs forward and a dangerous shot at his disposal, Can will provide competition in the central midfield area, especially as Liverpool will be competing on four fronts next season. However, on numerous occasions this season, Can has been played at left-back for Leverkusen, and he has also show through his physical strength that he is able to defend as well; he can even cover at centre-back if needed. But arguably, the twenty year-old's most impressive aspect is his footballing brain, remaining calm and composed and Can plays as if he somebody who is at the peak of their footballing powers.
This composure will certainly aide Liverpool in 2014/15, as they look to mount another title charge, having come two points short of champions Manchester City. Can also has leadership qualities, again highlighting his vast maturity for someone so young. He has played for Germany at every level from U15s to U21s, and captianed the U17 side. He made thirty-nine appearances for Leverkusen last season, scoring four goals, in what appears to have been his one and only season with the side which finished 4th in the Bundesliga. Can has already got a collection of medals to his name, having been part of the Bayern side which won the treble in 2012/13. This mindset for winning is another positive feature to Can's game, as Liverpool look to get their hands on silverware once again.
For somebody of twenty years-old, Can exudes maturity and positivity. His consistency and versatility will firmly make him a fans favourite at Anfield, and he is seemingly unaffected by any pressure placed upon his shoulders. He will be a real asset for Rodgers and Liverpool, not just in the short-term, but for many years to come, and with a return to the Champions League for the first time in four years, Can's composure and ability to play in different positions will be of benefit for the five-time European champions. Can will only get better as time goes on, and at £9.75 million, he may well just turn out to be the signing of the summer in the Premier League.