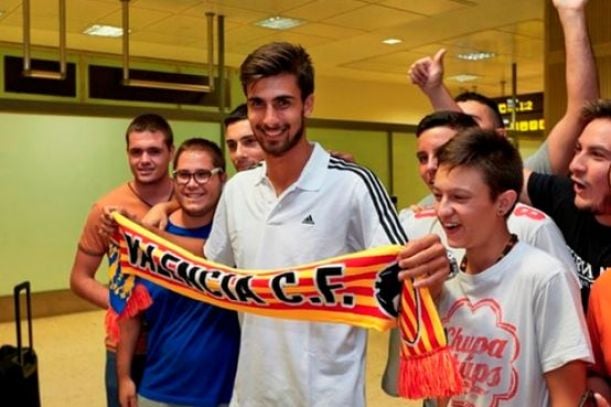 After a convoluted and confusing transfer saga, Andre Gomes has officially joined Valencia CF from Portuguese giants Benfica. In January, it was announced that Meriton Capital Limited had purchased his rights for a hefty 15 million euros. While it is becoming more common place for third parties to purchase percentages of players in Portugal, until this January, it was very uncommon for a third party to purchase an entire player. With Gomes essentially owned by a corporation, he continued at Benfica for the rest of the season, playing huge roles in Benfica's quest to both the Primera Liga and to the Europa League final. Speculation around his future began to build when it was discovered that Meriton's owner, Peter Lim, was on the verge of purchasing Spanish side Valencia CF. It was widely believed that Gomes would move to Valencia, but Lim's takeover of the club stalled any movement.
Finally, it was announced that Andre Gomes would travel to Valencia today to undergo medical examinations and be presented officially. When looking at Gomes' statistics, the 15 million euro price-tag seems quite inflated. But upon further examination, 15 million euros looks like a reasonable amount. Though he has only appeared 13 times for Benfica in the past two seasons in the league, he has amassed 41 appearances in all competitions, including runs in both the Champions League and the Europa League. And it was this season in the Europa League where Gomes truly shone, being named to the Europa League team of the tournament. One must keep in mind that Gomes is still only 20 years old.
Andre Gomes will join fellow compatriots Ruben Vezo, Ricardo Costa, Joao Pereira, and Helder Postiga at Valencia, as well as the team's coach, Nuno, who is also Portuguese. With Valencia recruiting heavily after disappointing last season, Gomes will surely have to fight for his place in the team. But one feels that if he earns a spot in the team, this move will do wonders for his development.