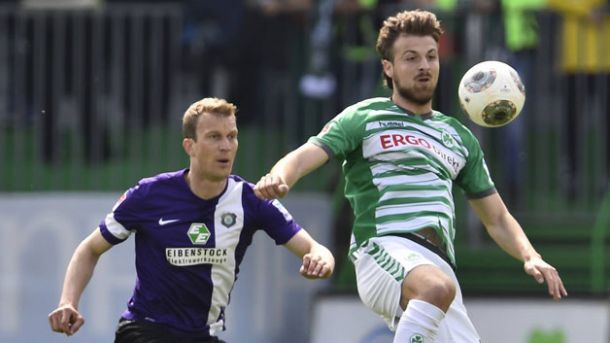 Greuther Fürth striker Ilir Azemi was seriously injured in a two car collision just outside of Fürth and Nürnberg on Wednesday morning.

In the afternoon, President of Greuther Fürth, Helmut Hack, confirmed that his life wasn't ever in danger.

Later on that afternoon, he was confirmed to have multiple broken bones and a lung contusion.
At 4:38am the police received an emergency call that a crash had taken place, according to BILD. The striker had to be cut out of his Audi, which was wrapped around a lamppost, after colliding with a Citroen van.
The driver of the van was treated in the outpatients area of the local hospital; he suffered bruises and he had no alcohol in his blood, after the police performed a breath test. Azemi, however, had to be cut out of his car. The striker was trapped in and it took 40 minutes of heavy cutting to costless him from the car, before he was transported to Fürth hospital, it has been reported. Both vehicles were written off, with damage estimated at tens of thousands of euros.
The extent of Azemi's injuries are, as of yet, unknown. Helmut Hack, the club president, declined to comment on his condition, but had this to say on the incident, "We will support Ilir as best possible and help him on his road to recovery."
The Albanian striker had scored 14 goals in 28 games for Greuther Fürth last year, but had missed the start of the season with a torn ankle ligament. After Eintracht Frankfurt were reportedly interested in him, he had expressed his desire to leave. However, the club wouldn't allow it, Azemi said, "I would have gladly accepted the challenge. I respect that I still have a another year on my contract. But I can not understand why the club won't allow me."
An update from president Hack, via BILD, followed in the afternoon, "An hour ago I recieved information that Ilir (Azemi)'s life is not in danger and it never was. He is currently in intensive care. We need to stabilize him in the next few days and discuss further treatment with the doctors."
Thankfully, some good news began to emerge from the situation. Fürth's Martin Meichelbeck told BILD, "He has suffered a lung contusion and multiple fractures. He is approachable and no longer connected to ventilators. It is infinitely tragic for the boy. The team is very concerned. Now we have to think about the derby; which is very, very hard for all of us."