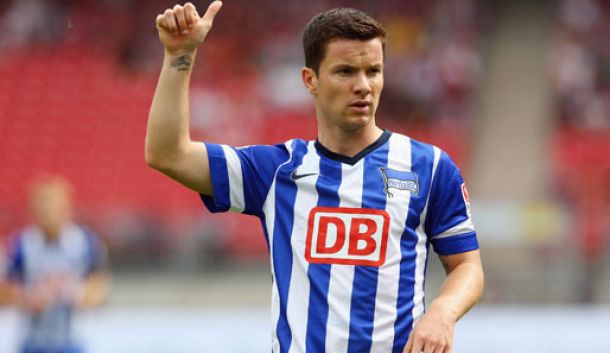 Hertha Berlin's Alexander Baumjohann has suffered another cruciate ligament injury in his right knee, the club has confirmed. Baumjohann is the third Bundesliga player in the past fortnight, after Bayern Munich's Javi Martinez and Schalke's Sead Kolasinac, to have suffered this injury and like Martinez, who picked up his ACL problem in the Supercup - Dortmund, and Kolasinac, who suffered a similar injury in the Matchday One clash - Hannover, Baumjohann won't be seen until the new year.
Baumjohann can't get anymore unfortunate and luckless. The 27-year old missed nearly seven months of action last season with a cruciate ligament injury, and it will be a similar time period for this latest knee problem. He made just nine Bundesliga appearances in his debut campaign for Hertha, having arrived from Kaiserslautern last summer. He was a key figure in Kaiserslautern's promotion push in 2012/13, only losing out to Hoffenheim in the relegation/promotion play-off, and won the DFB-Pokal and the Supercup with Schalke in 2011.
However, this latest set-back for the midfielder highlights the growing list of cruciate ligament injuries and how these are becoming ever more common in modern football, with emphasis on movement, pressing and tactics. How does the DFL, UEFA, even FIFA go about potentially tackling this problem? There is also the sad possibility that this second cruciate ligament injury will mean Baumjohann will never be the same player. We all hope that isn't the case. Although these two injuries have seen him miss one year of action in total, in reality his last two seasons have been ruined. Martinez, Kolasinac and now Baumjohann. Let's hope they come back better than ever.