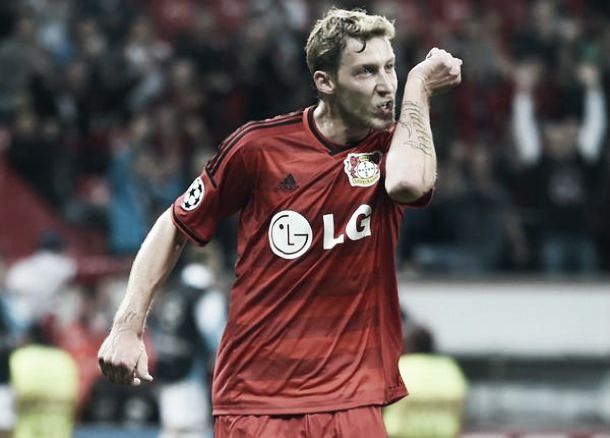 It did not take long for Leverkusen to take the lead in their Champions League tie as Heung-Min Son scored in the second minute to open up the flood gates. A Copenhagen defender made a horrible pass which was picked off easily. Stefan Kiessling passed it the ball to Son, who lifted the ball up with his left foot over Stephan Andersen and into the back of the net. Again the Korean international made his presence felt in the 17th minute, but a late, late flag was raised by the assistant referee as that would have been his second of the match and would have really killed off the match early on.
However, just two minutes later, young Hakan Calhanoglu scored his first goal for his new club as he scored direct off of a costless kick. On the way through to the goal though, the ball hit off of a Copenhagen player in the wall, which caused the ball to switch directions. Anderson was already going one way and could not adjust his body quick enough, which doubled the hosts lead. Copenhagen had their first half chance of the night right before the 20th minute as left-back Pierre Bengtsson whipped in a costless kick from the left side of the pitch, but Bernd Leno caught the ball without any worry.
At the half an hour mark, Amankwaa fouled Kiessling in the box and drew a yellow card as well. Kiessling sent the goalkeeper the wrong way and netted his 8th goal in four matches across all competitions, which is quite remarkable at this stage in the season, after just four total matches played. By this time, the German club were finding it very easy. They were able to move the ball around, find space in and around the pitch as Copenhagen were not pressuring whatsoever. The Danish club seemed to have lost all fight in them as they were essentially out of the group stage of the Champions League.
Kiessling scored his second of the night in the 66th minute of play as the German forward raced onto the ball and found the bottom right hand corner of the net. He brought the ball down with his left foot and finished it off with his right, with his ninth goal of the season. Leverkusen will find out their group later this week in the Champions League draw as they prepare to face Hertha Berlin this weekend.