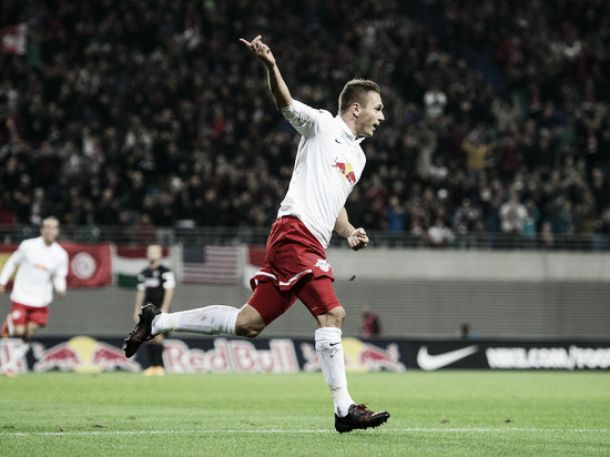 RB Leipzig bounced back from last weekend's defeat to beat VfL Bochum 2-0. A Fabian Holthaus own goal and Daniel Frahn's tap-in saw Leipzig jump to third, albeit with the teams around them yet to play.
Following defeat to Nürnberg last weekend, Alex Zorniger made three changes: Daniel Frahn, Stefan Hierländer and Fabio Coltori replaced Terrence Boyd, Joshua Kimmich and Matthias Morys. Peter Neururer also switched things up from Bochum's draw with Darmstadt; Jan Simunek and Marco Terrazzino came in for Malcolm Cacutalua and Michael Gregortisch.
The hosts were doing all the early pressing, several set-pieces had caused major problems in the opening five minutes and the last of a series would produce the opening goal. Dominik Kaiser whipped in a dangerous corner, it took a touch and was soon past the despairing Andreas Luthe. On initial viewing, it looked like Yussuf Poulsen had claimed his 7th goal of the season, but it was soon apparent it had deflected off young Fabian Holthaus and into his own net.
The goal hadn't lowered the tempo, as both teams were failing to get any real time on the ball. Patrick Fabian was having a torrid time dealing with Poulsen's pace, while Bochum were beginning to make headway down the right. Fabian was in the wars; the central defender not only had to deal with the Dane's elbow, but also a punch from his own goalkeeper. Despite Anothny Losilla and Danny Latza beginning to get some more time with the ball in a fantastically frenzied game, but neither could find the killer pass to Simon Terrodde.
Despite the even nature of the game and a distinct lack of chances, Leipzig weren't going to pass up a gift from Bochum. Rani Khedira's pin-point through-ball was straight to Daniel Frahn and he wasn't going to miss from six yards out. Despite Luthe saving the first attempt, Frahn was on hand to force home the rebound and sent the already happy home fans into delirium.
Even with the seriousness of the game, Frahn enjoyed some fun by celebrating with the now famous 'RKO', with team-mate Terrence Boyd. Unfortunate to find themselves behind, the visitors were forced into a change. The pre-match line-up change was quickly reversed, as Malcom Cacutalua was brought off the bench to replace the injured Jan Simunek.
The second-half began in the same vein as the first, with plenty of action at both ends. Stefan Hierländer was denied by a super, diving save from Andreas Luthe; while Yusuke Tasaka produced a wonderful individual run at the other end, only for the post to deny him a quite remarkable solo goal. Terrodde put the rebound over from four yards, the striker was hoping for an offside flag after the horrendous miss.
Fabio Coltori, who was making his RB Leipzig comeback, was playing an important role and was nearly back on the injury table after he collided with Terrode. It was a very physical game, with both sides having players go into Benjamin Brandt's notebook. After Tasaka and Terrode's misses it seemed to suck the life out of Bochum, who were offering very little going forward; a surprise when they are the league's third top scorers.
Asleep in attack, the Ruhr side weren't looking awake in defence either. Plenty of space was appearing behind the visitors back-line and Danny Latza had to made an expert last-ditch tackle to stop Daniel Frahn from poking home a third. The lack of creativity and drive was very uncharacteristic of Bochum, and they had captain and 'keeper Luthe to thank for keeping the score-line down.
Leipzig played down the final minutes with ease, their lead was comfortable and they were more than happy to keep the ball. The win took Zorniger's men up to third, though Kaiserlautern & co. still had games to play. They now look forward to a DFB Pokal tie with Aue, with life in the 2.Bundesliga going exceptionally well. Bochum's run without a win stretches to five, their Pokal game against Dynamo Dresden may turn out to be a catalyst for the remainder of the season. That is if they win, of course.