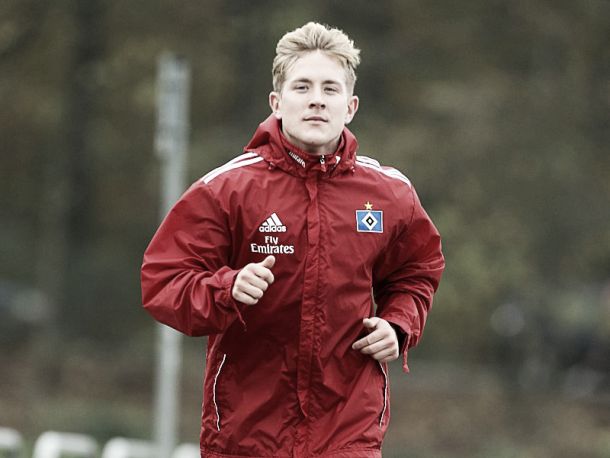 As per an article on the BILD website, Lewis Holtby has made his move to HSV permanent after an 'auto-buy' clause in his loan contract was triggered.
With some talk of Holtby returning to White Hart Lane to join Pochttino's team, who are short in midfield at the moment, the news comes that there will be no recall of the 24-year-old.
It is not unusual to see auto-buy clauses in loan deals, however the rumour is that Holtby's was set at just three appearances, which he as a result triggered on Matchday 5 in Hamburg's 1-0 defeat at Mönchengladbach.
The fee was set at £5million (€6.5million), and while the formalities may not yet have been processed (and may not be until the loan expires), it appears certain Holtby will be a Hamburg player again after the loan deal is over.
He will be joining HSV on a contract until 2018, meaning a 4-year deal overall including the spell this season, something which will have mixed reactions amongst Hamburg and Spurs fans respectively.
There is no question he brings a beneficial, high-energy skill set to any team that can secure his services, but he has been largely self-critical when reflecting upon his Hinrunde in an interview with the Hamburger Abendblatt.
"I'm certainly not happy with my performance during the first half of the league," Holtby claims "I want to show what I can do, what I have to give and prove that I can do good, then everything will be better and more fun. It's about the final pass to the goal, I am confident that I can begin to get more assists."
However, he acknowledges that he has a fresh start at Hamburg and things are looking far more positive for his career. Spending the winter training camp in Dubai with the HSV squad will give Holtby a chance to further gel in with Zinnbauer's side.
"I'm glad that it's a new year and I'm ready for what is to come. Unlike last summer I can to help prepare along with the rest of the team for the second half of the Bundesliga."
In the last game before the break, Hamburg played out a 0-0 draw away against Schalke at the Veltins Arena, something Lewis says was down to alacrity.
"In the match against Schalke 04 we had a good and positive feeling that I hope we can build on in 2015. I am confident that we can be better in the spring and provide a strong effort."
His energy, quickness, skill and intelligence provide the base from which he can surely flourish as an attacking midfielder in this side, and if he performs on a consistent basis then Lewis Holtby could become one of the best number 10s in the Bundesliga.
Cut-throat competition is something he has likely become accustomed to, not only in the national side but also in the HSV side. Nevertheless, Lewis will be hoping that he can build on his current three caps at international level for Germany, having played at each level from U18.
Despite being just 24, the Erkelenz-born player has played at many different clubs, including at youth level where he played for three sides (Sparta Gerderath, Borussia Mönchengladbach and Alemannia Aachen) before breaking through for Aachen II in 2007.
From there, he made the break to first team action where he scored eight goals in 33 appearances, before earning a transfer to Schalke 04 in 2009. Loan spells at Bochum and Mainz, as well as 10 in 55 for Schalke, showed what a bright young talent he is, and Tottenham took the rather low-price gamble of signing him for €1.75million.
During 2014 he was loaned to Fulham after being deemed surplus to requirements at Spurs, and now he finds himself at Hamburg, completing a nine-team, 20-year journey to where he is today.
Hopefully 2015 will be Holtby's year, and given that Zinnbauer has already vowed to invest confidence in him by giving him regular game time, it should prove to be his best year yet.