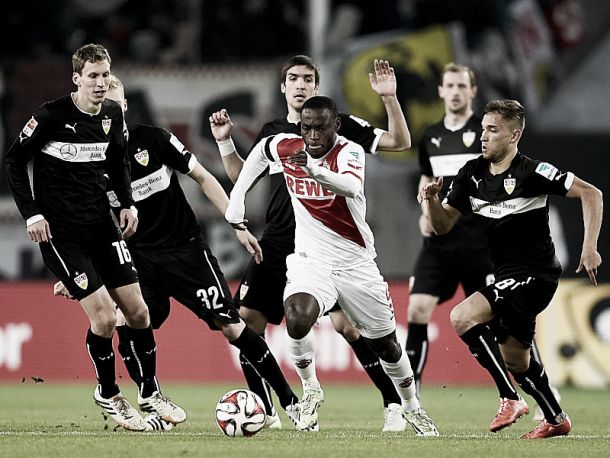 Bard Finne missed three good chances for Köln towards the end of the game as both sides struggled to create. Neither side will be happy with a point with Hamburg winning putting more distance between them and Stuttgart but also increasing pressure on Köln.
After picking up three points away to a struggling Hamburg side Peter Stöger's men were hoping to continue their early run of Rückrunde form at home to Stuttgart, a side even worse off than the Bundesliga Dinosaurs they faced at the weekend. They beat Hamburg 2-0 after Marcel Risse scored almost two identical goals to put 5 points between the Billy Goats and the relegation playoff spot.
Stuttgart was very unlucky to lose to high-flying Borussia Mönchengladbach at the weekend with a Patrick Herrmann goal midway through the second half the only difference between the sides. Coming into the game Stöger was wary of their opponents' strength; "Stuttgart are a strong team on the counter. We're aware of that, but our goal is to pick up three points". Both teams signed players at the end of the window with Deyverson signing for Köln and Serey Die but Die is with the Ivory Coast on international duty and Deyverson wasn't named in the squad to face VfB.
In terms of injuries Stuttgart are most definitely worse off with Köln only missing Patrick Helmes whilst Die Schwaben were missing some key players. They would go into today's game with out Antonio Rüdiger, Daniel Didavi, Mohammed Abdellaoue and Carlos Gruezo.
The home side made no changes for the game whilst Huub Stevens only made one change with Timo Werner replaced by Sercan Sararer. The Turkish winger was involved in a goal almost immediately after he played the ball across goal for Moritz Leitner but Dominik Maroh slid in at the crucial moment to deny the Borussia Dortmund loanee. In all honesty it was an extremely poor first half with neither side able to create and as a result there was only one shot on target through the whole 45 minutes.
It fell to Martin Harnik who despite being a midfielder has played a lot of this season in the lone striker role. He was fed just outside the box and he smacked his effort first time towards the bottom corner before Timo Horn pulled off a superb stop. The Billy Goats best chance was given to their lone striker Anthony Ujah but the ball for him was slightly over hit and Sven Ulreich did well to clear. That was all to report from the first 45.
The second half was a bit more entertaining for fans and neutrals alike with Sararer again involved early on. He dispossessed a Stuttgart defender in the box before his shot was blocked at close range by Horn. Shortly afterwards Stuttgart won a free kick not far outside the box and it looked for all the world as if Leitner would cross it in. However, he tricked everyone including Horn by chipping it towards the goal. The Germany U21 keeper was caught out but the crossbar saved him.
There was a small cry for a penalty by the Köln players in the 64th minute when Daniel Halfar went down in the box under pressure from Christian Genter but in truth it wasn't a penalty and it was clear the referee, Tobias Stiefler, thought so as well. Not long before that claim Bard Finne was brought on and he would have a significant impact on the game.
His first chance came when Halfar's initial corner was cleared back to the 27-year old and he sold his marker with a dummy before speeding into the box. He pulled it back for Finne who was just outside the corner of the six-yard box but the Norwegian's effort was poor as he fired over. His second opportunity came almost immediately after but this time his effort was deflected behind off of Timo Baumgartl.
His third and final try came courtesy of a Marcel Risse run down the right. He played it across goal for someone to latch onto and it looked as if it would be Pawe Olkowski as he was running into the box and looked set to strike. But at the last second he left it, presumably after hearing a call from Finne but again Finne fired over in the last chance of the game.