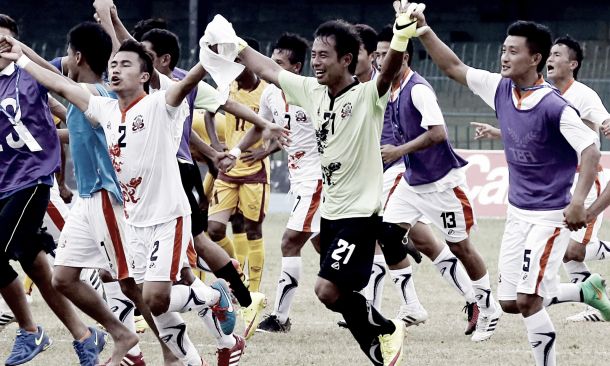 Bhutan have made history after defeating Sri Lanka in their World Cup qualifying campaign, defying the odds to progress to the next round as the lowest ranked side in the world.
The nation, ranked 209th by FIFA, celebrated a 3-1 aggregate victory after winning both legs. Kicking off the tie with a shock 1-0 victory in Colombo for the first round, a 2-1 victory in Thimphu just four days later saw Chokey Nima's side win the Asian preliminary first round tie.
Having become the lowest ranked side in the world since November 2014, the South Asian outfit have only ever won five competitive fixtures since forming in 1987.
With 19-year-old Chencho Gyeltshen, who plies his trade in Thailand for Buriram United, scoring both goals for the home side, the "Ronaldo of Bhutan" has placed his nation a step closer to Russia 2018.
After being mobbed by his teammates within just five minutes, courtesy of his early opener, he later struck the winner in the 90th minute to seal his side's progression against a nation ranked 36 places higher.
Following the win, Bhutan will join 39 other Asian nations in the group stage. The historical moment comes 12 years after securing their biggest ever win at home to Guam, a 6-0 victory in April 2003.
However, they have also been on the opposing side of defeats, previously losing 20-0 in Kuwait in February 2000.
Bhutan lost all five meetings with Sri Lanka prior to the World Cup qualification tie.