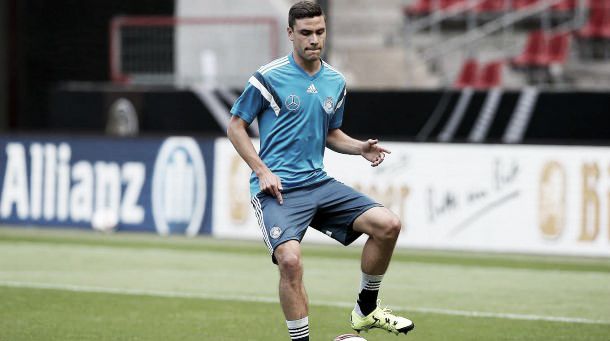 Jonas Hector (25) was nominated, for the third time, to the German squad for the games against the USA (friendly) and Gibraltar (European Qualifiers). He has won three caps so far with two of them over 90 minutes.
"I am not a different person because of the Germany team" Hector says in an interview with DFB.de. "I still get excited when the coach calls".
He declares the USA as a very strong team and expects a difficult game.
He believes that Jürgen Klinsmann's team may be better prepared, as they are playing the CONCACAF Gold Cup.
It takes places in the US and Canada from 7th to 26rd of July, and the US will face the national teams of Honduras, Panama and Haiti.
Hector and his 'second home'
When speaking about the game's venue, Cologne, he says that the city has become a second home.
Hector was born in Auersmacher, a little town in Saarland (South West Germany, about 10 km from the capital of the state, Saarbrücken).
He says he likes the atmosphere in Kölle, as the natives call it, the little cafes and restaurants and the mentality of the people.
The city grew on him and he would describe himself as a Kölner.
He admits that taking pictures with fans and signing autographs isn't his favourite part of being a professional footballer.
He likes to be in the background rather than in the front row, that's why he is – rightly as he says – often described as shy and reserved.
He may be shy off the pitch, but he is far from it when he laces up his boots
But in the end, his performance on the pitch counts. If he keeps up the form he had at 1. FC Köln in the few last games, he won't disappoint the local fans in Cologne.
It is very likely to be in the starting XI as Erik Durm, from fellow Bundesliga club Borussia Dortmund, and Hector are the only full-backs in the squad.
It is likely that Jogi Löw gives the young defenders Shkodran Mustafi from Valencia CF and Antonio Rüdiger from VfB Stuttgart a chance in the starting XI.
Lukas Podolski, a crowd-pleaser in the RheinEnergieStadion, he could make his 124th appearance for Germany as well.