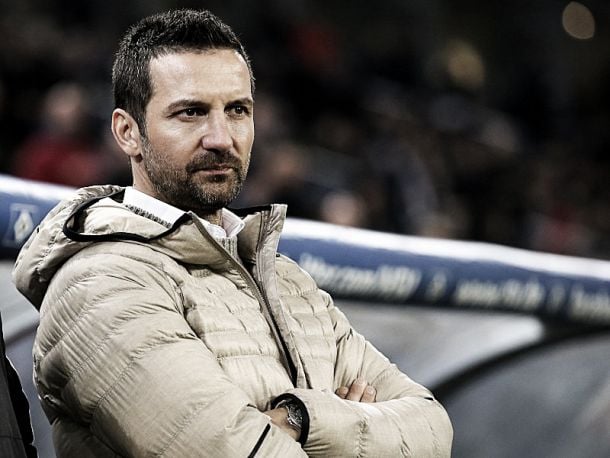 Josef Zinnbauer will be coaching Hamburger SV's second team once again. His comeback to the Regionalliga team was confirmed on the club's website, hsv.de.
Zinnbauer joined Hamburg last season after coaching Karsruhe II. He coached the U23 team at the start of the season, but after HSV sacked Mirko Slomka, he became the head coach of the first team - but was sacked after 24 matches. In these matches he won six games, losing twelve and drawing six.
Zinnbauer was favoured by the fans because he gave players from the under-23 side like; Matti Steinmann, Mohamed Gouaida, Ashton Götz, Tolcay Ciğerci and Ronny Marcos a chance in the first team. The then head coach showed the critics that Hamburg could also rely on players from their own youth set-up.
During his brief time with youth squad he earned 24 points in just eight games in charge, with a goal difference of 27:5.
"A top club in the Bundesliga"
On HSV's official website, he said: "For me, HSV is a top club in the Bundesliga and it's special for me to work for this club."
It was a case of realisation for Zinnbauer, who said "it was awesome" to manage in the Bundesliga, though it helped him understand what he really loves.
"I told myself," he said, that he's a coach that "wants to win matches and develop young players".
In relation to why he didn't sign sooner, he credited Dietmar Beiersdorfer and Peter Knäbel for "giving me [JZ] that feeling" and "persuading me [JZ]".
Zinnbauer also said that they fans had a positive effect on him, and were another reason for his return.
His "new old" team
Zinnbauer is happy to work with Bernhard Peters again, the youth leader of HSV, and he's looking forward to his "new old" team with 17 players - a younger team than last season, containing some players of the under-19 team.