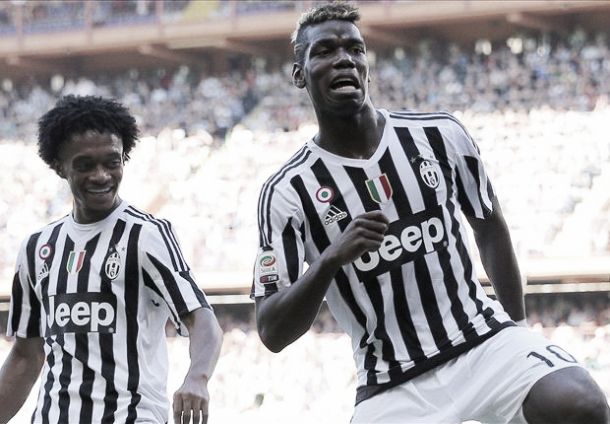 An own goal from Eugenio Lamanna and Paul Pogba's penalty were enough to kick-start Juventus' domestic campaign with a win against Genoa.
Build-up
Juventus have had one of the poorest starts to a Serie A campaign in their history, after failing to win their first three games (two defeats and a draw). This had only happened once, in the 1968/1969 season, but in that case they were three draws.
Despite this, the bianconeri got a bit of a relief midweek, when they beat Manchester City in the Champions League opener. That was, on paper, the toughest fixture of the group stage and Juventus went back home with three valuable points. That leaves them in a great position to advance to the knockout stages.
Genoa haven't started well either, with one victory and two defeats, after a season in which they managed to qualify to the Europa League although in the end they were unable to participate after not getting a UEFA license after failing to present a suitable stadium to compete in. The Genovese side have also struggled to replace Iago Falque, who moved to Roma after an impressive 2014-15 campaign in which he scored 13 goals.
Tough start
Despite being still very early in the season, Juventus were starting to feel the pressure of getting that elusive first win and not let Inter get too far ahead at the top of the table. Against Chievo there was a clear improvement compared to the tussle against Roma, but poor finishing prevented the bianconeri from getting the three points.
Genoa started the game with a solid game plan; pressing very high, not letting Juventus' midfielders have time on the ball and forcing Giorgio Chiellini and Andrea Barzagli to send long balls looking for Mario Mandzukic and Álvaro Morata. Neither side could string many passes together or generate any clear goalscoring opportunities.
Pereyra changes the game
During the first half Morata had to be substituted with a groin injury, and was replaced by Roberto Pereyra. This change was crucial and started to change the game in the bianconeri's favour.
The Argentinean livened up Juventus' midfield with his energy and speed, and was instrumental in the opening goal. "El Tucu" picked up the ball on the left side of the box and crossed looking for Paul Pogba, who unbelievably missed from two meters away out and hit the crossbar when the goalkeeper was already beaten. Fortunately for the Frenchman, the rebound hit Eugenio Lammana and then went straight in.
Sending off gives Juve full control
Pereyra and Juan Cuadrado were having great games and Juventus were starting to feel more comfortable. The Colombian winger was fouled by Armando Izzo when he was going through on goal, which led to a second yellow card that left Genoa with ten men right before half time.
After that Juventus seemed to cruise through the second half and had no trouble at all securing the victory. They dominated possession and had a couple of chances to score another but Manduzkic was having an off day in front of goal.
In the 60th minute Chiellini was fouled inside the box by Diogo Figueiras and Pogba calmly slotted home the penalty to make it 2-0 and seal all three points. With the result confirmed, Allegri used the opportunity to give Simone Zaza his debut in Serie A. He even scored a goal but was disallowed, since the Azzurri striker was off-side.
Where does that leave the two sides?
With four points in the last six games, the Bianconeri are slowly gaining positions in the table after two straight defeats and now sit in the 12th position, but are eight behind leaders Inter. Genoa share 14th place with three other teams, having three points so far. In the next round the defending champions will be playing Frosinone at home, while Genoa take on Lazio in Rome.