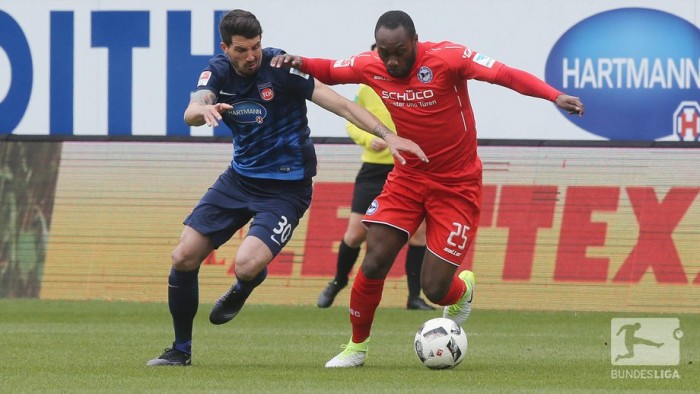 A dramatic second half that saw Florian Dick, Mathias Wittek, Tom Schütz and Fabian Klos score within a 15 minute spell meant Arminia Bielefeld and 1. FC Heidenheim played out a hugely entertaining 2-2 draw.
Team news
Frank Schmidt, fresh from a 1-0 win away at Karlsruher SC last weekend, made just one change from that side as they aimed for back-to-back wins for the first time since September. That move saw Ben Halloran replace Tim Kleindienst and a change of formation to boot.
As for Jeff Saibene and Bielefeld, they were looking to bounce back from a dramatic 3-2 defeat to VfB Stuttgart on Monday evening. That saw two alterations made by the Luxembourg national, as Michael Görlitz and Manuel Prietl came in for Stephan Salger and Leandro Putaro.
Level at the break
As Heidenheim had very little to play for, it was perhaps no real surprise to see them attacking from the off in search of regaining some of their early season form. Similarly to the rest of the campaign, Marc Schnatterer was their real bright spark. The captain saw his cross-cum-shot hit the post within the first five minutes as they pressed for the lead.
Bielefeld responded and came close on a few occasions to finding a way through to goal, though their main opportunity was thwarted as Kevin Müller shoveled a close range shot away. That respite was only momentary, though, and Heidenheim kept on the attack. Daniel Davari's brave goalkeeping was proving key to keeping them out.
The best chances fell to the hosts later on in the half, as Arne Feick's attempted prod at goal was hacked clear by the covering Julian Börner after Davari had been beaten in the air. An even better opening followed when Norman Theuerkauf was flicked through the Bielefeld defence. His finish, however, was sorely lacking as he shot wide.
Second half sees goals and cards galore
From the very first minute of the second half, it was clear things would be different from the first. Robin Becker, who has been hugely impressive since given a chance, scooped the ball over a sliding tackle before darting into the box. The right-back then put a pass across the face of goal, only to see Dick stumble over the ball and into his own goal.
Things went from bad to worse just 11 minutes later, as Feick's corner caused chaos. It was initially headed goalwards by Verhoek which was met at the same time by a Davari punch. The ball dropped kindly, and Wittek had little more to do than arc his neck backwards to flick the ball home from just two yards.
Yet, things turned on their head inside the following four minutes. Tom Schütz picked the ball up 40 yards from goal and drove forward, without any attention from the home defence before sending a hopeful strike at goal. Müller made a fatal misjudgment, and his attempt to save the ball saw Schütz's effort slip through his hands and in.
And a further three minutes after that, Bielefeld had levelled the game. Schütz once again was involved, as his free-kick was inch-perfect for Klos to rise above the rest and nod into an empty net with Müller committed to clear.
The game turned even more physical than it was in the first half, as Sebastian Griesbeck was booked twice in six minutes to earn his marching orders. Further tough tackles followed and so did the chances, yet neither could find a clear cut way to goal. Bielefeld remain second bottom, but only by a point, while Heidenheim stay in mid-table.