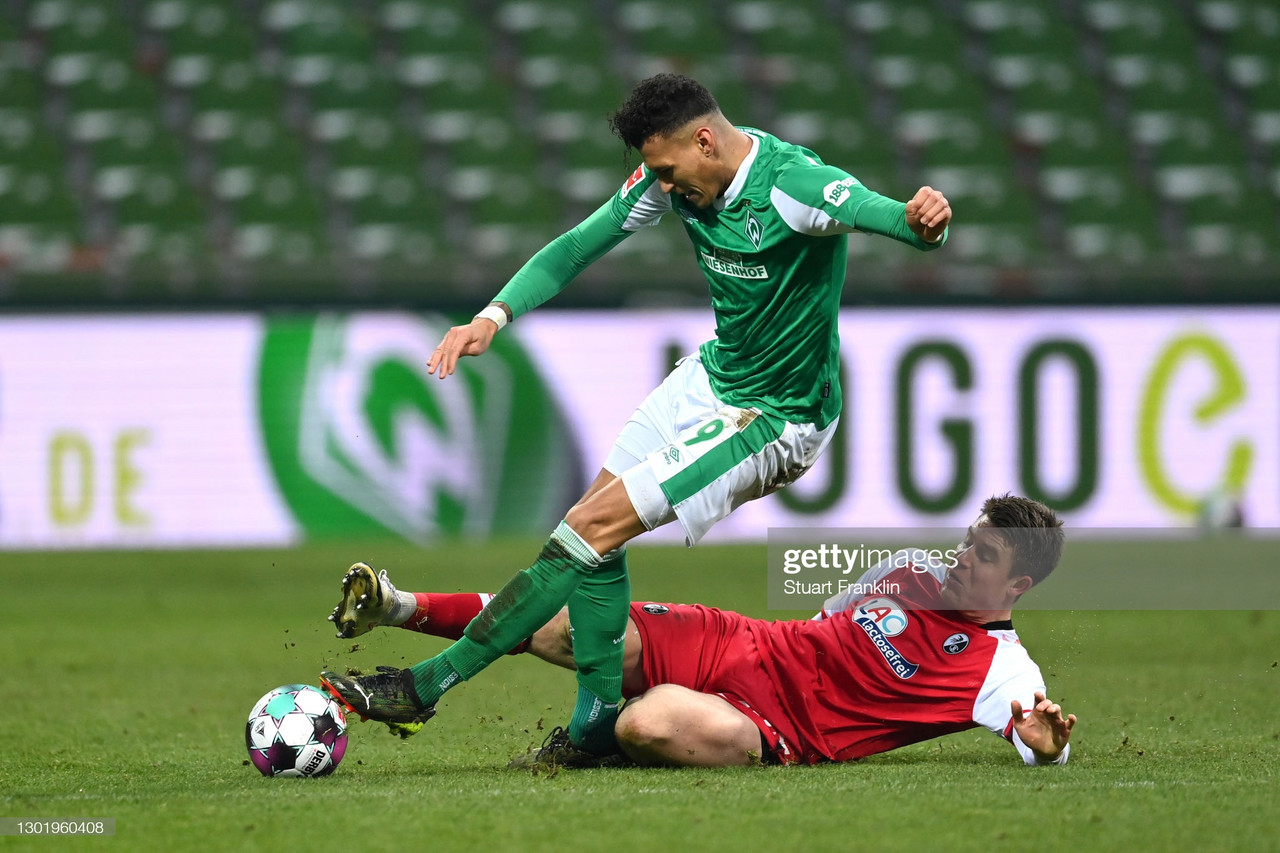 The points were shared at the Wohninvest Weserstadion on Saturday afternoon as Werder Bremen drew 0-0 at home to SC Freiburg.
Bremen will be happier with the point as it puts even more space between them and the bottom three. Freiburg won't be too upset with the result either, but they certainly could have used the win in their fight for European qualification.
Story of the match
The contest was an odd one early on. It wasn't necessarily boring, but neither side created a real goalscoring opportunity.
The only big chance of the first half came with ten minutes to go. A cross from Ludwig Augustinsson was flicked on towards the backpost, flying right into the path of centerback Milos Veljkovic. He couldn't convert from close range, though, as he headed the ball right at goalkeeper Florian Muller.
Things didn't change much following the break.
Freiburg finally carved out a chance in the 75th minute. A volley from Nicolas Hofler was saved by Jiri Pavlenka, but he couldn't push the ball far enough away, giving up a juicy rebound in the process. Fortunately for him, Nils Petersen made a mess of the finish, hitting a first time effort that ended up staying in play because it went so far wide.
The away side continued to push forward, and they forced another save out of Pavlenka following some emergency defending by Bremen.
That proved to be the final chance of the contest, as the match ended with a whimper instead of a bang.
Takeaways
"Much ado about nothing"
This may have been the worst game of the Bundesliga season so far.
Neither team really got going offensively, so the ball was mainly just passed about the midfield area. Both sides had a major chance each, but that was it really. There was no excitement, no drama, and very little to write home about.
What was strange is that Bremen and Freiburg didn't even park the bus, they just each lacked creativity going forward. As a result, the 90 minutes kind of just passed everybody by.
It was one of those games.
Man of the match - Jiri Pavlenka
In all honesty no one really deserves any particular praise, but someone's got to be named man of the match.
As a result, the honor will go to Bremen goalkeeper Jiri Pavlenka. He made a few more saves than his opposite number Florian Muller, so that's why the Czech international edges it.