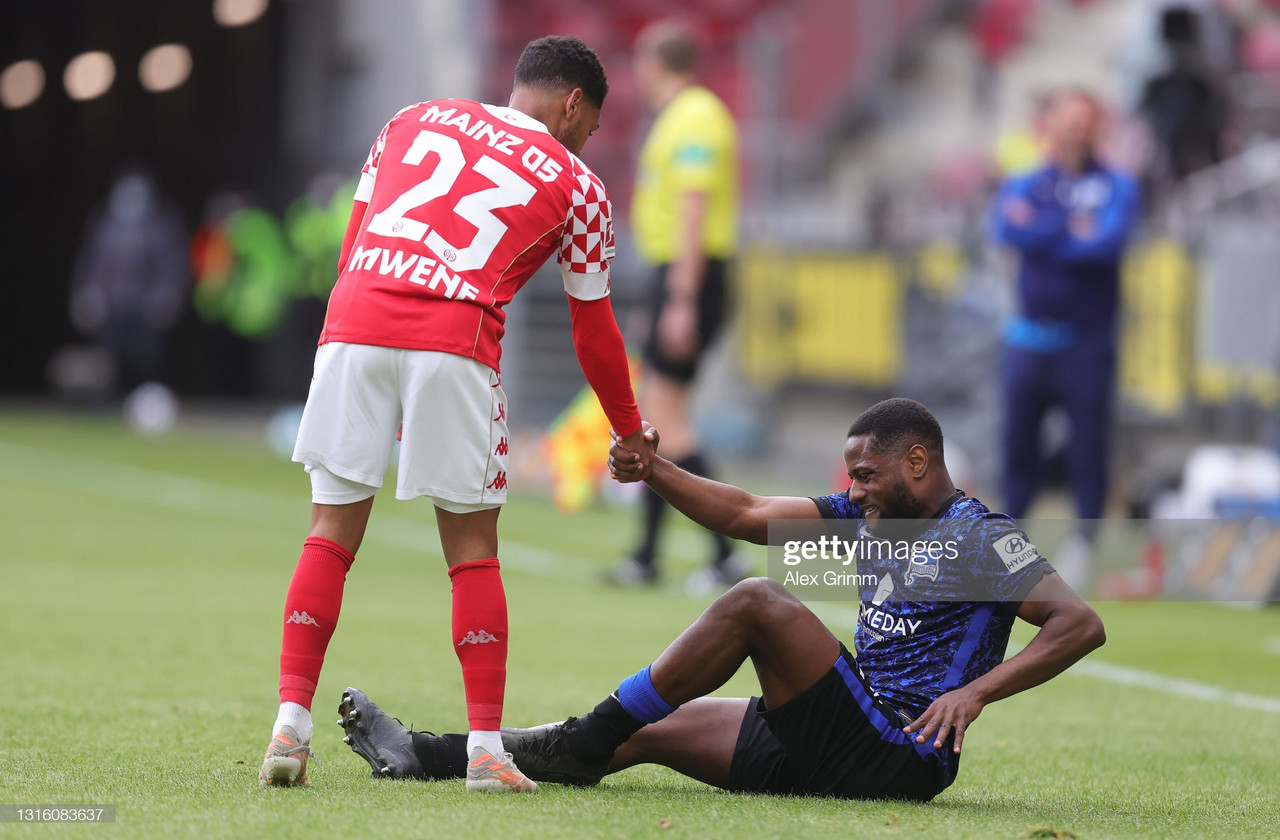 The Bundesliga relegation battle continued to heat up on Monday as Mainz drew 1-1 to Hertha Berlin at the Opel Arena.
Both goals came during a very hectic first half, as Lucas Tousart headed home for Die Alte Dame before the hosts tied things up courtesy of a screamer from Phillipp Mwene. Despite each side having a clear-cut chance late on, neither could find a winner on the day, which led to them sharing the points.
It's not a bad result for either, as Mainz move just a bit further away from the bottom three while Berlin put themselves in a position to jump out of the relegation zone with a win in their next game. However, both would have really liked to have picked up all three points on this occasion.
Story of the match
Mainz could've taken a very early lead in the contest, as Stefan Bell was left wide open on a corner. However, he rushed his header attempt, failing to get it on frame.
They had another huge chance just moments later. A flick-on header from Karim Onisiwo made its way to Jean-Paul Boëtius at the back post, but his finish was a woeful one, as he stepped over the ball before then hitting a tame effort right at the goalkeeper.
The Dutchman nearly made amends right after when he somehow snuck past the opposition backline, but his volley hit the crossbar.
Berlin then had an opportunity themselves when Niklas Stark was left unmarked in the area following a corner, but his powerful header sailed well off-target.
The game refused to slow down, and the hosts had another huge chance to open the scoring. A give-and-go between Ádám Szalai and Leandro Barreiro played the former through on goal, and he went for a cheeky chipped finish. Alexander Schwolow was up to the challenge, though, coming out quickly before getting a hand out to make an impressive save.
Mainz then caught a lucky break, as Bell really should have been sent off. Already on a yellow, he lunged into a challenge, taking out Matheus Cunha with his studs. The centre-back got away with it, though, as the referee chose not to book him again.
Although the foul didn't cost the hosts a player, it did lead to them conceding the opener. The resulting free-kick was whipped in superbly by Márton Dárdai, and Lucas Tousart was able to win a header to flick the ball past Robin Zentner and into the back of the net.
Just as it seemed like Berlin were doing well, Mainz grabbed an equalizer in spectacular fashion. Receiving the ball near the edge of the area, Phillipp Mwene cut inside before unleashing a curling effort that flew into the top corner.
Half-time finally arrived, and the two teams went into the break level despite everything that had happened.
The second half was much calmer. Cunha, who had been kept quiet, carved out an opportunity for himself past the hour mark. Picking the ball up deep, he dribbled forward into space before going for goal. His shot wasn't a bad one, but the goalkeeper was able to deny him with a solid save.
In a game of missed chances, arguably the worst miss came with about 10 minutes to go. Some good work from substitute Nemanja Radonjić led to a low cross into the area, which seemingly picked out fellow substitute Krzysztof Piątek. However, he couldn't sort out his feet in time, which led to the ball pretty much bouncing off of him and out of play.
Fittingly enough, the last major opportunity of the contest would be wasted. Another corner from Mainz flew towards a wide-open centre-back, with Moussa Niakhaté being the man for the occasion this time around. However, despite all the space he had been given, the Frenchman could only head the ball right into the grateful arms of the goalkeeper.
Takeaways
Honors even
This game showed why these two sides are both involved in the relegation battle.
Mainz carried their great run of form into the start of the match, creating chance after chance in the early stages. However, their finishing let them down in the final third, and they failed to convert almost all of the opportunities that they worked so hard to carve out. If it wasn't for Mwene's screamer, then Die Nullfünfer would've left this contest with nothing to show for all of their quality play.
Berlin, meanwhile, took way too long to get going, and they could've conceded three within the opening 15 minutes if not for Mainz's aforementioned wastefulness. Die Alte Dame then took the lead against the run of play, but they couldn't hold onto the advantage for long, giving up the equalizer just four minutes later. There was just a lack of fight from the team throughout, which is especially concerning the situation they are in.
However, there's still a chance that both teams ultimately stay up, even if one has to do so courtesy of the Bundesliga play-off. They'll each have to learn from this contest, though, as more poor performances like this one could cost them in the future.
Man of the match - Phillipp Mwene
No one really stood out on the day, but Phillipp Mwene's wonder-goal was what ultimately saved his team a point, so he deserves a bit more praise than the others.
His moment of magic could not have come at a much better time, as Berlin had just taken the lead minutes earlier. Mainz had been playing well up to that stage, but they just couldn't convert any of their chances. That was until Mwene stepped up, though.
Cutting in from the left, Mwene took a touch to get past a defender and into space before going for goal from some distance. He made perfect contact with his strike, hitting the ball in the right place with the right amount of power to send it flying into the top corner while curling past the outstretched arms of Alexander Schwolow.
It was Mwene's first ever Bundesliga goal, and it was certainly a worthy way for him to open up his goalscoring account.