Juventus have confirmed the signing of Miralem Pjanic from Serie A rivals AS Roma for €32 million on a 5-year-deal.
The Bosnian's future has been a recurring feature in the Italian press with many tipping the midfielder to join the Antonio Conte revolution at Chelsea. Days ago, he penned an open letter to the Roma faithful - which was expectedly met with anger as shirts bearing his name were burned and ripped - stating his desire to leave the club for Juventus who were ready to activate his release clause.
The player passed his medical this morning and made history at the same time, becoming the first player to go through medical testing at the Bianconeri's new health centre opened in March of this year.
"One of the best..."
In one of many press releases made by the champions of Italy they called Pjanic a "wholly proven and immense midfield talent in the Italian game"
They finished the same release with the following statement, "All of the above points to just one conclusion: in Pjanic, the Bianconeri have secured the services of one of the best attack-minded players in the country who, at 26 years old, is approaching the peak of his creative powers."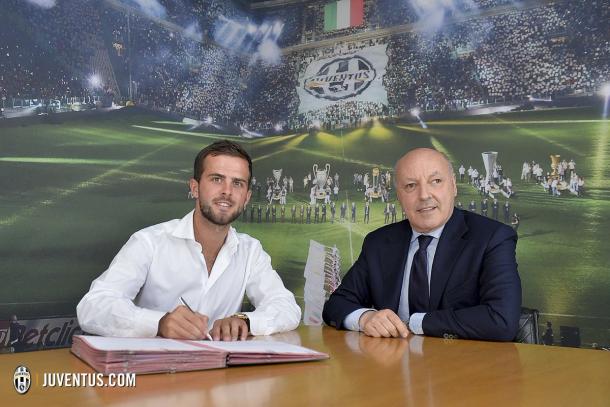 A major step towards a sixth straight scudetto
Pjanic's acquisation undoubtedly show that Juventus have no intention of stopping after five straight titles.
Juventus have managed to dominate in Italy but in Europe, asides from their final Champions League final appearance 2014/15, they can't boast similar success in arguably the club's best ever period.
Pjanic has been key in Roma contending, at times closely, for the title and leaves the Giallorossi after 185 appearances since his 2011 move from Olympique Lyon in an £8.25 million move.
The signing could however come as a result of the everpresent interest in Paul Pogba and Juventus preparing for the worst. Should Juventus hold on to Pogba, if it wasn't already, Juventus will have the best midfield in the league and one of the best in Europe.