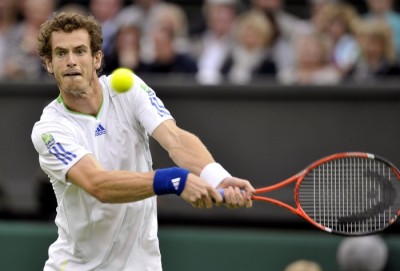 Choke artist or exquisite shot maker? Moody Scotsman or Lion hearted Brit? It depends which side of the fence you sit on, however there is one title that Andy Murray has never been called: Grand Slam Winner.
It cannot be argued that he does not have the talent to win a Major, with an 8-7 winning head-to-head record against Roger Federer, who is the holder of 16 Grand Slam titles (an all time record). Murray has also reached the number 2 ranking in the world on the 17th of August 2009, which in an era boasting players with the calibre of Roger Federer, Rafael Nadal and Novak Djokovic is no mean feat. There have also been opportunities: Three times a runner up in Grand Slam's shows that only a little extra is needed to turn Murray into a champion.
What is it that is holding Murray back? Many point to his first service percentage. In the men's game cheap points when serving are a must, and too often Murray doesn't capitalise on his first serve. Currently in the 2012 season his first service percentage sits at 59%, which needs to be higher. Another criticism levelled at Murray is that he changes his game when playing in a Grand Slam final. Having got to the final playing such dominant tennis it is very frustrating to see him retreat into his shell and play passive, defensive tennis. On his first effort in 2008, he got to final of the US Open after demolishing Rafael Nadal in the semi-finals in four sets. However nerves seemed to get the better of him and Federer outclassed the Scot in the final 6-2, 7-5, 6-2. After this he reached the final of the Australian Open twice, in 2010 and 2011. His meeting with Roger Federer at the start of 2010 saw him again brushed aside by the Swiss maestro in straight sets, 6-3, 6-4, 7-6. Murray seemed unable to play the same brand of tennis that had seen him beat Federer 6 times previously, was it again the situation of the Grand Slam final that made Murray play differently? Perhaps the final that hurt the most is the most recent one in 2011. Murray was back on the Rod Laver Court in Melbourne competing for the Australian Open; crucially not against Federer, instead he was facing Novak Djokovic. Murray and Djokovic had progressed through the juniors together as they are the same age and many saw this as Murray's best chance for a Title. It was the same old story though, with Murray seeming to wait for Djokovic to make mistakes and Novak simply blew him away 6-4, 6-2, 6-3. Since then Djokovic has not looked back, winning three of the next four Grand Slams, whereas this latest loss hurt Murray deeply. He lost his next three games on the ATP tour, first to Marcos Baghdatis, then more worryingly to American Qualifiers Donald Young and Alex Bogomolov Jr. He has recovered since but has not reached another Grand Slam Final.
Now under a new coach – Ivan Lendl, there are positives for Murray in the future. Lendl himself has experience at losing Grand Slam finals; he lost his first four before finally winning his first Major at the French Open in 1984. Maybe it is fate that Lendl can help Murray finally turn the corner and triumph at one of the big four tournaments. The signs in 2012 have been encouraging; at the Australian Open Murray made serene progress to the semi's where again he was faced with Djokovic. In an epic five setter the Serbian just managed to get over the line 6-3, 3-6, 6-7, 6-1, 7-5 in a match that spanned 4 hours and 50 minutes. Murray played a much more aggressive style that, apart from a 4th set blip, saw him give Djokovic the run around. After the match Murray was much more positive as even though he lost at an earlier stage than 2011, the way he played was a vast improvement.
Some say that Murray is unlucky to be playing in such a strong era of Men's Tennis, and that he is a better player than some of the other Grand Slam winners in previous, perceived 'weaker' eras. However in the History books all that is recorded are the trophy winners and a player can only beat whoever is on the other side of the net. Indeed the Men's tour may soon be going through a transitional period, with Roger Federer now entering his 30's and there are question marks surrounding Rafael Nadal's body and the constant strain he puts it under. However Djokovic is always going to be there at the same age as Murray, there is also a new generation of young guns coming through that means Murray cannot rest on his laurels. John Isner is flourishing in his fifth year on the tour; the American has beaten Federer and Djokovic already this year and this has helped him achieve a career high world ranking of nine. Twenty one year old Milos Raonic has also had a strong start to the season fired by his huge serve. He is the current leader for ace's on the tour with – 16.2 per match and regularly fires down first serves at 135 miles per hour plus. Murray will know the potential of the young Canadian; the two recently played in Barcelona and Raonic prevailed in straight sets. Another youngster coming through is Japan's twenty two year old Kei Nishikori. The youngster became the first Japanese male player to reach the Quarter finals of a Grand Slam for 80 years; along the way to that record he scored an impressive victory over Jo Wilfred Tsonga who is currently ranked five in the world.
The bottom line is that Andy Murray has the weapons and the skill to win a Grand Slam; he just needs to have the belief. If he goes out in the final and plays the aggressive style of tennis that works so successfully in the earlier rounds then it will see him lift the trophy. His best chance is on the hard courts at the Australian or US Open. Nadal rules the roost on the clay at Roland Garros and there is so much pressure on Murray at Wimbledon; with the hopes of a nation resting heavy on his shoulders making it difficult for him. So pencil the 9th of September into your diaries, as it may just be on this date in New York that Andy Murray is no longer the Nearly Man.