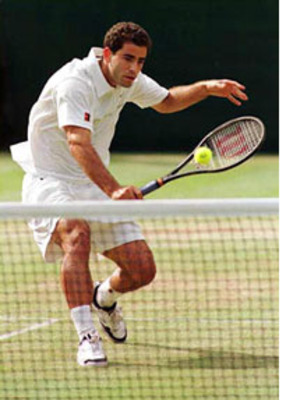 The serve and volley used to be a Wimbledon institution. It was as much a part of the game as strawberries and cream or jugs of Pimms that spectators enjoy so much each year. Whereas sales of these products remain high, the serve and volley has all but vanished from the grass courts of SW19. What has caused this historic style of play to suddenly decline? Why are most of the players on the tour apparently allergic to the net?
Over the years there have been many great exponents of the serve and volley. Rod Laver, John McEnroe, Boris Becker, Stefan Edberg, Pete Sampras and Pat Rafter all used this technique to win Grand Slams in their respective eras. Sampras is perhaps the most famous serve and volleyer; he won fourteen Grand Slam titles and a record seven of those titles were at Wimbledon. This record has still not been beaten to this day. Players in his era had no answer to his heavy serving and crisp volleys. Even Andre Agassi, one of the best returners the game has ever seen could not deny Sampras from dominating Wimbledon.
British fans will remember looking Tim Henman and Greg Rusedski every summer charging in to the net after serving. These two players used to thrill and frustrate the public in equal measure, both trying to become the first British man since Fred Perry to claim the Wimbledon crown. Rusedski had the bigger serve but Henman was the more skilled at the net. This advantage saw Henman through to four semi-finals but he could never quite reach the final. Other legendary serve and volley stories involve Boris Becker and Goran Ivanisevic. Both won Wimbledon as rank outsiders; Becker was the first unseeded player to win Wimbledon and Ivanisevic was the first ever wild card champion. Each won at opposite ends of their career, Becker as a teenager and Goran a couple of years before he retired. The common denominator was their style of play: serve and volley.
In 2002 it all changed. The grass used on the courts was changed and it became a much slower surface. This had an immediate effect as Sampras and a host of other serve and volleyers all fell early on that year. This meant that in the semi-finals there was only one player who used the serve and volley, Tim Henman. However he was beaten in straight sets by Lleyton Hewitt, who went on to win the title with his baseline game. Since then serve and volleying has been in a steady decline. The newer generation abandoned this tactic as they saw other players being picked off repeatedly at the net. Advances in racket and string technology also meant more power and spin could now be generated on shots and balls have been deflated so that they don't fly as quickly through the air. Why were these changes made you might ask? The answer, it seems, was that tennis had faced so much criticism that ace after ace was not good to look and that players were serving so quickly spectators were struggling to see the ball. The game therefore had to be slowed down, so much so that even clay court specialists can now hold their own on the courts at Wimbledon. There was a time when these players would simply skip Wimbledon altogether. Indeed former world number 1 Marcelo Rios famously said that grass was for "cows and soccer" and tennis shouldn't be played on it. However on the new surface players can use the same style that brings them success on clay. Rafael Nadal has already demonstrated this by winning two Wimbledon titles with a heavy hitting baseline game.
The game is now easier to follow but it is all becoming standardised. Competitors are playing percentage tennis and contesting most points from the baseline on all the surfaces. There are still some players currently on the tour who serve and volley, Michael Llodra, Nicholas Mahut, Giles Muller and Radek Stepanek to name but a few, but none of these have made a real impact in the latter stages of a Grand Slam. Some other players use the serve and volley as a surprise tactic on a big point and this often brings them success as the returner is surprised and has less time to hit a return. This begs the question of why do players not use it more often, especially in the men's game as players are struggling to deal with the dominance of Rafael Nadal and Novak Djokovic,who between them have won nine of the last ten Grand Slam tournaments. Nadal and Djokovic have such dominant baseline games that maybe the only way to beat them is to try something different and attack the net.
The sad fact now is that at a junior level, volleying is far down the list of priorities. Coaches focus endless hours on rallying from the baseline and grinding opponents down. The next generation of players aren't learning how to win a point at the net. If they don't learn the art of volleying when they are young, then it is going to be difficult to produce the shot on the big stage in a Grand Slam. Some of the greatest matches in the history of tennis have been duels between a volleyer and a baseliner. Agassi v Sampras and Borg v McEnroe had numerous contests that thrilled the looking crowds. Now the balance has shifted and players retreat to the baseline. They want to play it safe, with slower courts, slower balls and more powerful rackets. Lengthy rallies have become commonplace, even on the illustrious grass courts of Wimbledon. Unless players start learning to attack the net at grassroots level then it is unlikely we will ever witness the truly great art of serve and volleying again.