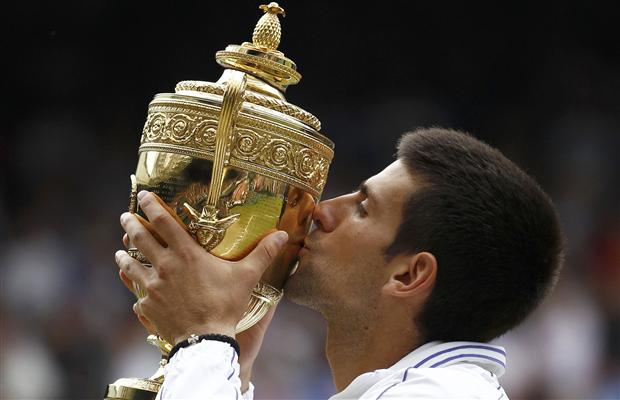 On Monday the grass season's premier event; Wimbledon 2012 will get underway. Although tennis is only played on the grass for a few weeks it is a short and exciting part of the tennis year. The quick and low bouncing surface provides plenty of opportunity for shocks and upsets as top seeds struggle to transition from clay to the hallowed green turf. There is no overwhelming favourite for Wimbledon this year; however here are some of the contenders likely to be battling it out for the Wimbledon 2012 title:
The Favourites
Rafael Nadal – Fresh off his record seventh French Open title the Spaniard is full of confidence to add a third Wimbledon title to his resume. He has broken his Grand Slam jinx against Djokovic and has been playing some scintillating tennis this year. He lost his second match in a warm up tournament on the Halle grass to Kohlschreiber in straight sets. However he will not be unduly worried by this, he has had a week and a half of rest and will be ready to tackle the field at Wimbledon. His draw is favourable until a potentially tough quarter final against Tsonga. Expect to see him in the final.
Prediction: Winner
Novak Djokovic– The defending champion has a lot of ranking points to defend from now until the end of the season, starting with Wimbledon. He has chosen to rest since the French Open; just playing a couple of exhibition games on grass in preparation. He has been in good form this year but nothing like his spectacular 2011 form. Has a very good draw in the first few rounds before a potential quarter final against Berdych. Once again he has been drawn to face Federer in the semi-final and that could be a cracking match. He has confessed he doesn't like the tag of defending champion, as he would rather be chasing the title. Expect him to make the semi-final where he will run into a motivated Federer, the Serbian will need to bring his best tennis to get through to the final.
Prediction: Semi Finalist
Roger Federer– He used to be unbeatable at Wimbledon but has failed to make it past the quarter finals in the last two years. Hasn't won a grand slam since January 2010 and whispers are starting to say the Swiss maestro is in decline. However Federer has had a great 2012 season, winning titles in Rotterdam, Dubai, Indian Wells and Madrid. He lost in the final of Halle last week to a rejuvenated Tommy Haas which will have disappointed him, however he has an easy draw at Wimbledon to get his confidence back. Will have to play aggressive tennis to have a chance at making the final where he will possibly face Nadal.
Prediction: Runner-Up
The Chasing Pack
Andy Murray– The home favourite will have to battle his opponents and the pressure of a nation over the next two weeks. If he wants to become the first British Wimbledon Champion since Fred Perry in 1936, then he will have to be at his very best. He has made it to the semi-finals the last three years but has fallen in two of them to Nadal. He is in the Spaniards half of the draw again, but has a nightmare draw to even reach there. He faces Davydenko, former world number three, in his first match and then has a host of big servers in his quarter. Raonic, Cilic, Anderson and Del Potro are all matches he could face if he wants to make the semi-finals. However this could be a blessing in disguise, because if Murray does make it through to the semi's then he will be full of confidence. That could just be enough to see him through to his first Wimbledon Final.
Prediction: Semi Finalist
Jo-Wilfried Tsonga – The Frenchman is a born entertainer and is very much at home on the lawns of Wimbledon. He has a great grass court game, with a huge serve and excellent net play. Last year he beat Federer in the quarter finals, after coming back from two sets to love down. He has also made the final at Wimbledon before so he knows what it takes to be successful here. Lost his second match at Queens in the lead up to Wimbledon and there are doubts over one of his fingers as he apparently injured it. If fit he will get through to face Nadal in the quarter finals and that should be an excellent match.
Prediction: Quarter Finalist
Tomas Berdych – The world number seven is having an excellent year, winning a title in Montpellier and reaching the final of the Madrid masters. Plays aggressive tennis and gave Nadal a big test in the quarter finals of the Australian Open earlier this year. He has also reached the final of Wimbledon before and has the potential of causing an upset on grass. He was another top player who had a disappointing warm up for Wimbledon: losing in the quarter finals of Halle. However he will put that behind him and set up a potential quarter final against Djokovic.
Prediction: Quarter Finalist
Outside Bets
Juan Martin Del Potro – The Argentine has won a grand slam, which in this era of Nadal and Djokovic domination is quite a feat. He is not as comfortable on grass; with a best showing at Wimbledon a fourth round exit last year. However that loss was to Nadal and he gave him a run for his money. The low bounces on grass mean his power hitting game isn't as effective but if he gets hot he can take anyone out. A knee injury prevented him from achieving more at the French Open and if he is fully fit he is a fearsome prospect.
Prediction: Quarter Finalist
Milos Raonic – The twenty one year old is having a break out year on the ATP tour. Regularly serves at 130 miles per hour, the Canadian will hope to use his massive serve to his advantage at Wimbledon. He is in the very tough Murray quarter of the draw but has the tools necessary to do some damage. He has already beaten Murray once this year and will be confident he can do the same again.
Prediction: Fourth Round
John Isner – Had a great start to the 2012 season; making the final of Indian Wells and reaching number ten in the world. He will want to put a poor clay season behind him as he moves on to the grass. He is much more comfortable on the faster surface, which will help his big serve. He is remembered best for his epic match against Mahut a few years ago and the two could play again in the second round. If he finds his form then expect him to make quarter final against Federer.
Prediction: Quarter Finalist
The Wimbledon draw was done on Friday and some blockbuster first round matches were made. Among them are: 2002 Wimbledon champion Lleyton Hewitt - fifth seed Jo-Wilfried Tsonga, 2002 Wimbledon runner-up David Nalbandian - eighth seed Janko Tipsarevic, defending champion Novak Djokovic - former world number 1 Juan Carlos Ferrero and former world number three Nikolay Davydenko - fourth seed Andy Murray. All of those are very good matches and could provide potential upsets, which could be the theme for Wimbledon 2012.