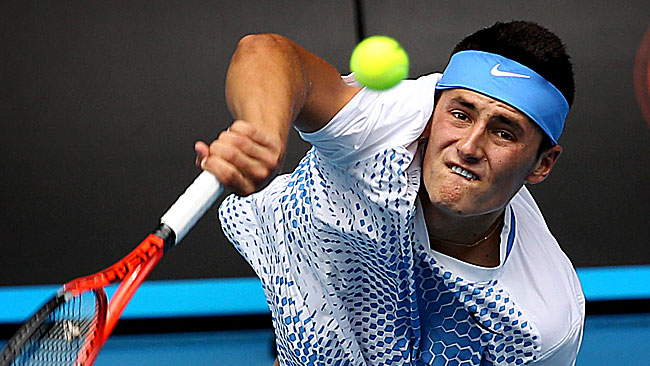 The Men's ATP tour is a tough place for youngsters to ply their trade. It seems to be getting harder and harder for the juniors to break through. Currently there is just one teenager ranked in the top one hundred: Bernard Tomic at forty five. There are only five other players twenty one and under that join him in the top hundred. Why is it that the younger players are struggling with the transition to the ATP tour?
In the 1980's there was a surge of teenage Grand Slam champions. In 1989 Michael Chang was the youngest ever winner of a Grand Slam at just seventeen years and three months; a record that still stands today. Boris Becker, in 1985, and Mats Wilander, in 1982, also became Grand Slam champions at seventeen. Stefan Edberg completed the 80's teenage quartet with an Australian Open title at nineteen. In 1990 Pete Sampras followed in the same vein; winning his first of seven Wimbledon titles aged nineteen. Since then there has only been one other teenage Grand Slam champion: Rafael Nadal in 2005. Does this mean that the current players are not as talented as the crop from the 1980's?
Nadal's 2005 success was due to the fact he developed physically when he was young. Clay is the toughest surface for the body to play tennis on, however Nadal was raised on it and he relished lengthy gruelling rallies. He swept away the field and took the title with just three sets won against him. It was an awesome display, especially considering he was still just a teenager. Nadal has since gone on to add ten more Grand Slam titles to his name; however a lot of other talented youngsters never fulfilled their potential.
Tennis is getting more and more physical. The ATP tour at the moment has a host of tournaments every week all over the globe. It is a hectic schedule and all tennis players have to put a lot of work into conditioning their body. It is tough for juniors to go from playing fellow seventeen or eighteen year olds to facing fully grown men. Many youngsters lack the power to hit their older opponent off the court; resulting in lengthy rallies to win points. This is a big contrast from the junior circuit they have just graduated from. They have gone from winning most matches and winning titles to first round losses every week. This puts a lot of pressure on the players; they have to adapt mentally to have a chance on the Men's tour. Another area where youngsters struggle is court craft. Some of the veterans of the men's tour may lack the range of shots and technique of the juniors, however when they play them they will outclass them tactically. They will use all their experience and frustrate the more talented rookie.
A good example of this is Novak Djokovic and Andy Murray. Both were extremely talented youngsters and grew up on the junior tour together. They came in to the men's tour at the same time and both struggled in their early teenage years. Even in their early twenty's they still lacked consistency to challenge Federer and Nadal on a regular basis. However they both went away and got themselves in fantastic physical shape; so much so that both are now considered two of the fittest players on the tour. Together with their experience on the tour for five years and they now are both firmly entrenched in the top four. Murray still hasn't got a Grand Slam title for his efforts, four runner-ups are his best, however Djokovic dominated the 2011 tennis season and currently has five Grand Slams to his name.
Other tennis players are also using their experience of years on the tour and translating it in to success. Roger Federer at thirty years old was expected to start declining, however he is back to number one in the world after winning Wimbledon and shows no sign of letting up. David Ferrer is another thirty year old who is in the form of his life; he is up to five in the world and has made a semi-final and two quarter finals at the 2012 Grand Slams. Janko Tipsarevic at twenty eight is also up to a career high eight in the world. After many years of hovering in the top fifty he has found something extra late on in his career. The average age of the top ten at the end of 2011 was twenty six years and seven months. Compare that with the age at the end of 2006: twenty four years and four months, or the age at the end of 2002: twenty four years and six months. It is clear now that tennis players are hitting their peak later on in their careers.
Therefore junior players starting on the ATP tour need to persevere. They cannot expect to start beating men who have been playing for many more years than they have; thus having a lot more experience. The juniors need to get themselves in good shape physically to cope with the demands of the tennis season. If they do that and stay mentally tough then they will start to win some matches. After a couple of years their talent that served them so well on the junior stage will shine through. This will help them reach their peak and, if they keep their body in good shape, they can go and teach the new batch of youngsters coming through a lesson or two on the tennis court.