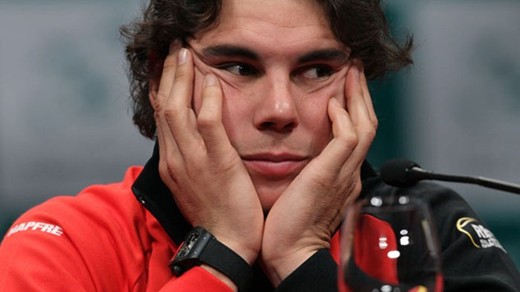 On Wednesday Rafael Nadal announced he will not be able to play at the 2012 U.S Open. Due to a knee injury the twenty six year old will be missing his fifth Grand Slam event. In comparison Roger Federer is still yet to miss a Grand Slam due to injury. However the latest Nadal injury is different to the previous ones, its severity must be high as it forced Nadal to miss the Olympics. He didn't have the chance to defend his gold medal from 2008, which was high on his agenda, and he also missed the opportunity to carry the flag for his nation; any athlete's dream.
With Nadal there is always an element of inevitability with any injuries. His tennis style of play has always been highlighted as extremely physical. Nadal himself is of a different build to Federer, Djokovic and Murray. Whereas they are all taller and move more gracefully around the court, Rafa is shorter and very broad. He puts extreme physical effort into every point and, from time to time, his body breaks down because of this. It is a great shame that, at just twenty six years old, people are questioning how long he can carry on.
This latest injury will be even more painful as Nadal was having a great 2012 season. He bounced back from a marathon Australian Open final loss to Djokovic to dominate the clay season. After losing in the Indian Wells semi-finals to Federer, in March, Nadal went on to win twenty eight of his next twenty nine matches. During that run he picked up titles at Monte Carlo, Barcelona, Rome and a record breaking seventh French Open crown. There was a big shock when he lost to Lukas Rosol in the second round at Wimbledon, however the fact he hasn't played since due to injury raises the question of whether he was one hundred per cent during that match.
Nadal's absence has been noticed by the other players. Roger Federer recent comments show he is concerned about his great rival's latest time off. Federer, who recently regained his world number one ranking, said he "can't believe he has been out this long" and "hoped he would be back for the [U.S] Open". This hope has now been dashed and, although Nadal's injury will create an easier draw for Federer and co, his presence will be missed at Flushing Meadows.
Rafael Nadal's uncle Toni has said the Spaniard is focused on making "a full recovery". He has targeted the Davis Cup semi-finals, September 14th-16th, for his first match back; where Spain will take on the United States for a spot in the final. Toni also said that "this pause will further prolong his career and, possibly, he will have no more problems in the future". Nadal will also have his eye on the World Tour Finals at the end of this year, as it is the one major title that has still eluded him. If he captures that, to go with his record seventh French Open title, he would consider this a very successful year. However to compete with Djokovic and Federer at the top, Nadal and his fans must be hoping for no more injury breakdowns. Djokovic has played 7178 minutes so far this season compared to Nadal's 5982 and the Serb shows no signs of slowing.
There will still be plenty of stories at this year's U.S Open. There will be the battle between Roger Federer and Novak Djokovic for the world number one spot, Andy Murray will have fresh hope for a first Grand Slam after winning Olympic Gold and Juan Martin Del Potro appears to be returning near to his form of 2009, where he defeated Roger Federer in the final. However even with all these stories there will be a Nadal shaped hole in Flushing Meadows; the U.S Open simply won't be the same without him.