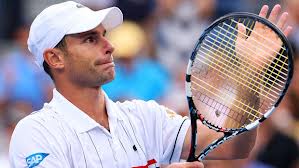 On the 5th of September 2012 Andy Roddick played his last ever ATP tennis match. After announcing he would retire a few days previous, it was fitting that his career should end at the scene of his greatest triumph. In 2003 he won the U.S Open, nine years on he is retiring after a superb career. He came on to the ATP tour as a young American with a huge serve, as time went on he developed into much more than that. Over the years Roddick entertained crowds with his lion hearted performances, as well as the occasional outburst at the umpire. He will always be remembered for giving some of the funniest ever post-match press conferences, and he gained legions of fans for his outright honesty, his charisma and the intensity he brought to the tennis court.
In 2001, just his second year on tour, he defeated world number one at the time Gustavo Kuerten, a three time French Open winner. He also scored an impressive victory over Pete Sampras, quite an achievement for a nineteen year old. His best year was 2003; firstly he reached the semi-finals of the Australian Open after a titanic battle against Younes El Aynaoui. Roddick prevailed 21-19 in the fifth set after five hours of tennis, which was then a Grand Slam record for the longest fifth set. He claimed his first ever title at Queens, a tournament he would go on to win four times in just five years. After this victory he reached the semi-finals of Wimbledon 2003 where it ended in a fashion that would become all too familiar: losing to Roger Federer. However he bounced back from this to claim his only Grand Slam title.
At the 2003 U.S Open Andy Roddick was the fourth seed and one of two home favourites who could win the title. 2002 champion Pete Sampras had retired, however the U.S still had Roddick and top seed Andre Agassi to root for. Both Americans progressed to the semi-finals where Agassi lost to Juan Carlos Ferrero. Roddick was also in trouble; two sets and match point down against David Nalbandian. However he fought back and won 6-3 in the fifth set. In the final he defeated Ferrero 6-3, 7-6(2), 6-3 to the delight of the home crowd. On the back of this he finished 2003 as world number one.
After his stellar 2003 Roddick could never quite repeat the success. He finished in the ATP top ten at the end of the next seven years but couldn't add another Grand Slam. He dearly wanted to win Wimbledon, where his serve was lethal on the grass courts. He made it to the final in 2004, 2005 and 2009 where he lost to his nemesis Roger Federer each time. Federer also defeated him in the 2006 U.S Open final, but it was Wimbledon 2009 that hurt the most. Roddick knocked out home favourite Andy Murray in the semi-finals and was in inspired form. He could have taken a two set lead in the final but eventually succumbed 5-7, 7-6(6), 7-6(5), 3-6, 16-14 in four hours and seventeen minutes. Roddick lost his serve just once in the whole match; in the last, vital game.
Roddick has fallen out of the top ten in the last year or so, but still picked up titles in 2012 at Eastbourne and Atlanta. Some question his need to retire, as he has only just turned thirty and playing well, but he has said he doesn't feel fit enough to compete with the younger generation. One of these men is twenty three year old Juan Martin Del Potro, who beat Roddick 6-7(1), 7-6(4), 6-2, 6-4 in what is now Roddick's last match. Del Potro has now 'retired' two Grand Slam champions: Andy Roddick and Marat Safin.
So Roddick is gone but won't be forgotten. He was world number one, Grand Slam champion, Davis Cup winner and won thirty two ATP titles. When asked what he would do next he signed off with some classic Roddick humour: "I'm probably not going to be opposed to a beer. Or ten" It's safe to say he deserves it.