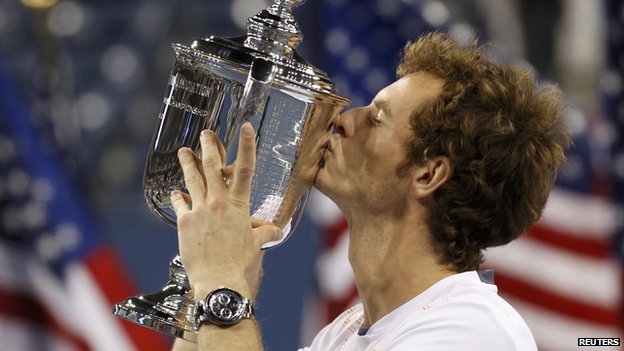 The wait is over. Andy Murray defeated Novak Djokovic 7-6(10), 7-5, 2-6, 3-6, 6-2 to become the first British male to win a Grand Slam singles competition in seventy six years. In 1936 Fred Perry won the U.S Open final on the 10th of September, it was only fitting that on the same date in 2012 Andy Murray would make his breakthrough. Just like his coach Ivan Lendl, it took Murray five attempts to finally win a Grand Slam final. Lendl went on to add seven more to his record and become one of the all-time greats of the game, can Murray do the same?
Murray had an easier than expected route to the dramatic final in New York. The dangerous Jo-Wilfried Tsonga, a potential quarter final opponent, crashed out in the second round and a semi-final against Roger Federer was avoided when the top seed lost to Tomas Berdych. However Murray never makes things too easy for his fans. He struggled in the third round against Feliciano Lopez, eventually winning 7-6(5), 7-6(5), 4-6, 7-6(4) in just under four hours. Although Murray won the important points, he actually won less than fifty per cent of the total points in the match. After that he dealt with Milos Raonic, a youngster with a huge serve, in impressive fashion. He beat the Canadian 6-4, 6-4, 6-2 and played some scintillating tennis. The quarter final against Marin Cilic was where Murray, at times, looked down and out. He trailed 6-3, 5-1 before coming alive and winning eighteen of the next twenty one games to knock out a shell shocked Cilic. Murray was asked in the post-match interviews about a semi-final against Roger Federer. Murray replied "Tomas Berdych is a great player, as well. Let's show him some respect, too." How right he was. Berdych played some awe-inspiring tennis to knock out Federer in four sets, Murray knew how dangerous an in-form Berdych could be and the fact that Murray trailed him 4-2 in matches played between the pair spelt trouble. Murray battled to a 5-7, 6-2, 6-1, 7-6(7) victory over the Czech in a match where both players had to deal with ferocious winds. This set up a match against Novak Djokovic; Murray's fifth Grand Slam final and second against the Serb.
Murray went into the final knowing Djokovic was the most in-form hard court player in the last few years. Djokovic hadn't lost in a hard court Grand Slam since the 2010 U.S Open final and had barely been troubled all week. Murray started well and took the first set on a tie-break 12-10, a U.S Open final record for longest tie-break. When Murray won the second set 7-5, even after giving away a 5-2 lead, it all seemed too good to be true. That was when Djokovic came roaring back. The Serb is known for his comeback skills; he has won many matches from two sets to love down and has incredible fitness levels. When he levelled up the final at two sets all the momentum seemed to have switched. If Murray had lost his fifth Grand Slam final it would have hurt, however if he had lost if from two sets to love up the mental blow could have been huge. In the end Murray found another reserve of energy to take the fifth set 6-2 to the delight of the New York crowd, his coaching team, his family and all his fans. Murray's celebrations were more of relief and after coming so close so many times he didn't seem to truly believe he had won.
What next for Murray and the ATP tour? Murray has risen to number three in the world after his U.S Open win, Nadal dropping down to four as he is still injured. Murray has a lot of points to defend in the Asian Masters series and then there will be the 2012 end of year tour finals in London; could he add that title to go along with his first Grand Slam and Olympic Gold medal? No matter what happens 2012 has been a breakout year for Andy Murray. The pain of his Wimbledon final loss has been replaced by the joy of beating Federer in the Olympic final, to the ecstasy of winning his maiden Grand Slam. 2013 is shaping up to be a great year on the ATP tour. Can Murray take his new found confidence and add more Grand Slam title's to his name? Rafael Nadal should be back fit for the 2013 season and will be desperate to get back to number one. Novak Djokovic will want to put a disappointing 2012 behind him and try and recreate his form of 2011 again. Roger Federer continues to play sublime tennis and he completes a top four in the game with a great rivalry building. Along with the top four Juan Martin Del Potro will want to add to his one Grand Slam title, Tomas Berdych and Jo-Wilfried Tsonga will both also want to turn their potential into results.
People always said that the first Grand Slam win would be the hardest for Andy Murray. Now that he has won one he should be able to relax knowing he can perform on the big stage. This will allow him to play his natural game that the other players fear. Even if he doesn't add anymore majors to his name in 2013 you can never take away the fact that now Andy Murray is a Grand Slam champion.