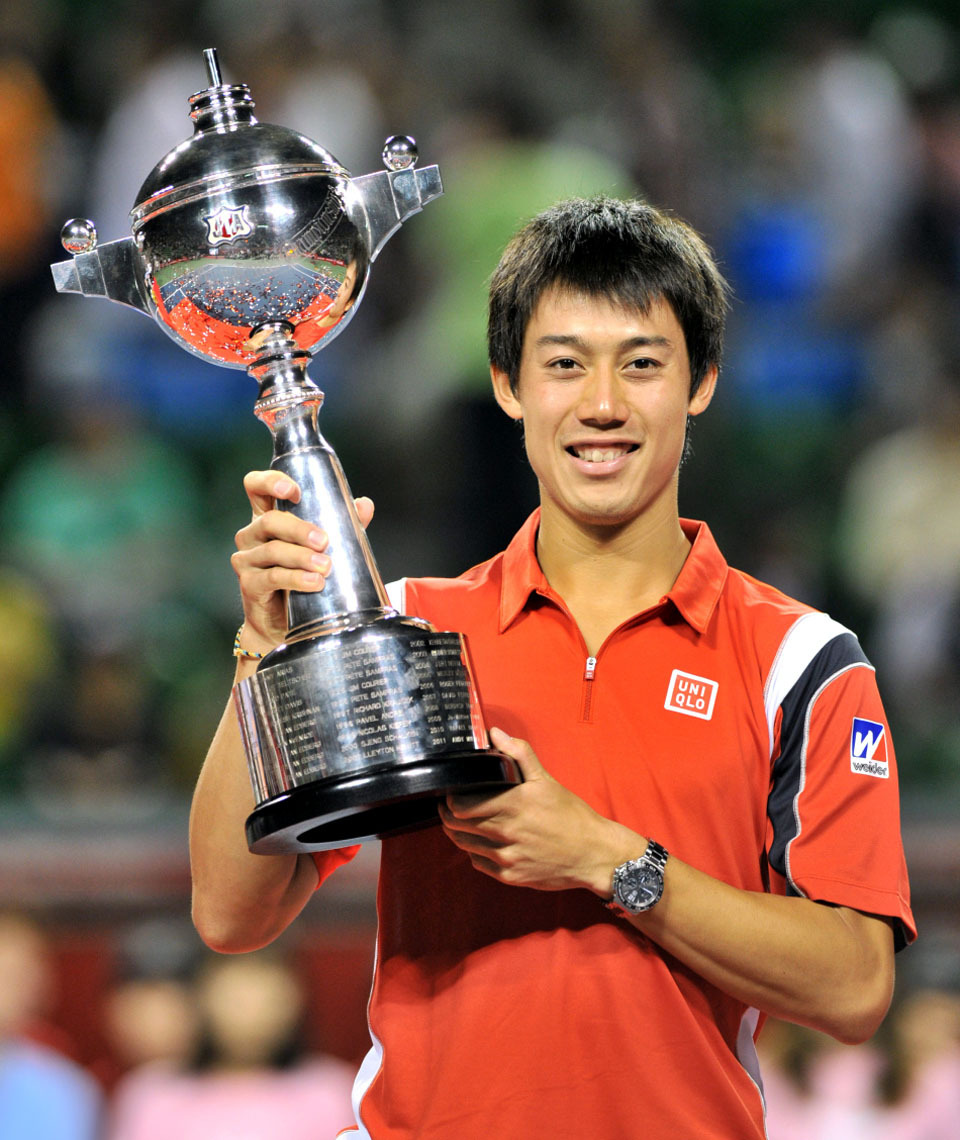 Kei Nishikori became the first Japanese man to win the Rakuten Open in Tokyo last week. He defeated Milos Raonic in the final 7-6(5), 3-6, 6-0 to the delight of the home crowd. Still only twenty two years of age, Kei has already broken a host of records in his country. He is the highest ranked Japanese male tennis player in their history, as well as becoming the first Japanese man in nearly eighty years to reach the quarter finals of a Grand Slam. The question everyone wants to know is: just how high can Nishikori go?
Kei turned professional in 2007 but first came into the spotlight at Queens in 2008. He faced Rafael Nadal, world number two at the time, and gave a terrific account of himself. Nadal prevailed 6-4, 3-6, 6-3 but many noted Nishikori as one to look for the future. He confirmed this by beating fourth seed David Ferrer at the 2008 U.S Open over five tough sets, allowing Kei to reach the last sixteen of the tournament. He was named the 2008 ATP Newcomer of the Year and many were excited to see him in the 2009 season. However his development was halted by an elbow injury that required surgery. This forced him to miss the majority of the 2009 season and put his progress on hold.
Nishikori came back from his injury and made a steady rise up the rankings. However at the end of the 2011 season he exploded onto the main scene. First he reached the semi-finals of the Shanghai Masters, where he lost to Andy Murray after scoring big upsets over Jo Tsonga and Alex Dolgopolov. Kei then went one better in Basel when he reached the final after beating Novak Djokovic in the semis. That was one of only four defeats that Djokovic suffered in 2011, and the only loss in a completed match on his favoured hard court. Nishikori took this form into the start of 2012 where he reached his first ever Grand Slam quarter final, scoring another victory over Tsonga on the way. The rest of the season hasn't been as spectacular, however he has remained a fixture in the top 20 of the ATP rankings. He has also stayed relatively injury costless, with just one month missed in June causing him to withdraw from the French Open.
Kei started his week in Tokyo with a match against his Japanese compatriot Go Soeda. Soeda is ranked lower than Nishikori but won their previous match 6-2, 6-1 and was not going to be an easy match. Kei battled to a 4-6, 6-2, 6-3 win and followed it up with another three set victory, this time over Spaniard Tommy Robredo. Next was a quarter final against second seed Tomas Berdych. Berdych was coming off a victory against Federer in the U.S Open and had risen to number six in the world, however Nishikori had won both matches against Berdych when they had previously met on hard court. In a terrific display of counter punching, Kei won 7-5, 6-4 and progressed through to the semi-finals where he annihilated Marcos Baghdatis 6-2, 6-2.
In the final Nishikori faced Milos Raonic. Both are regarded as the leading lights of the young generation on the ATP tour; Raonic being twenty one and Nishikori just one year older. The match saw a contrast of styles: Raonic with his huge serves and booming groundstroke's, whereas Nishikori relies more on his movement and turning defence into attack. Kei took a tight first set on a tie-break, however when Raonic won the second set 6-3 it seemed the momentum was with him. In a stunning third set performance Nishikori broke Raonic three times to storm home 6-0. The title elevated Kei to his highest ever ranking of fifteen in the world.
What next for Nishikori? He is realistic in his targets stating "I'm still a little bit off winning a grand slam. In the next two or three years I have to strengthen my body to be able to withstand seven five-set matches". "First make my body stronger, play well more consistently and once I've combined the two things then I'll have a chance to win a slam." If he can do that and stay injury costless then the top 10 will have to look out.