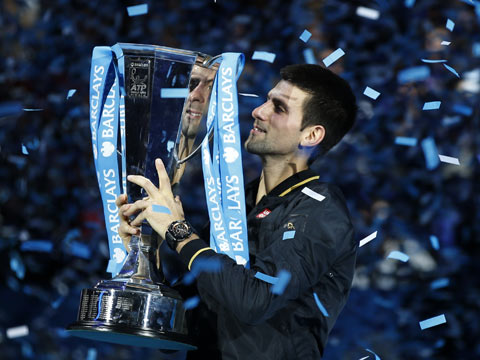 After a record breaking 2011 many didn't believe that Novak Djokovic, or indeed anyone else, could ever emulate his success. However, while statistics say that Djokovic hasn't done as well as he did in 2011, he has claimed victory at the ATP World Tour Finals after defeating Roger Federer 7-6(6), 7-5. This is a title that has eluded Djokovic since 2008 and something he couldn't claim even in his incredible 2011 form.
Djokovic started 2012 where he left off in 2011, by defending his Australian Open crown. An incredible two weeks in Melbourne ended with the top four men meeting in the semi-finals. After an epic battle against Andy Murray that spanned four hours and fifty minutes Djokovic had to try and recover for a final against Rafael Nadal. Djokovic did more than just recover as he went on to defeat Nadal 5-7, 6-4, 6-2, 6-7(5), 7-5 in the longest ever Grand Slam final in the Open era. After this win Djokovic had won four out of the last five Grand Slam titles and things were looking ominous for the rest of the men's tour.
After a great start to the season Djokovic had to tackle the clay season, if he could win the French Open then he would be the first man in forty three years to hold all four of the Grand Slam titles. However to do this he would have to find a way past Rafael Nadal on his favoured clay courts. Djokovic reached the final of Monte Carlo and Rome but each time lost to Nadal. This didn't bode well for the French Open as Nadal had only ever lost there once in his life, to Robin Soderling who is currently inactive due to illness. In a see-saw French Open final Nadal led by two sets to love before Djokovic came back strongly to take the third set 6-2. Rain came and postponed the final until the Monday, which was unfortunate for Djokovic as he seemed to have all the momentum at that time. On the Monday Nadal came back to win 6-4, 6-3, 2-6, 7-5 and deny Djokovic a fourth successive Grand Slam title.
After the French Open Djokovic experienced further disappointment when he lost to Federer in the Wimbledon semi-finals, thus allowing Federer to retake the world number one ranking. This was compounded by later missing out on an Olympic medal and losing his U.S Open title to Andy Murray after another epic final. Murray took an early two sets to love lead but when Djokovic came back and levelled at two sets all things looked grim for the Brit. Djokovic seemed set to add another epic comeback to his list but Murray found another level to win the fifth set 6-2 and deny Djokovic a further grand slam victory.
After the disappointment of his summer, Djokovic bounced back strongly to win titles in Beijing, Shanghai and the year-end World Tour Finals in London to retake the world number one ranking. Even more impressive than his performance at the O2 Arena is the fact he didn't lose a single match all week. The round robin format at the tournament allows players to lose a match and still make the semi-finals, however Djokovic didn't lose once and dispatched four top ten players before beating Federer in the final. In doing this Djokovic became the first man to beat Federer in straight sets indoors since David Nalbandian in 2007.
The final itself got off to an awful start for Djokovic. He didn't win a point until the third game as Federer jumped out to a 3-0 lead. Slowly but surely Djokovic worked his way back into the first set, eventually serving for it at 5-4. However he fluffed his chances to close it out and allowed Federer to take them to a tie-break. Both players were not giving an inch and still couldn't be separated at 6-6 in the tie-break. Federer then made an uncharacteristic error and Djokovic seized on the opportunity to win the set 7-6 (8-6). The set lasted exactly one hundred points with Djokovic only winning forty eight but more importantly winning the ones that counted. Federer came back strongly to lead early again in the second set and played some truly inspired tennis. Djokovic was serving to stay in the second set at 3-5 when he found another gear. He scurried across the baseline and harassed Federer into uncharacteristically missing shots and suddenly it was Federer who was serving to stay in the set at 5-6. Djokovic, sensing victory, returned well and sealed the win with a brilliant backhand passing shot that Federer was powerless to get back. The final saw the top two ranked players produce some inspired tennis and play yet another memorable 2012 final. However once again it was Djokovic who came out on top, confirming that he truly belongs at number one in the world. His victory was a fitting end to another fantastic year.
Djokovic can look back on his 2012 with pride. Although it didn't reach the heights of 2011 he still made three Grand Slam finals and won the Australian Open, Miami, Toronto, Beijing, Shanghai and now the World Tour Finals. He also became only the third man in the last fourteen years, after Hewitt and Federer, to finish successive years as world number one. This is a measure of the consistency Djokovic continues to display and means he can look forward to 2013 with great anticipation. However he knows the challenges that await him; Federer had a renaissance in 2012, Murray won his first Grand Slam, Nadal should return strong and Del Potro showed glimpses of his 2009 form. The men's ATP tour is extremely strong right now and Djokovic is the top dog. However it remains to be seen whether he can stay there.