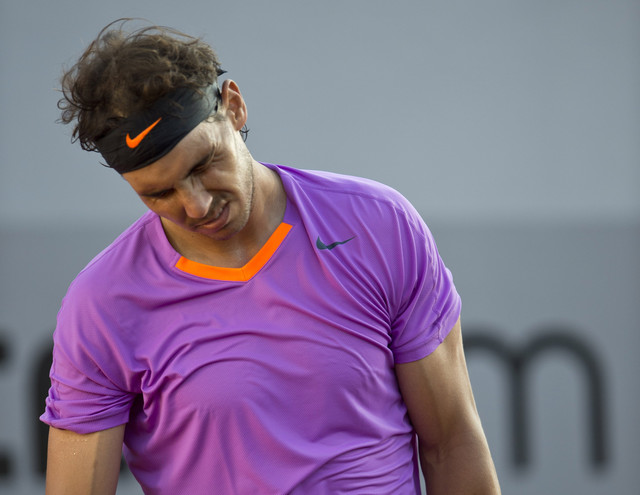 When Rafael Nadal announced that his first tournament back after injury would be at Vina del Mar no-one quite knew what to expect. What shape would he be in after a seven month injury lay-off? Would he struggle on his return or would Rafa dominate on clay as he has his whole career?
In round one Nadal lost the opening two games of his match to Federico Delbonis and tennis fans everywhere held their breath. Nadal then recovered to win twelve of the next fifteen games for a convincing 6-3, 6-2 victory. Rafa didn't dominate in the fashion we are so used to seeing from him on clay, but it was about as good a performance as you could expect from his first ATP match since Wimbledon 2012. The quarter-final saw Nadal take on fellow Spanish player Daniel Gimeno-Traver and again Rafa won for the loss of just five games, this time 6-1, 6-4. This result saw him progress through to the semi-final and his biggest challenge so far: third seed Jeremy Chardy who is the current world number twenty six. Chardy was in good form after reaching the Australian Open quarter finals where he caused a big upset by winning against Juan Martin Del Potro. Chardy has a huge forehand and was the man in the draw most likely to test Nadal, especially since second seed Juan Monaco had crashed out in the second round. Nadal proceeded to dismantle Chardy, winning 6-2, 6-2 to progress through to the final and it seemed he was on his way to clinching a title in his first week back. Just one man stood in his way; Horacio Zeballos.
Horacio Zeballos is a twenty seven year old left-hander from Argentina with a career high of forty one in the world rankings. He had never won an ATP title in his career and had recently been playing a lot of matches on the challenger circuit. No-one expected him to beat Nadal in a clay court final, only two other men had ever done that before and their names are Federer and Djokovic. Zeballos had surpassed expectations just to reach the final; knocking out the fourth seed Pablo Andujar, fifth seed Albert Ramos and eight seed Carlos Berlocq in successive matches. He had obviously found some form, but by this stage Nadal had also got some matches under his belt and was the overwhelming favourite to claim the title. Zeballos also wrote on his twitter feed before the match that he was about to take on 'god' on the clay court, it seemed not even Zeballos truly believed he could beat Rafa.
The match started evenly with neither man breaking serve in the first two sets. Nadal took the first on the tie-break 7-2 after a poor passage of play from Zeballos. However Zeballos then responded by winning the second set 8-6 on a tie-break to the shocking Nadal and the crowd. The start of the third set would be crucial and when Nadal earned the first break of the match to go 1-0 up it seemed Zeballos's challenge would come to an end. However a jaded Nadal gave the break straight back and then found himself serving to stay in the match at 4-5. Zeballos broke Nadal to love to claim his maiden ATP title and promptly broke down in tears. The outpouring of emotion from the Argentine showed just how much this victory meant to him, while Nadal looked shattered and went on to later lose the doubles final as well.
Whilst Nadal didn't get a tournament win on his return there were many positives to take from the week. For a start it was just fantastic to see him back playing again, and after so long out there had also been the worry that he might never come back. Nadal won his first four matches without ever looking in danger, and whilst he didn't win the final it took an inspired performance from Zeballos to beat him. Fans should not overreact to this result as Nadal will need time to play himself back into his 2012 form; unlike Federer Rafa likes having a lot of matches under his belt to really feel like he is on top of his game.
Nadal's next stop is a clay court tournament this week in Sao Paulo where he is again the top seed. It is another step on the road to recovery from his seven months out and he will be looking for further improvement. The opponents in Brazil will be slightly higher quality and that is good for Nadal to test himself. As for Zeballos he is also playing in Sao Paulo and is in the opposite half of the draw to Nadal. What are the chances of them meeting in the final again?