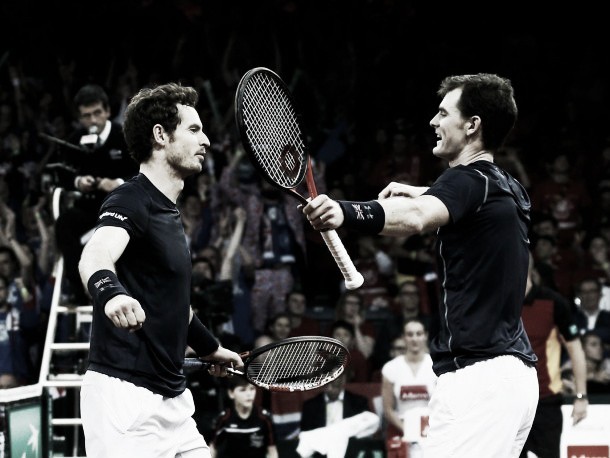 Andy and Jamie Murray combined to win the crucial doubles rubber for Great Britain for the third time in Davis Cup play this year. After splitting the first two sets, the Murray's edged the third, before running away with the fourth to claim the win.
Goffin late addition for the Belgians
There had been much speculation before the tie as to whether Belgian captain Johan van Herck would switch his top singles player in to the doubles team, and that did indeed happen, David Goffin and Steve Darcis making their debut as a doubles team.
They were up against formidable foes in the Murray brothers, the world number two and the doubles world number seven combining again to create a team that has been tough to beat.
Evenly matched first two sets
It was a tight opening to the match, with the crowd again providing a crackling atmosphere. The first breakthrough went to the Brits, as they broke serve decisively in the tenth game of the first set to take the advantage. The Belgians hit back though, levelling the match with an identical scoreline of 6-4, and the match looked finely balanced at one set all.
When Steve Darcis broke for the Belgians early in set three, it could have slipped away from the Murray's, but a sharp volley at the net from Jamie levelled the set at 2-2, and from there on the Belgians won just three more games.
Darcis weakens throughout the match
From 2-2 in the third set, Darcis was clearly the weak link in the Belgian team, and Great Britain exploited this to the full, targeting him while avoiding the sharper and more dangerous Goffin. Darcis was broken multiple times as the Brits took the third set 6-3 before running away with the fourth 6-2 to claim victory.
With the very real possibility of tomorrow's singles matches being split, this always looked like being the crucial rubber, and both teams looked like they knew it after the match.
Goffin was trying to sound upbeat about his chances against Murray, saying that he has "nothing to lose" tomorrow, but looked well aware of the magnitude of the task that faces him.
The two-time major champion was not underestimating the world number 16, however - saying that "Goffin is a world-class player and with the crowd behind him it will be a difficult match."
A Murray win would seal Great Britain's first Davis Cup title for 79 years, a remarkable turnaround for a team involved in a relegation play-off to the competition's bottom tier just a few short years ago.
They're not there yet though, and should Goffin spring the upset on Sunday, the fifth and final rubber will decide the tie. That final match could go either way, with the teams' second singles players looking evenly matched.