 Maya DiRado ​pulled off one of the biggest upsets in by the Olympics so far as she beat Hungary's Katinka Hosszu by six one-hundredths of a second to win the 200 meter backstroke title at the Rio Olympics. Hosszu was looking for her fourth gold medal of the Olympics after taking the 200 and 400 individual medleys and the 100 backstroke. DiRado was second in the 400 IM and third in the 200 IM and the 200 back was considered her weakest event.
Challengers to Hosszu
Hosszu was the fastest qualifier heading into the final, a second better than anyone else, but she wasn't without challengers. Hilary Caldwell of Canada qualified second into the final while veteran Kirsty Coventry was in her fifth Olympics.
Hosszu starts out strong
As expected, the Hungarian was out to the early lead while DiRado was solidly in second, three-tenths behind Hosszu. The three-time Rio gold medalist was under world record pace by two tenths of a second while Caldwell and Coventry weren't factors at this point. The surprise package of the race so far was Iceland's Eyglo Osk Gustafsdottir, who swam a solid 50, but was half a second behind Hosszu. The Hungarian extended her lead in the second 50 over DiRado to half a second while Caldwell was starting to recover from a slow start to now run third behind Hosszu and Dirado.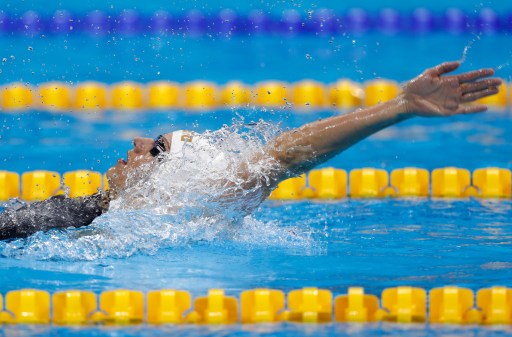 DiRado catches Hosszu down the stretch to take the Olympic crown
As the race approached the 150 meter mark, Hosszu looked to be getting stronger as she now had established over a half a second lead over DiRado. Caldwell was still going well, but she was now 1.7 seconds behind and clearly playing for third. Perhaps fatigue from so many swims was setting in DiRado began to close the gap on the strength of a brilliant final turn. With 25 meters left, the American and the Hungarian were left to battle it out for the Olympic title and with five meters remaining, it still looked as though Hosszu would take her fourth gold of the games, but a final lunge by DiRado just pushed her ahead of Hosszu and gave her the gold, her fourth medal of the games and her second gold, first individually. This is DiRado's one and only Olympics as she will retire and start a job as a business analyst in Atlanta.
After the race, DiRado spoke about her joy of victory: DiRado said, "This whole day has been kind of crazy because it's all of these little last things that I've gotten to do, like my last warmup with the girls at the training pool today.I wrote my parents an email this morning just saying thank you, and I started bawling on my bed, and then my roommates came in and comforted me. I tried to keep it all under control, but there's been a lot of tears these last 24 hours."