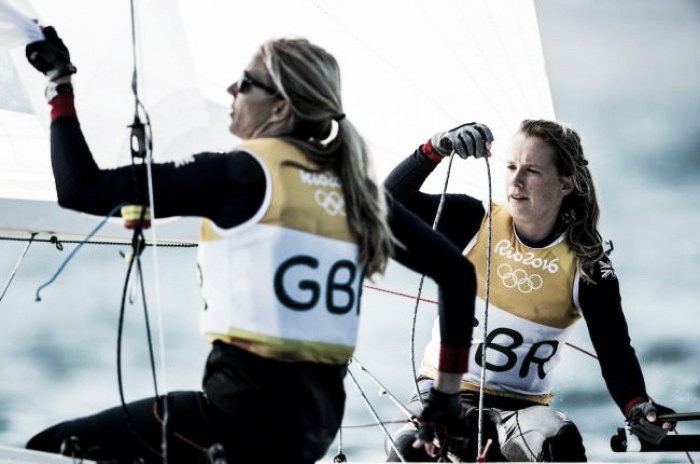 Three top three finishes for Hannah Mills and Saskia Clark secured another sailing gold medal for Team GB with a race to spare in the women's 470 class competition.
From silver to gold for Mills and Clark
After an excellent week of sailing, the duo ended race eight, nine and ten with third, second and third place finishes to secure a third Team GB medal on the waves. Since winning sliver four years ago in London, Mills and Clark were expected to challenge but surpassed expectations by securing gold before the medal race on Wednesday. The pairing have an unassailable 20 point advantage over the chasing pack that sees teams from New Zealand, Slovenia, USA, France and Japan covered by just six points.
In the men's 470 class sees Sime Fantela and Igor Marenic close in on gold with an eleven point advantage. Matt Belcher and William Ryan had been their closest competitors, but the Australian duo had a disappointing day Depsite a race nine victory, dropping behind Greece's Pavlos Kagialis and Panagiotis Mantis, although all three teams are guaranteed medals.
Scott wins Great Britain's fifth consecutive Finn class gold
Like a child waiting for Christmas Day, Team GB's Giles Scott could finally officially celebrate his maiden Olympic gold after entering the medal race with an unassailable lead. Scott sailed across the finish line in second place behind Team USA's Caleb Paine to finish with 36 points, a staggering 32 ahead of his closest rival Vasilij Zbogar. Paine's medal race success ensured he picked up the bronze medal ahead of local favourite Jorge Zarif.
Great Britain's hero admitted "it's been a long road. I campaigned properly for London, missed out on the qualification for that and was bitterly disappointed. Watching all of my friends racing at the Olympics and get medals wasn't easy". Though Scott claimed he learned a lot from that campaign where he missed out on qualification to Sir Ben Ainslie, who went on to win gold, explaining "the amazing thing that came off the back of it was a desire to right the wrongs I felt I made, and to put together a campaign I could be proud of".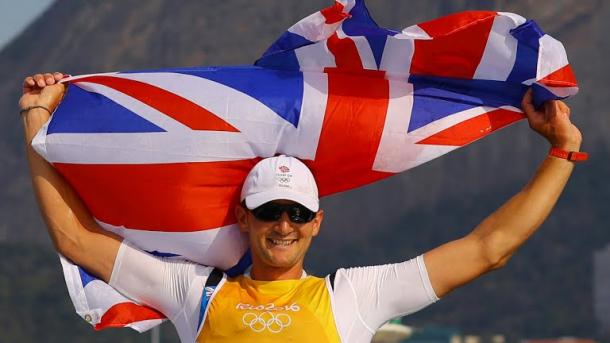 One point between the top three in the Nacra 17 class
It was also a day to remember for the Nacra 17 class, the first mixed sailing competition to grace the Olympics. A fascinating competition concluded with a riveting medal race, won by the New Zealand pair Jason Saunders and Gemma Jones. Though they left themselves too many points to capture for a medal, as their three closest rivals finished behind them.
Australia's Jason Waterhouse and Lisa Darmanin came second to steal silver from the grasps of Thomas Zajac and Tanja Frank from Austria. Those two boats finished just one point behind gold medallists Santiago Lange and Cecilia Carranza Saroli as a sixth place finish proved just enough for the Argentines.
Sailing silver for Ireland
Team GB's Alison Young finished on a high with a victory in the medal race and ended up eighth overall in the women's Laser Radial class. Netherlands' Marit Bouwmeester has always been the lady to beat in this competition though and a top eight finish was enough to secure gold by six points. Ireland's Annalise Murphy finished ahead of Denmark's Anne-Marie Rindom in the final race to leapfrog her rival into silver medal position.
The men's Laser competition saw a surprise in the medal race as the leader from the outset, Tonci Stipanovic, had a disastrous run that cost him gold to Australia's Tom Burton who benefitted after finishing third. Brazil's Robert Scheidt won the final race but could not plug the gap between himself and eventual bronze medalist Sam Meech of New Zealand.
Burling and Tuke continue to dominate 49er class
It was a busy day in the 49er classes, with the men's leaders Peter Burling and Blair Tuke of New Zealand ensuring gold with a mammoth 34 point gap. Team GB's Alain Sign and Dylan Fletcher have an outside chance of a medal but need a six place victory over Australia's Nathan Outteridge and Iain Jensen. The German duo of Erik Heil and Thomas Plossel have a narrow advantage in silver position.
The women's competition sees the top four separated by just one point going into Thursday's medal race. The finishing order of Spain, Brazil, Denmark and New Zealand will determine the final positions of the four medal hopefuls in a thrilling finale.