British tennis fans have known for a while that Dan Evans is an immense talent.
In the past few years the Birmingham-born shot-maker, who admits that he hasn't always conducted himself in the right manner, has shown glimpses and signs that he is ready to make a breakthrough on the biggest stage. Yet each time he has regrettably dropped back down into the cruel clutches of tennis' second tier. Until now.
Evans, 26, pushed the world number three and double Grand Slam champion Stan Wawrinka to breaking point in the third round of the US Open, and even had a match point in a nail-biting fourth set tie break.
He came agonisingly close to becoming the fourth British singles player to reach the last sixteen, following victories for Andy Murray, Kyle Edmund and Johanna Konta, before succumbing to a heart-breaking 4-6 6-3 6-7 7-6 (10-8) 6-2 defeat in an exhausting four hours and two minutes.
Tough to take for Evans
Clearly disappointed after the loss, Evans later said :"It's a tough one to take, I'm pretty happy to be part of a match like that but also to come off the court losing is a difficult one. He continued, "It's a bit of a heart-breaker really. Taking a bit of time off now will be good physically and mentally because it was difficult tonight."
Evans concluded, "I need to get it out of my mind so a bit of time off will be good."
In a truthful post-match press conference, Evans also admitted that he couldn't take any immediate encouragement from going toe to toe with a player of Wawrinka's calibre.
British number two plays the match of his life
With more time to reflect on it, though, Evans should be able to take huge positives from the match, in which he outplayed the third seed for large parts.
His forehand, which in the past was seen as a weakness, was exceptional, as he struck winner after winner past a stunned Wawrinka.
The dainty slice backhand rarely looked like missing, while Evans' defence and athleticism from the back of the court was reminiscent of a certain Andy Murray- whose presence appears to be rubbing off on some of his compatriots.
But perhaps the most impressive thing about Evans, who was ranked as low as 772 in the world last year, was his nerve and ability to regularly save break points in the big moments.
A victory would have sent the Brit through to the fourth round of a major for the first time in his career and perhaps it was the big match experience which eventually nudged Wawrinka over the line.
Best of five set matches can take their toll both physically and mentally, and by the end of the fourth set Evans appeared to be running on a tank full of adrenaline.
Wawrinka responds after slow start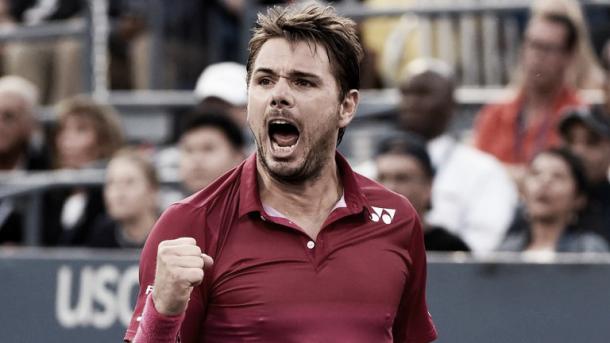 The first set was a bit of a slow burner, with Wawrinka making a number of uncharacteristic errors and losing his serve in the ninth game which ultimately cost him the set.
The standard improved considerably in the second, as Evans managed to scramble back a number of the Swiss' bludgeoning groundstrokes – while also dishing out some heavy punches of his own.
When trailing 4-3 Evans blinked for the first time, losing his serve from 40-0 up and Wawrinka went on to level the match.
At the end of the second set the Swiss put together an impressive run of 18 straight points on serve, however there was still little to separate them in compelling third set.
Evans eventually took it on his fourth set point in a classic tie break, after a Wawrinka forehand clipped the top of the net and drifted wide.
Fourth set tie break provides plenty of drama
The best was still to come. And another dramatic breaker was the outcome in the fourth, in which Evans had match point at 6-5.
Wawrnika brilliantly saved it with a heavy serve and crushing forehand, before Evans failed to put away a smash at 7-7 which ultimately cost him.
In the fifth there was only one winner as Evans' excretions began to show.
The Brit called for a medical time out for an ankle injury and then broke into an argument with the physio, who claimed the issue was cramp- for which players are not allowed to receive treatment.
There were no such issues for Wawrinka, who played with much more freedom as he closed out the match.
Evans, who will reach a career high ranking of 52 after this tournament, will now take a break before Britain's Davis Cup semi-final against Argentina in two weeks' time.