Liang Wenbo and Judd Trump will meet in the first ever English Open final on Sunday, as the first leg of the Home Nations series draws to a close in Manchester.
World number 20 Liang defeated 2015 World Champion Stuart Bingham as he hunts his first ever major ranking title. With just one tournament victory at any level to his name and two previous final appearances in major competitions, Liang will be hoping to create history against Trump. The Englishman will be the firm favourite with 15 titles to his name, although China's number two edges the head-to-head 3-2.
Liang edges out Bingham
There was very little to choose in an epic battle between Liang and Bingham. A half century apiece embedded both players nicely in the opening frame, though Liang's 58 edged the advantage. Yet Bingham came back strongly as he won four of the next five frames with breaks of 66, 95 and 83, whilst Liang could only muster a 63.
At 4-2 down Liang had it all to do but he struck back with a vengence. Bingham went two frames without scoring as he was subjected to watching Liang formulate contributions of 74 and 134 to draw level. The World number two then took the initiative oncemore as he made a 116, only for Liang to leave him in his seat oncemore. An excellent break of 138 put Liang on terms again, before a foul from Bingham in the decider opened the door for him to make 53 and take control. The Englishman had chances to recover, though Liang made 61 to seal the deal and leave Bingham without potting in four of the last five frames.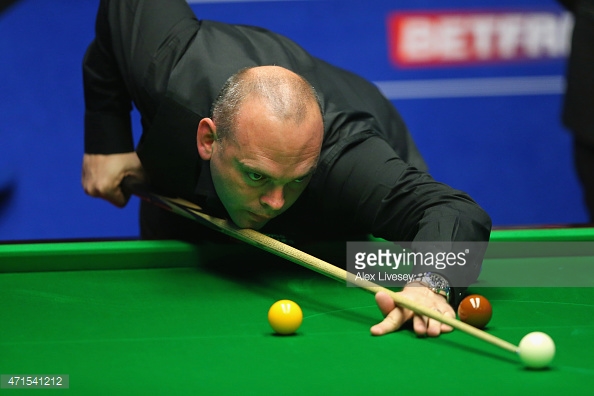 Trump battles through against Hawkins
Trump is the form player in snooker at present, with 14 consecutive victories surrounding his European Masters final success last week. Yet even though the 6-2 scoreline suggests otherwise, the World number four did not have everything his own way against Barry Hawkins.
It was to be Hawkins who registered first, winning the opening frame with a break of 64. Yet Trump hit back with a trio of successes, winning a tactical battle in frame two and contributing breaks of 88 and 53 in the next couple of frames. Hawkins responded with the highest break of the match at 114, before Trump came back again with a 59. The last two frames were extremely tight but a previously fluent Trump from earlier in the week showed his gritty side, as he edged them by seven and then three points to progress into the final.