 Marcel Hirscher dominated from start to finish to claim the final gold medal at the 2017 World Ski Championships, winning by a large margin ahead of Austrian teammate Manuel Feller and Germany's Felix Neureuther who completed the podium in the men's slalom.
In the process, Hirscher became the first man since Italy's Alberto Tomba in 1996 to claim gold in both the Giant Slalom and Slalom events at the same World Championships, while joining an illustrious list of six men with more than five world titles.
The win means Austria jump ahead of hosts Switzerland in the final medal table following two weeks of tremendous racing in St. Moritz.
Austrian trio head the field following first run
It was Hirscher who unsurprisingly led after the first run, laying down a time of 46.43 seconds to top the timesheet by nearly half-a-second ahead of his Austrian teammates Marco Schwartz and Michael Matt.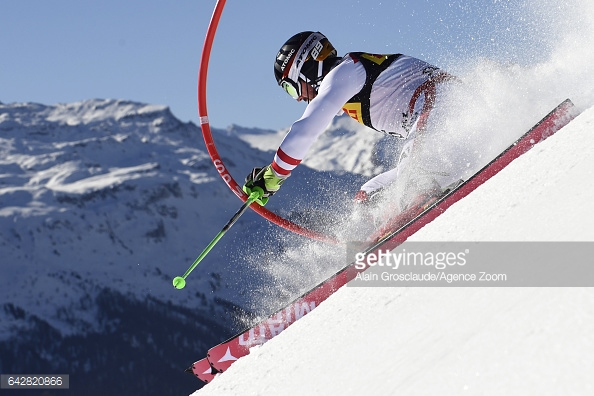 In fact the top ten from the first run were all within a second of the lead, which included Britain's Dave Ryding who was well-positioned in fourth behind the trio of Austrians.
The major casualty from the first run was France's Alexis Pinturault who failed to finish the course, with Italy's Manfred Moelgg down in 17th.
Hirscher charges to claim gold, with Feller and Neureuther joining him on podium thanks to strong second runs
32-year-old Neureuther was the first of the final ten to lay down a marker, and despite carrying a back injury he shot down the course to overtake seven skiers on his way to the podium.
Alexander Khoroshilov came close to toppling Neureuther, but failed to do so before Feller added to Austria's chances of a clean sweep with a great ski to move into provisional gold with six men remaining.
As a five-time winner on the World Cup series this season, Henrik Kristoffersen harboured big hopes coming into this event but failed to live upto his lofty expectations and mistakes on the upper-part of the course saw him eventually finish fourth.
Britain's only hope Dave Ryding had a disappointing second run to finish 11th, with the Austrian duo of Matt and Schwarz also failing to trouble the top three.
Hirscher was in a class of his own though, and having already taken gold two days previously in the giant slalom, he produced another exquisite run as the final man down the mountain to secure his third medal of the Championships.