Germany consolidated their spot at the top of the 2017 Biathlon World Championships medal table, with victories in both of the final races on the last day of racing in Hochfilzen.
First up was the women's 12.5km mass start, which Laura Dahlmeier won ahead of America's Susan Dunklee to claim her fifth gold medal from six races in Austria over the last fortnight.
The men's event over 15km took place in the afternoon and saw Simon Schempp join Dahlmeier in going clear over the 20 targets to claim gold ahead of Norway's Johannes Thingnes Bø.
Dahlmeier completes remarkable championships with fifth gold
Having only failed to pick up gold in one race at these Championships, Laura Dahlmeier has been the standout Biathlete on show. Just 23 years of age, the sky's the limit for Dahlmeier who will now concentrate on replicating this success at the 2018 Winter Olympics next February.
Her fifth gold in Hochfilzen came thanks to more perfection on the range, hitting all ten of her prone shots, and all ten of her standing shots to win gold by a comfortable margin ahead of Susan Dunklee. Kaisa Makarainen finally secured some deserved success with a bronze to give Finland their first medal of the competition.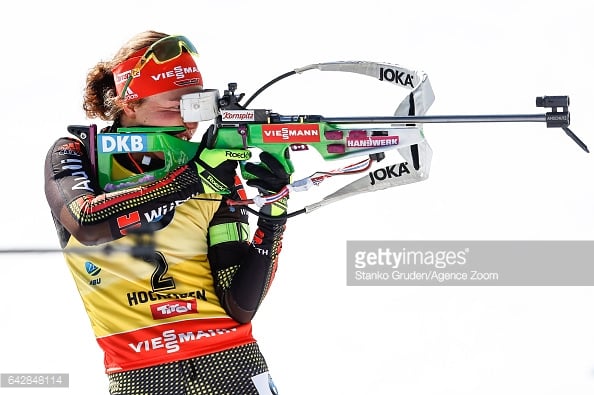 Dahlmeier's unheralded success has now seen her secure 11 medals from her last 11 World Championship races, with Gabriela Koukalová the only competitor who seems capable of matching her when she's at her best.
Despite being behind Dunklee for much of this race, there was little doubt in where she would finish on the podium, and over the final climb of the 12.5km race she surged past the American eight years her senior.
Makarainen recovered from an early miss to strike bronze, with Italian duo Lisa Vittozzi and Alexia Runggaldier each finishing outside of the medals despite hitting all of their targets in what has been an impressive competition for both.
Schempp brings curtain down on Championships with further German gold
The German gold kept coming in the final race of the Championships, with Simon Schempp replicating Dahlmeier's performance on the range to win his second race of the week to go with the Mixed Relay.
Schempp was one of three men, alongside Simon Eder and Lowell Bailey to hit 20 out of 20 targets, with the big name duo of Anton Shipulin and Martin Fourcade finishing outside the medals after being on the penalty loop two and three times respectively.
During the last lap, Schempp fought off the challenge of Eder who led coming out of the final two shoots, with Johannes Thingnes Bø also going past the Austrian to claim silver, with Eder having to make do with bronze.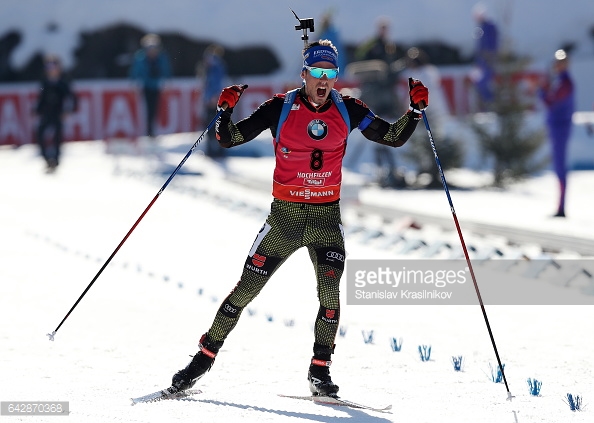 Ignoring relays, there were four different gold medalists in the individual men's events at these Championships, giving everyone in the field hope ahead of the Olympics in South Korea.