Every Winter Olympic Games allows sports which don't always get the worldwide acclaim they deserve to hit the headlines for two weeks during every four year cycle.
In PyeongChang, new stars were unearthed, while a number of athletes added to their ever-growing list of Olympic medals.
Ester Ledecká - Alpine Skiing/Snowboarding
One woman who shot to stardom was 22-year-old Ester Ledecká from the Czech Republic, after she became the first female to win two gold medals in different sporting disciplines at the same Winter Olympics.
On borrowed ski's, Ledecká claimed a stunning victory in the women's Super-G, defeating Austria's Anna Veith by 0.01 seconds. Heading out of the start hut 26th, Ledecká was not expected to challenge for the medals, and after crossing the finish line she was in shock when seeing the time, but everything was above board and she had claimed a shock gold.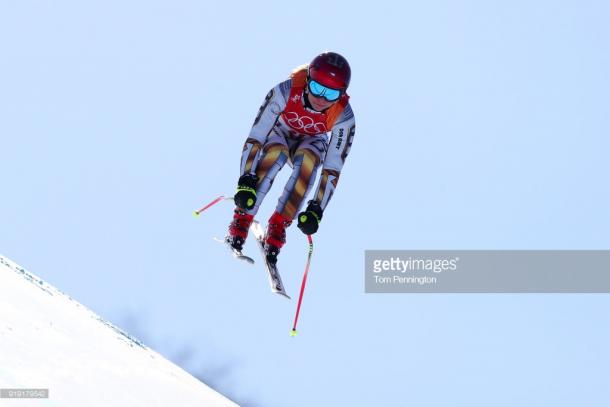 One week later, Ledecká was back in action on her prefered snowboard, and with the pressure of history on her back, she won four rounds during the parallel giant slalom to instantly become a household name.
Marcel Hirscher - Alpine Skiing
Despite missing out on gold in his favoured event, the slalom, Austria's Marcel Hirscher still headed home from South Korea as a double Olympic champion.
After missing out on top spot four years ago, Hirscher made amends in his first event of these games, producing the fastest time during the slalom leg of the men's combined event to take gold by 0.23 seconds ahead of France's Alexis Pinturault. Five days later, he won giant slalom gold by a whopping 1.27 seconds from his main rival Henrik Kristoffersen, before ending his Olympics by failing to finish his first run during the slalom.
Johannes Hoesflot Klaebo & Marit Bjoergen - Cross-Country Skiing
At different ends of their careers, the Norwegian duo of Johannes Hoesflot Klaebo and Marit Bjoergen won five medals between them in PyeongChang.
Klaebo is very much in the infancy of his time in the spotlight, but at the age of 21 he is already a three-time Olympic champion. After finishing 10th in the Skiathlon event, the youngster powered to victory in the sprint classic, flying up the final climb to win the final by over a second from his competitors.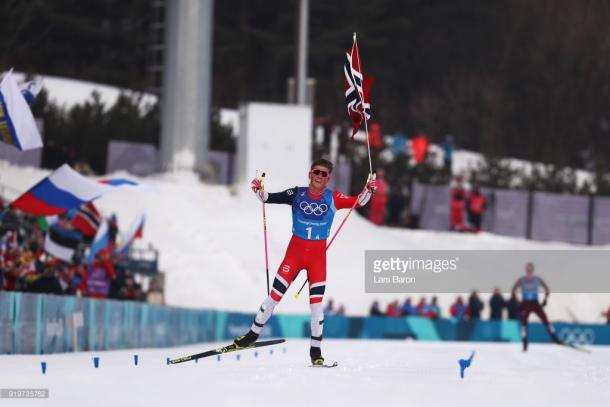 With one gold already under his belt, Klaebo never looked back, and after anchoring the victorious 4x10km relay team, he then did likewise in the team sprint final, when teaming up with Martin Johnsrud Sundby, beating the Russian team into silver on both ocassions.
Competing in her fifth Olympic Games, Bjoergen is the elder stateswoman of the cross-country team, and after picking up two bronze's and a silver during her first three events in PyeongChang, doubts remained over whether she would add any more gold's to her personal tally. Those questions were answered in the 4x5km relay, where Bjoergen held off the challenge of neighbours Sweden to take gold, before saving her best for last in the 30km mass start, where the 37-year-old dominated the race to make it eight in her career.
Martin Fourcade & Laura Dahlmeier - Biathlon
There were also a pair of dominant athletes competing at the Alpensia Biathlon Centre, where shooting and skiing make for a wicked combination of testing the greatest athletes.
In the women's events, Laura Dahlmeier of Germany started her campaign off in terrific form, looking unbeatable on her way to sprint gold. She then followed this up by claiming pursuit gold and individual bronze, but the poor performances of her teammates cost her in the relay races where she finished outside the medal places.
Martin Fourcade had not finished outside of the top three in any of his races this season, so an 8th placed finish in the sprint to open proceedings in PyeongChang could have cast doubts in his mind. The Frenchman put those doubts to rest instantly however, powering to gold in the pursuit, and if it wasn't for two missed targets in the individual race he would have struck gold in that race too.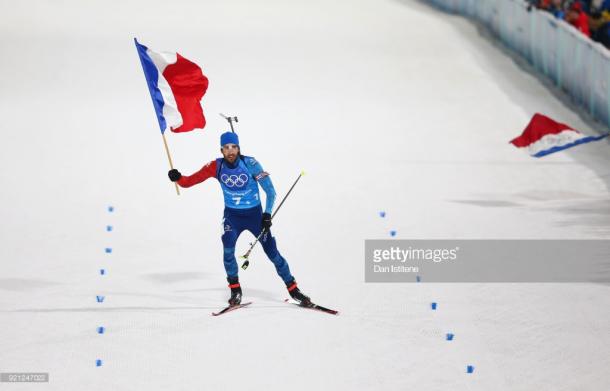 Like earlier in the programme, Fourcade left those disappointments behind him, claiming his second gold of these games in the mass start, stretching for the line ahead of Germany's Simon Schempp. Unlike Dahlmeier, Fourcade had success in the relay events, striking gold for the third time during the mixed relay, when alongside Marie Dorin-Habert, Anais Bescond and Simon Desthieux the team missed just four of 40 targets to finish first by 20 seconds.
Chloe Kim - Snowboarding
America's Chloe Kim became an overnight sensation while competing, and dominating, the ladies' snowboard halfpipe eve.
After producing the only score higher than 90 (out of 100) during the qualification stages, Kim was at it again during the final, hitting runs of 93.75 and 98.25 in the final round, to win gold by a wide margin.
Her ability on a snowboard was streets ahead of anything seen by a woman in the Olympics before, but it was her actions off the board which adding to the attention she was attracting. The 17-year-old took to social media in between runs, claiming she was 'hangry', and also revealed she was listening to Migos while dropping into the halfpipe on her final run, something many millennials around the world can probably relate to.
Yuzuru Hanyu - Figure Skating
Defending the men's single figure skating title he won in Sochi four years ago, Japan's Yuzuru Hanyu produced two exquisite routines in the short program and free skating rounds. The points accumulated during the two skates dwarfed that of his rivals, helping him to successfully become two-time Olympic champion.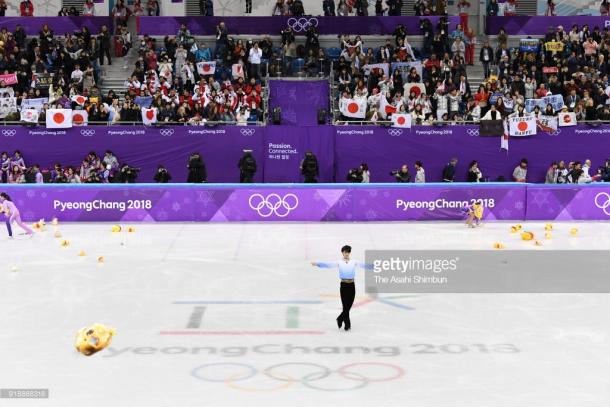 One of the images of these games saw Hanyu showered with Winnie the Pooh bears by the crowds at the end of his two routines. The tradition began in 2010, and now fans throw the bears at him to show their affection and it's clearly working, because Hanyu has just become the first male skater in over 60 years to win back-to-back Olympic golds.
Ireen Wust - Speed Skating
Speed skating is a sport in which the Netherlands have picked up a monopoly of medals over the years, and that was no different in PyeongChang.
The likes of Kjeld Nuis, Carlin Achtereekte and Esmee Visser all became the latest Dutch skaters to add their name to the list of Olympic champions.
A woman who has been winning Olympic titles for 12 years is Ireen Wüst, and she continued doing so at the Gangneung Oval. After claiming silver behind Achtereekte in the 3000m event, Wüst returned to the arena two days later, going one better in the 1500m race, stopping the clock at 1:54.35 to become a five-time Olympic champion.
Kamil Stoch - Ski Jumping
Following a storming World Cup season which saw Kamil Stoch become just the second jumper in history to win all four competitions in the Four Hills Tournament, one gold and one bronze may be seen as a slight disappointment for him in PyeongChang.
After missing out on the podium in his first event, Stoch rebounded like champions do on the large hill, jumping for more than 135 metres in both rounds to become the first jumper since 1988 to defend a large hill Olympic title.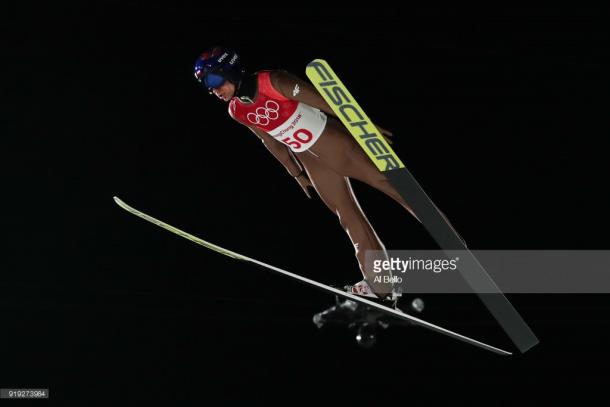 Stoch then returned two days later, and was part of a historic Polish squad which claimed bronze in the team event. The Pole's lost out to Norway and Germany who took home gold and silver respectively, but for the first time since the event was introduced, Stoch and him teammates had finished on the podium.