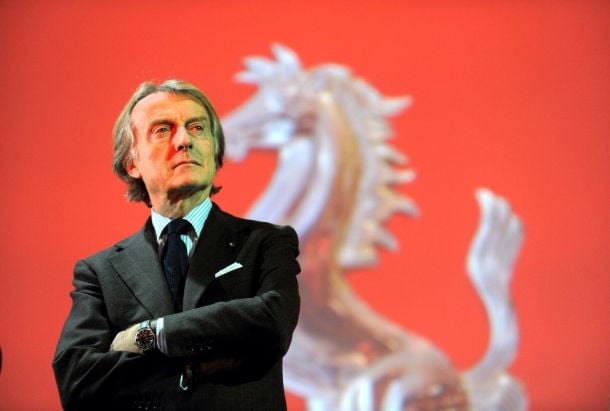 Ferrari supremo Luca Di Montezemolo has decided to step down as Ferrari chairman after over 20 years in his current role.
He joined the Italian giants in 1973, and became assistant to Enzo Ferrari. Di Montezemolo became manager of the Ferrari Formula One team in 1974. His reign saw Niki Lauda win two world titles, book ending James Hunt's 1976 world championship triumph.
After having many different senior roles, such as manager of Italia 90's organising committee and senior manager at Fiat, Di Montezemolo was handed the role of president of Ferrari in 1991. Fiat chairman Gianni Agnelli entrusted him with the job, with it being LDM's aim to bring success back to the Formula One team, after a mediocre few years by their standards.
Ferrari had been struggling since Enzo Ferrari's death in 1988, as McLaren and Williams left Ferrari behind, and despite having top drivers, such as Nigel Mansell, Alain Prost and Gerhard Berger, Ferrari just couldn't stop the dominance of the British teams.
Di Montezemolo made radical changes, making Claudio Lombardi team manager and bringing Niki Lauda in as a consultant to the team. Having been responsible for recruiting Ferrari's dream team of Ross Brawn, Jean Todt and Rory Byrne, Ferrari finally won the Constructors title in 1999.
It was their first title of any kind since 1983, and marked the end of the drought for the Prancing Horse. A year later Michael Schumacher, arguably LDM's finest acquisition, won the drivers title, and sparked the start of his and Ferrari's dominance in the sport.
After 2004 however, Ferrari had a slight slip, losing out to Renault and McLaren in 2005 and 2006. They regained the crown again with double title wins, with Kimi Raikkonen winning the drivers title in 2007, and Ferrari taking the Constructors too. 2008 saw Felipe Massa narrowly miss out to McLaren's Lewis Hamilton in the drivers title but Ferrari took the constructors crown.
Since then Ferrari have been virtually trophyless, with the emergence of Red Bull and Sebastian Vettel. Di Montezemolo has come under increasing pressure, with current Fiat president Sergio Marchionne supposedly making his job untenable.
With two of Formula One's biggest stars in Fernando Alonso and Kimi Raikkonen, the Scuderia should be challenging for titles galore, but haven't managed to adapt to the new turbo era and have been left behind by Mercedes, Red Bull and now Williams.
At this weekend's Italian Grand Prix, Di Montezemolo denied that he'd be stepping down, but this morning has decided to quit. Marchionne will take charge while a replacement is found. This is well and truly the end of an era for Ferrari, with Di Montezemolo being in charge for a generation, it's hard to see when the Scuderia return to their title as Fotmula One's greatest again.