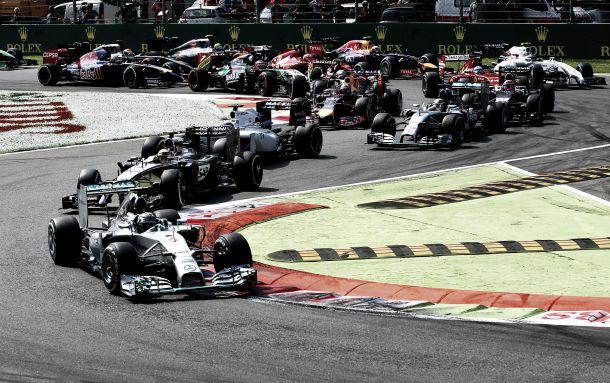 Monza will play host to this weekend's race for the 65th time in round 12 of the 2015 Formula One season.
Following a 1-2 podium finish from Mercedes last time out at Spa Francorchamps, the defending Champions extended their lead at the top to 184 points ahead of Ferrari in second. Lewis Hamilton comes to Monza in strong form and will be hoping to move one step closer to the championship with a win here, something he has already done on two occassions before. The British driver has a 28-point lead over his teammate Nico Rosberg heading into this weekend.
However, a lot of the build up to this weekend's race has involved Lotus and whether or not they were going to race on Sunday due to a legal dispute that is threatening their future as a team. An image emerged on social media claiming that the team were unable to leave the premises after the Belgium Grand Prix and it comes after former reserve driver Charles Pic took legal action for an alleged breach of contract.
Tyre manufacturer Pirelli will be under a high amount of pressure this weekend after incidents that occured during the Belgian Grand Prix two weeks ago which followed an investigation into 200mph failures for Rosberg and Sebastian Vettel in Belgium and with many complaints from last time out, the tyres will be one to look out for this weekend.
Last years outcome
After a start to forget from Lewis Hamilton, the Mercedes driver managed to regain his speed to claim victory in the 2014 Italian Grand Prix. Hamilton started on pole position last year but after losing three places, he slipped to fourth position when the cars approached turn one. The early mistaken by Hamilton was welcomed by his teammate Rosberg who took control of the race.
However after both Mercedes' pitted, Hamilton took the lead once more at the start of lap 29 and also setting the fastest lap. On the same lap, Fernando Alonso was forced to retire due to an engine problem - his first mechanical failure since the 2010 Malaysian GP, but it was the Mercedes of Hamilton's who went on to secure victory in the race.
History of the track
Located in a royal park 30 minutes north of Milan, Monza is known as the 'Cathedral of Speed' and remains the fastest circuit of the season. The Italian Grand prix has been held at Monza since 1950 apart from the 1980 Italian GP which was held at Imola. Monza was designated the European Grand Prix seven times between 1923 and 1967 and the only other inaugural F1 races that are still on the calendar are the Monaco and Belgian Grand Prix.
Ferrari dominate on home soil
The red flag of Ferrari always flys high in the sky when Formula One returns to the 'home of Ferrari' and there is a reason why. Not only is this Ferrari's home track, the team have enjoyed many dominant occasions since the arrival of Monza back in 1950. The team currently hold 18 victories to their name with Michael Schumacher having five of them to his, but the Scuderia have not won in Monza since 2010.
Sebastian Vettel and Kimi Raikkonen will be looking to help Ferrari claim their name back at the top at Monza. Although Raikkonen has yet to win in Italy, Vettel has won on three occasions so could be a threat come Sunday.
Track information
Number of laps: 53.
Track length: 5.793 km, (3.600 mi).
Tyre allocation: Soft (yellow) and medium (white).
Lap record: Rubens Barrichello – 1:21.046 (Ferrari; 2004).
2014 pole: Lewis Hamilton – 1:24.109 (Mercedes).
Last five winners at Monza
2014: Lewis Hamilton (Mercedes); 2013: Sebastian Vettel (Red Bull); 2012: Lewis Hamilton (McLaren); 2011: Sebastian Vettel (Red Bull); 2010: Fernando Alonso (Ferrari)
What the drivers said
Fernando Alonso has enjoyed success on the track and is looking forward to returning to the race track where he has won twice before. He said: "Monza is completely unique – a fantastic circuit, so much history, great fans, and huge fun to drive. It's always special to go there year after year to experience the atmosphere, and the way the car feels when you drive on that track is completely different to any other.
Jenson Button understands that the track may not be a strong one for McLaren, but believes anything can happen on Sunday. He said: "Monza is a very special racetrack. It's fast and furious, and the car feels quite different to drive in low-downforce specification. The track layout won't necessarily play to the strengths of the McLaren-Honda package, but it's a race in which anything can happen."